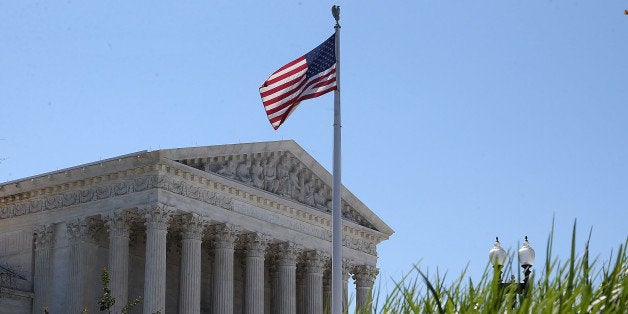 Americans generally agree with the Supreme Court's decision last week to uphold Oklahoma's use of a controversial lethal injection drug, a new poll finds -- but many supporters express some concerns about whether executions could be carried out too painfully, and many are divided over what the main goal of allowing death sentences should be.
In a new HuffPost/YouGov poll, more than 60 percent of Americans say they favor the death penalty in murder cases. By a narrower margin, 47 percent to 36 percent, they also approve of the Supreme Court's ruling on Oklahoma's execution protocol. Lawyers for death row inmates in the state had argued that the use of one of the drugs, midazolam, used for lethal injections constituted "cruel and unusual punishment" because it didn't reliably render inmates unconscious before their deaths.
By a 5-4 vote, the Supreme Court rejected those claims. But in a dissent, Justice Stephen Breyer argued the death penalty itself may inherently constitute a "cruel and unusual punishment."
Just 13 percent of Americans agree with that argument. Forty-two percent, however, say certain methods of execution could be considered cruel and unusual, while 35 percent say a state's use of the death penalty could never fall into that category.
Even most death penalty supporters, including a majority in both parties, agree executions shouldn't be brutal. By a 10-point margin, 51 percent to 41 percent, Americans who favor the death penalty agree that executions should be as quick and painless as possible. Overall, just about a quarter of Americans say "being quick and painless should not be a priority" in determining execution methods.
When presented with a list of six possible reasons for the death penalty to be administered, supporters were divided, with no option garnering more than one-third of the responses. A broad sense of ensuring justice was the most cited option, while fewer than one in 10 named closure for victims' families as a prevailing reason.
While opinions on the death penalty as a whole vary by party, with Republicans considerably more likely to be in favor, there's little difference in rationale among those in each party who back allowing it.
The HuffPost/YouGov poll consisted of 1,000 completed interviews conducted June 30-July 2 among U.S. adults using a sample selected from YouGov's opt-in online panel to match the demographics and other characteristics of the adult U.S. population.
The Huffington Post has teamed up with YouGov to conduct daily opinion polls. You can learn more about this project and take part in YouGov's nationally representative opinion polling. Data from all HuffPost/YouGov polls can be found here. More details on the poll's methodology are available here.
Most surveys report a margin of error that represents some, but not all, potential survey errors. YouGov's reports include a model-based margin of error, which rests on a specific set of statistical assumptions about the selected sample, rather than the standard methodology for random probability sampling. If these assumptions are wrong, the model-based margin of error may also be inaccurate. Click here for a more detailed explanation of the model-based margin of error.
BEFORE YOU GO