 Unless you are or ever were a pet owner, you'll probably think I'm self-indulgent and overly emotional. I miss my puppy. Although she was either 11 or 12, I always thought of my spunky miniature pinscher as a pup.
Miss Holly and I parted ways three weeks ago. After a solid six-year relationship, I had to put my companion/BFF/roommate to sleep.
I adopted Holly from an agency that had rescued her from a "high kill" shelter in Jersey City. High kill means that due to overcrowding in shelters, animals are euthanized after a stay of only one week. I was told Holly had been a puppy mill breeder dog and was dumped at the shelter because "when a female hits 6 the breeder thinks she's no longer reliable for breeding purposes."
Although I had a childhood family dog, I'd never cared for a dog on my own, in my adult years. That said, I didn't know exactly what I was getting myself into with this 7.5-pound bundle of energy and love. But I fell for her soft ears and big black eyes. When I adopted her I hadn't taken into account that one day she would die, and that it would most likely be before I did. It never occurred to me that she was not immortal.
Holly quickly forgot her past life as a sex worker and settled into the princess role in my life. She demanded attention and petting but was always content to curl up next to me and snooze. She was such an affectionate dog; she would hop right up onto somebody's lap -- whether they wanted her company or not. Everyone that met her fell in love with her.
Although it was habitual, I never tired of watching her worm herself under a blanket using her snout. She'd work her way underneath until the blanket enveloped and concealed her. This made her my little ghost dog because she went undetected to anyone who had not witnessed the event -- until the small pile on the floor began mysteriously moving.
Her death hit me as a delayed reaction. Holly went into heart failure, and the vet advised putting her down. I did not want this little girl to suffer, and I agreed it was "the right thing to do." Perhaps doing the right thing helped me keep it together. But then I questioned all that had happened, and reality knocked the wind out of me. That was when I realized she was really gone. Why is her loss hitting me harder than those of some of the humans that have passed through my life? While it is true that this silly, sappy and currently sullen woman has no children -- and though I'd never thought of Holly as my child -- I was her caregiver. I never wanted the responsibility of children, yet this min pin taught me much about being responsible and accountable, and I learned how to give and receive absolute unconditional love. Certainly, I underestimated the impact her presence would have on my life.
Miss Holly always greeted me at the door in the same happy state, whether I had been gone for two hours or I was picking her up from my sister's after a 10-day vacation. Holly enthusiastically went along with my shenanigans; she did not really have a choice. When I was depressed she forced me to take her on walks, getting me out of my gloom and into the world. As with any housemates, we spent many hours together in my three-room apartment, and her absence is impossible to miss.
I am still expecting to see my pup quietly waiting at the kitchen door, wagging her little nub (the breeders cut her tail for show purposes) and trying to contain her excitement until I stepped in the room. Then Holly would dance around in circles until I bent down to pet her and say hello. I miss hearing the "tick tick tick" of her nails when she walked across my kitchen floor. People keep reiterating the cliché that "it is going to take time to heal..." Others advise getting another dog immediately. But I do not want to replace her.
Last November, Holly developed a cough. Shortly after she was diagnosed with heart disease and a leaky mitral valve. Then Holly went into heart failure twice, but she came out of it each time. Yet with the exception of those two episodes, Miss Holly remained the same lively pinscher that proudly pranced on our walks. She still held her head high and barked only at the big dogs in the neighborhood. Holly's labored breathing prompted our last trip to the vet. Neither of us had slept well because she could not get comfortable. A few hours after leaving Holly in the hospital's care I received a phone call from the vet. "It's time," the vet solemnly said to me. My sister accompanied me to the hospital, and I was able to hold Holly again. The distress that puppy was in was obvious. The vet gave Holly a series of injections, and she soon stopped breathing. As I stared at her I noticed that her heart was still beating. I glanced at the vet, who shook her head and said, "This old girl really is a fighter." That silly dog, with heart problems, yet her heart was the last thing to stop.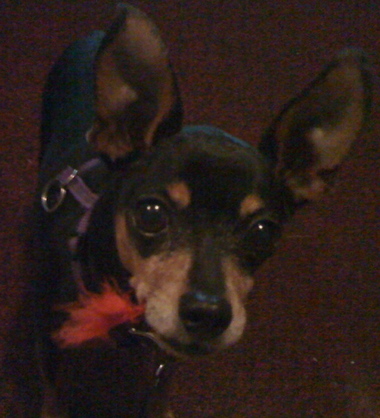 For more by Jenna Henry Hansen, click here.
For more on death and dying, click here.