Ten days after attending the opening night of the California Shakespeare Theater's new production of The Comedy of Errors I experienced a more personal comedy of errors that fell into that memorable category of "Everything's all right now" stories.
I had planned to meet some friends from Sonoma for dinner. After making a reservation on Open Table (and sending them a copy of our reservation), I dutifully took a shower and headed across town to a favorite Indian restaurant.
There was just one problem. A software glitch had generated an email containing information about the wrong restaurant. As a result, I went to one place while my friends went to another.
When they arrived at a restaurant that was not the kind of place I would normally choose to eat (and I failed to show up), they tried to reach me by phone. Receiving no answer, they became worried and headed over to my apartment to check and see if I was all right. After further attempts to get me to answer the phone or come to the door, they decided to play it safe and called 911.
Both parties had left their respective restaurants at about 7:10 p.m. I, of course was fine. But, having just missed a #22 Fillmore bus, I took the long way around town, arriving at my corner on a #33 Ashbury bus.
As I was about to cross 18th Street, I noticed several police cars with flashing lights and a Fire Department's emergency rescue vehicle parked in front of my apartment building. My friend Michael was standing in front, looking deeply concerned. As Texas Governor Rick Perry would say, "Oops."
Once Michael informed the first responders that I was safe, we all breathed a sigh of relief and managed to sort out the details of which communications misfired and what else had gone wrong. We were, to say the very least, grateful for the things that went well (it never hurts to see a chorus of hunky men who look like beefcake calendar models in police uniforms exiting your building).
Thankfully, no one was hurt. The SFPD's response time was magnificent; their officers exceptionally polite and professional. Nevertheless, it's a little unnerving to step off the bus and get a preview of what things might look like on the day one dies.
The next day I received word that a very dear friend of mine from Rhode Island had passed away. As fate would have it, both she and her husband (who had expired 11 years prior) died on my birthday.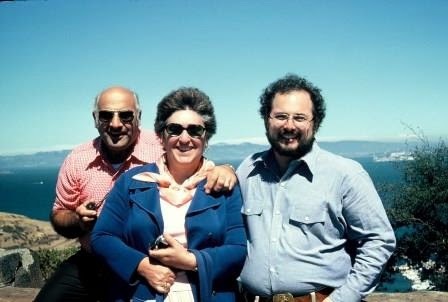 Showing Avi and Alice Avedesian the sights
during their trip to California in the 1970s
As part of the 2014 San Francisco Jewish Film Festival, I watched a series of shorts in which slightly disorganized Jewish families tried to deal with a set of comic circumstances surrounding the unexpected death of a loved one. As a culture, Jews seem to have a special affinity for dark humor.
Leon Prudovsky's frenetic film, Welcome and Our Condolences, focuses on a family of Russian Jews who are flying to Israel to start a new life. It's 1991 (the beginning of a huge exodus of Jewish immigrants from the Soviet Union to Israel) and 12-year-old Misha has been put in charge of the family's home video camera as a way of keeping him busy and documenting their trip.
Gera (Gera Sandler) is a classic, absent-minded husband while his wife, Ola (Ola Schur Selektar), has been left in charge of luggage and documentation. Traveling with them is her elderly Aunt Rosa (Rosa Lifshitz) who dies in her sleep just as their plane is preparing to land at Ben Gurion Airport in Tel Aviv.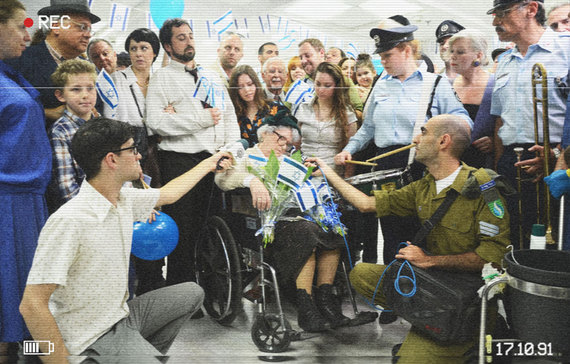 Aunt Rosa (Rosa Lifshitz) gets the celebrity treatment
As soon as they try to disembark, the family runs into a bureaucratic nightmare. If Aunt Rosa is dead on arrival, she can't receive an Israeli immigration certificate. If she can't be certified as a Jew, it will cost a lot more for Rosa's body to enter the country.
Meanwhile, Gera and his wife are sweating to death because they arrived wearing three layers of winter clothes in order to avoid paying fees for excess baggage. Gera is getting sick from the free meatballs he ate in the airport while Misha happily continues to shoot a family film.
What Gera and Ola don't know is that Aunt Rosa has been identified by the authorities as the 100,000th Jew to immigrate from Russia. Needless to say, the Israeli media is eager to celebrate her arrival in Tel Aviv.
Prudovsky's short is filled with some wonderful character actors who help to make the Israeli immigration process an exercise in bureaucratic lunacy. Here's the trailer:
What happens to David (Ben Schwartz) when his Mexican vacation is upended by the death of his traveling companion, Josh (Joshua Cohen)? Written by Benjamin Berman (and directed by Berman and Joshua Cohen), I'm A Mitzvah becomes a cross-cultural comedy of errors enhanced by the voice of Lainie Kazan as a panicky Jewish mother who won't stop screaming over the phone that her dead son's body has to be brought back to the United States so she can see him one last time.
It's difficult enough for David to explain to a Mexican undertaker that, because Joel is Jewish, he can't be embalmed. But when David finally gets Joel's body into a makeshift coffin, he's subject to further humiliations when his flight to the United States is cancelled. After renting a motel room, drinking a bottle of tequila, and reading the traditional mourner's kaddish from the screen of his iPhone, the exhausted David sets out with Josh's coffin to enjoy some local nightlife. Whether dancing with locals or cuddling with an attractive Mexican woman on a moonlit beach, complications ensue.
Written and directed Kate Marks, 7 Day Gig offers viewers the following description:
"A punk, an old man, and a chicken gather round for a make-shift Shiva after Jay (a Romanian/Guamanian/Catholic/Jew) puts an ad on Craigslist looking for mourners to join him."
This nine-minute long, perversely-complicated short is a classic example of what can go wrong at the worst possible time. Thankfully, you can watch 7 Day Gig below in its entirety.
REAL LIFE. REAL NEWS. REAL VOICES.
Help us tell more of the stories that matter from voices that too often remain unheard.