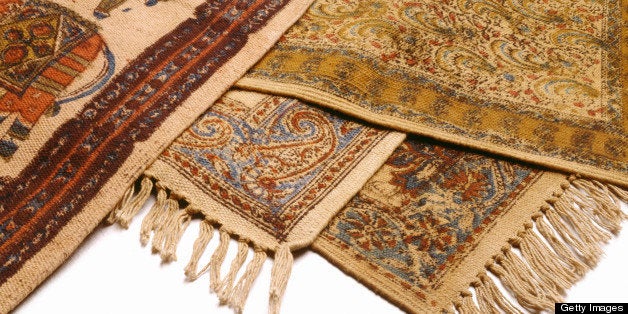 Scared much? When I toyed with "Death to Scatter Rugs!" as a fun working title for my book on age-proofing the home, the responses from people attached to the project or who were asked for their opinions were surprising. Yes, it was catchy. No, they didn't like it. They didn't like it one bit. Instead, they liked their rugs.
As it turns out, rugs are a deeply emotional subject. No matter what experts on fall prevention say about these trip-friendly floor coverings, people remain surprisingly attached to their scatter rugs, throw rugs, area rugs, runners and more. Even when they have been told by physical and occupational therapists and other safety experts that they should pick up the rugs; even when they have balance problems; even when they have osteoporosis and run a high risk of breaking bones if they fall down... the rugs remain.
Keeping the rugs seems to be a last-ditch defense against something... something emotional that I, as a person of generally pragmatic tastes, with a history of falls and a homemade "Watch Your Step!" sign on the laundry-room door,* don't understand. And I want to understand it, so I asked for help.
"It certainly seems that people love them and are reluctant to part with them," says Beth Hirshfeld, owner of Thrive By Design, a Toronto-area firm offering design solutions for aging homeowners.
"For the most part, people mention that rugs add a coziness and warmth to the space that is difficult to create in any other way," she adds. "It seems that people feel that a space is more inviting with a rug in it and that rugs help to define and give dimension to a space."
So, maybe it's because some rugs keep the floor cozy and warm. Maybe it's the spot of color. Maybe it's the personality. Maybe it's because rug-free settings tend to be institutional. Maybe rugs are associated with aristocracy, as rugs were once the luxury possessions of people who could afford goods from far-off places. Maybe it's that the whole rug-on-polished wood combo is just so darned handsome. Maybe people feel the rug will actually cushion them if they go down and they're playing the odds.
Maybe, maybe, maybe. For whatever reason, people like their rugs. I like mine, too. In fact, we have a big wool area rug, and putting a pad underneath it just turned that baby into a tripping hazard in my very own living room. I just marked the calendar to deal with that this weekend.
Beth Hirshfeld presents some solutions to this understandable dilemma.
"I usually suggest different types of floor treatments, such as using different coloured woods or even painting certain wood finishes to create the feel of the rug but without the same risk." she explains.
"Some people are open to it and others are not," she says. "If people can't bear to part with their rugs, I at least try to get them to ensure the rugs have a non-slip backing or under pad and are taped down."
Some of the objections to removing the rugs may also be overcome by installing equally warm wall-to-wall broadloom or carpet (low pile for ease of use and care) and, in utility areas, putting down safety mats with rubber backs and beveled edges. Those options might not seem, at first, to offer the same elegance as area rugs. However, safe, serene and uncluttered environments can also evoke a positive response.
The more attractive colors and patterns now available in low-pile carpeting may help to make them more aesthetically appealing. Drawing the eye away from the floor and up to attractive seating, cushions, wall finishes, art and accessories may also help, much in the way stylish people use earrings and scarves to draw the eye to the face.
In a way, the passion for rugs may be serving as a proxy for the emotional transition to old age. If throw rugs symbolize carefree independence, then accepting the need to remove them means accepting that balance is getting shakier, bones are getting brittle, our feet are less sensitive to touch and we need to be a bit more cautious. I don't want to bring people down about this. The aging process itself is humbling enough.
What I would propose instead is a realistic review of the prospect of falling at home. Are you over 65? Are you at greater risk of falling? Do you know the factors that put you at greater risk of falling? (Contributors to falls include old age, a history of falls and even slips, slower gait, poorer vision, weak muscles and drowsiness or dizziness due to insomnia, blood pressure levels or medication.)
Should you fall, are you more likely to break a bone due to osteoporosis? How would you and your family handle it if you fall, break your hip, and require nursing home care for six months? What if you sustain a traumatic brain injury or are paralyzed? What if you come home in a wheelchair and need a ramp and stair lift? What if you require institutional care for the rest of your life? Is your family ready for this? Can you afford it?
How are those rugs looking now?
Once you think -- and think hard -- about your chance of falls and the potentially costly consequences, your perspective may change. Although having rugs strewn about may give the illusion of a younger, more carefree and fall-resistant life, having them present during years of greater risk may result in just the opposite effect.
Falls and fractures have a way of curbing that carefree feeling mighty fast.
And, by the way, small rugs can do it just as fast as big rugs. Pretty rugs can do it just as much as plain. A rug's small size and cuteness don't make it any less dangerous.
So, death to scatter rugs! Can you blame me for saying so? It's fine to cut a rug... just not on the rug. Or maybe you should cut up the rug instead. Assess the floor coverings in the home and remove the worst offenders. As your needs and your life change, make sure that change is underfoot.
* The laundry room is three gratuitous steps down, the hall floor is dark, no one bothers to turn on the hall light, and we often go there in a hurry to get to the garage, or we go there distracted or mindless because we're doing laundry and stuff like that.
Related
Popular in the Community