The death toll in Northern California's Camp fire climbed higher on Tuesday as emergency responders found more bodies five days into the ongoing blaze.
The blaze is the deadliest and most destructive in recorded state history.
There are still over 200 people missing, leaving dozens anxious for news of their loved ones. Some 52,000 residents have been forced to evacuate.
"We are not fully out of the woods yet," Cal Fire officials told reporters Tuesday, noting the areas affected by the Camp fire were still "extraordinarily dry" and "quite ready for continued fire growth." A National Weather Service meteorologist noted that rains weren't expected to come to the area until Thanksgiving next week.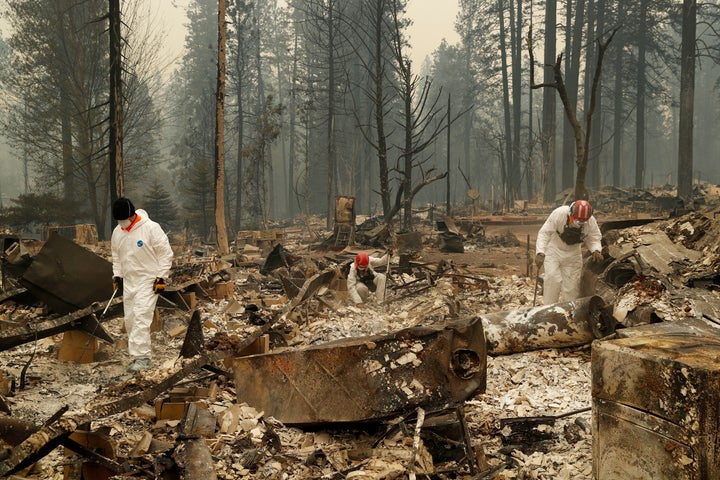 President Donald Trump approved a major disaster declaration for California Monday, which will allow access to federal funding and other resources to help those affected by the fires.
Honea said earlier this week that law enforcement would be getting "cadaver" dogs to detect bodies left in the ashes of the Camp fire and a "rapid DNA system" to identify the victims. Officials put in an order for 100 National Guard troops to assist in searching for human remains, he said Tuesday.

"It's hard to realize the scope of what took place without being in the middle of it," Cal Fire public information officer Scott McLean told HuffPost earlier this week, noting that this fire spread so fast that its flames burned up "the length of a football field in the matter of a second or two."
If you want to help the victims of California's wildfires, here's how.
Popular in the Community