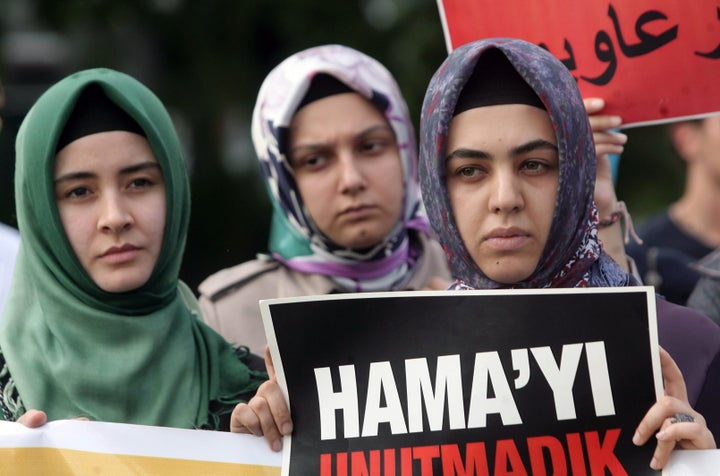 As the Syrian military killed more and more people, all 15 members of the U.N. Security Council for the first time condemned the government's use of force against civilians and its gross violations of human rights.
In a policy statement (see text), the Council called President Bashar al-Assad's government to allow international humanitarian agencies to visit the affected towns and cooperate with the U.N. human rights commissioner.
For weeks, the European members of the Council, backed by the United States, had been pushing for a resolution condemning the violence and "arbitrary detentions, disappearances, and torture of peaceful demonstrators, human rights defenders and journalists by the Syrian authorities."
But Russia, an ally of Syria, wanted no Council intervention of any kind. It was supported by China, which also has veto power in the Council, as well as India, Brazil and South Africa.
Hama massacre Then came the latest reprisals in Hama, the fourth largest city in Syria. About 150 people were reported killed over the weekend and an estimated 1,600 are presumed dead and 12,000 have been arrested since the uprising began four months ago, diplomats said (after closed-door briefings to the Security Council on Monday by Oscar Fernandez-Taranco, the UN assistant secretary-general for political affairs.)
The attack on Hama is no surprise. In 1982, Assad's father, Hafez Assad, ordered the military to quell a rebellion by the Muslim Brotherhood, sealing off the city and slaughtering between 10,000 and 25,000 people, rights groups say.
India's ambassador Hardeep Singh Puri made clear that there was fear of escalation if a resolution were adopted following the intervention in Libya that was more violent and went on longer than expected. He said deputy foreign ministers of his country, Brazil and South Africa, would visit Syria shortly.
Another reason for their caution is the 2003 American invasion of Iraq, with the Bush administration contending that its attack was justified by U.N. resolutions against Saddam Hussein. (Ironically, Iraqis are going to Syria for vacations or to live, finding it more peaceful than their own country).
What's it mean? So does the policy statement, which asks for a report from Secretary-General Ban Ki-moon, make any difference? It might have four or five months ago but Assad's campaign is too far gone to grind to a halt. However, it does show a united condemnation by the world's leading powers, including Syria's close ally Russia. Neighboring Turkey, where thousands of Syrian refugees are fleeing, has already expressed its disdain.
"The Assad regime has been counting on the fact that the Security Council would be unable to speak," and that their protectors would make it "impossible for condemnation to emerge," U.S. Ambassador Susan Rice told reporters.
The back story is more complicated. While the Council's statement, drafted mainly by Britain, does not carry the weight of a resolution, it warded off some of Brazil's proposals that followed Assad's line that his military was besieged. While some of those killings of security forces were brutal, the vast majority of casualties have been peaceful protestors killed by the security services.
Brazil had suggested the statement condemns all forms of violence, including "hostility against security forces" and also asked the Syrian government to investigate itself. In a compromise, the final statement called for "an immediate end to all violence and urges all sides to act with utmost restraint, and to refrain from reprisals, including attacks against state institutions."
Said Britain's U.N. ambassador, Mark Lyall Grant, "We are condemning the real problem which is the brutality exercised by the Syrian regime."
Lebanon's legal contortion Then there was the problem of Lebanon, a rotating member of the Council, whose government is often dominated by Syria. No one expected Lebanon to endorse any criticism of Damascus. But a presidential or policy statement requires agreement from all 15 Security Council members.
So the group dug up some precedents rarely used that allowed Lebanon to distance itself from the statement -- but only after the Council approved it without an objection. Beirut's deputy ambassador, Caroline Ziade, said the action "does not help address the current situation in Syria."
Watching the events carefully is Elliott Abrams, a former State Department official and fellow at the Council on Foreign Relations. He proposes an oil and gas embargo on Syria. While Syria exports only 150,000 barrels per day (to France, Germany, Italy and the Netherlands), the fuel is a key source of income and might persuade the business elite to take some action, he told a telephone press conference that included this reporter.
Abrams also suggested one had to convince leaders and generals from the minority Alawites, who dominate the government, to consider their future as survivors or war criminals. Richard Haas, president of the Council on Foreign Relations, was more pessimistic:
"Syria's future rests on whether a handful of Alawite generals are prepared to keep killing their fellow citizens to preserve the Assad regime and, more fundamentally, Alawite primacy. The outside world, fearing the alternative and bogged down in Libya, is little more than a bystander. Syria's violence is just one further sign that the promise of the Arab spring has given way to a long, hot summer in which the geopolitics of the Middle East are being reset for the worse."
Calling all HuffPost superfans!
Sign up for membership to become a founding member and help shape HuffPost's next chapter