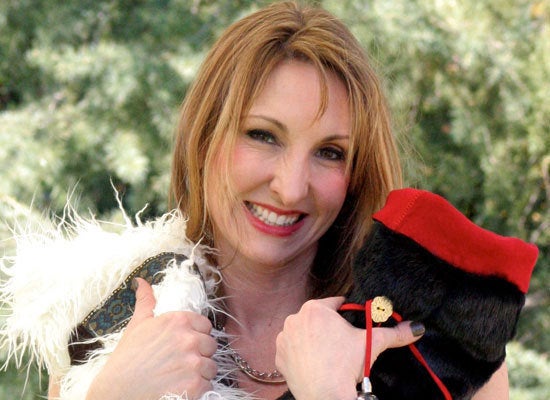 One of the reasons I started my website, Marlothomas.com, is that I wanted a place for women to come together and dream. Women should know that they don't have to hang on to an old dream that has stopped nurturing them -- that there is always time to start a new dream. This week's story is about how one woman's inspiration came to her while sitting in the stands at her son's hockey game! -- MT
It was a beautiful fall day in suburban Detroit. The leaves were beginning to change colors and the brisk wind seemed to warn that winter wasn't far away. But Deb Miller, a hockey mom from Grosse Pointe, Michigan, was already feeling like she might have frostbite. "I was in the bleachers at the arena, just steps away from the ice, cheering for my 11-year-old son," Deb recalls, "and I kept wondering how I was going to make it through the game. My toes were getting colder and colder -- until they began to feel like broken glass. It was at that point that I realized that warm socks and pretty leather boots weren't going to get me through the season."
So she did what any other fashion conscious woman would do: she went shopping online -- for something equally as pretty, but a whole lot warmer. Curled up on her couch with a warm cup of tea and her laptop, she searched for a pair of shearling boots with style. "Anything that was interesting was $300 or $400 dollars, and even if I was willing to pay that, I couldn't picture a pair of black furry boots with my brown and green coat -- and I loved that coat!" she says laughing. "And then I looked closer and realized all the boots had the same foot. So I thought, What if I could just change the upper part? Then I could have all kinds of styles!"
So Deb -- whose mother had taught her from the age of four how to blend unexpected patterns into perfect little dresses -- decided to take a trip to the store.
"I bought a very inexpensive pair of boots and then I found a scarf that was two-ply. I cut the top and bottom so it was a tube and then I seamed it -- added a decorative button -- and when I put those boots on, you would have never known I hadn't bought them that way. I ran out to the post office and when three people stopped me to say they loved my boots, that was my aha moment!"
And it was also the moment that Huggrz was born -- a line of boot wraps made with different fabrics, patterns and styles that simply slip over the shaft of a boot to make it look like a brand new pair.
Deb immediately began sewing prototypes -- some with intricately designed knits and others with soft faux furs, each adorned with accessories like pom-poms or feather tassels -- finishing each one off with her signature daisy button.
"I made a pink fur pair with a pretty ribbon and asked an 11-year-old girl to wear them to the ice arena. Instantly a group of girls surrounded her and they were all giddy. I was standing next to one of the hockey dads, an attorney whom I'd shown the first pair and he said, 'Remember when I said not to quit your day job? Well, I think it's time.'"
By day, Deb was an interior designer, but even though she had more than 60 clients, she never considered what she did creatively as a real career. And she definitely didn't see herself as someone who could build a company.
"I just thought I'd design the boot wraps, prove there was a market for them, and then sell the idea to a big corporation," she says with an innocent smile. "I had visions of little old ladies in nursing homes, who loved to knit, handcrafting each pair."
While Deb didn't actually bring yarn to nursing homes, she did reach out to women in her interior design circles to help her with her new venture. As they began sewing, Deb teamed up with a sales rep who landed Huggrz shelf space in four local businesses.
"We got so busy around Christmas," Deb remembers, "we had to start meeting in parking lots so I could take them straight off the sewing machines and get them back in the stores."
As the product continued to fly off the shelves, Deb moved her manufacturing to a commercial sewing plant in Port Huron, Michigan, an area that had been hit hard by the recession. And she discovered a knitting mill in Fall River, Massachusetts that had five floors of knitting machines but was down to three employees.
Between Thanksgiving of 2010 and January of 2011, Huggrz manufactured and sold 1,200 pairs.
Back at the ice rink, Deb was still in the stands -- albeit with much warmer toes -- cheering her young sons to victory. And it was there that she met another parent with the kind of business experience to help her set a new list of goals. Months later, they were at a trade show in New York.
"I was terrified that people were going to say, 'Oh, that's a stupid idea.' But people were coming up and saying, 'This is the most amazing thing I've seen in 10 years.' Sales reps were fighting over the product!"
By the end of the show, Deb had hired a national sales manager and two new sales reps. She had orders from stores in 12 states, a distribution deal with the largest distributor of EMU, UGGs and Elue in Austria, a Japanese distributor who wanted to pick up the line and interest from the largest luxury ecommerce site in China.
Suddenly the knitting mill, that was once nearly abandoned, was buzzing with activity. And that sewing plant in Michigan -- began hiring dozens of people from the community -- gearing up to produce 35,000 pairs of Huggrz.
And if that wasn't enough of a reward for a woman who had simply hoped to give a few elderly ladies in nursing homes a sense of purpose, soon the award shows started calling. Huggrz has been included in gift bags and gifting suites at, among others, the Golden Globes, the Grammys, Sundance (where they were referred to as the "most coveted swag") and, just days ago, at the Oscars.
"To see these stars who could buy any pair of boots they wanted, sitting on the floor, giggling as they were trying on pair after pair -- I felt like I was living a scene in one of their movies," Deb says laughing.
"I never thought in a million years I'd be sitting here at 43 and doing all of this. I think I've earned the equivalent of four degrees in the last few years. But I did it in baby steps. Each step gave me the confidence to take the next one."
And as she walks the manufacturing floor, touching the fabrics and examining every last detail, her eyes soften, as if her memory has guided her back to another time.
"I kind of blame my mom for all of this," she says with a smile. "She's the one who put these visions in my head and taught me that if no one else was making what I wanted, I could do it myself. She always said, 'If someone else can do it, you can do it too.'"
For more information on Huggrz boot wraps, please visit www.huggrz.com.
PHOTO GALLERY
It Ain't Over: Deb Miller
Sign up to receive my email newsletter each week – It will keep you up-to-date on upcoming articles, Mondays with Marlo guests, videos, and more!
Calling all HuffPost superfans!
Sign up for membership to become a founding member and help shape HuffPost's next chapter