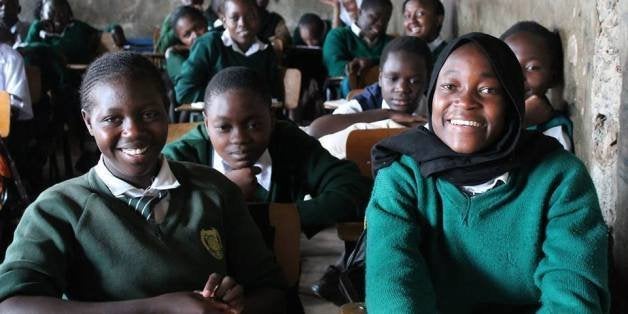 Even amid the hyperbole of a presidential debate, it was clear Tuesday night that every Democratic hopeful on the Las Vegas stage understands the importance of nurturing, educating and protecting girls. There was zero debate around cutting back health care for middle-class, poor or immigrant children, or about the virtues of paid family leave; everyone there appreciated our young people's centrality to our nation's future.
Girls also spell the future of the other 192 nations whose leaders just endorsed the United Nations' new Sustainable Development Goals (SDGs) and made major commitments to dramatically improving the health, protection, education and economic empowerment of women and girls.
Most of these world leaders aren't trailblazers; indeed, many have long-tolerated practices in their countries that abused women and girls. Nevertheless, they have seen how focusing on girls and women has borne fruit, including economically. According to the World Bank, every subsequent year of high school yields an 18% increase in a girl's future earning power.
The world has witnessed benefits of a heightened commitment to gender equality over the last 20 years, thanks to the 1995 Fourth World Conference on Women in Beijing, the UN Millennium Development Goals and, more recently, the tireless advocacy of Malala Yousafzai, First Lady Michelle Obama, Hillary Clinton, Emma Watson, Angelina Jolie and many others.
Last Sunday marked the UN's International Day of the Girl Child. But helping women and girls thrive is something the world must work toward every single day because the hurdles they face, each and every day, are so multifarious. At WomenStrong International, we see these daily, as girls at our consortium sites do their best, often against all odds, to ensure a better future for themselves and their families.
Maladevi and Monica are two such girls.
Ten-year-old Maladevi, growing up in Madurai, India, is her father's favorite. But her father is an alcoholic who spends his driver's income on drink, regularly beats his wife and sometimes beats Maladevi, too. Maladevi wants to be a policewoman when she grows up so she can be as respected as a man, give her children a better life than her mother's and stop the epidemic of alcoholism that has ravaged her family.
A continent away, Monica, 13, is one of six children in an impoverished family in Ghana's rural north. Seeing her sister become a child bride and then mother, Monica resolved after primary school to continue her education. An uncle took her to a nearby town where she could attend middle school, but he "gave her out" to a food vendor as "household help," in exchange for a bed and a meal a day. Monica is determined, though: alone, each weekend, she goes out into the bush to collect firewood, which she then sells to pay her own school costs. Her dreams? To become a doctor, care for herself and her parents, have a family, a car and a home.
To achieve their respective goals, Monica and Maladevi, both sharp, courageous students, need the encouragement of teachers, the constancy of mentors or loving families, and access to opportunities.
These girls, like our own, require decent health care and information about family planning. Unlike our daughters, they also need "tools" that we think of as routine, items as simple as shoes and sanitary pads that allow them to stay in school. They need safe water, sanitation, neighborhoods, and safe places where they can feel secure and gather with other girls to share secrets, fears and hopes - just like girls in the developed world. Teens need sound advice about secondary school, university and career paths, as well as about how to deal, respectfully and firmly, with rambunctious boyfriends, pesky siblings and needy or domineering elders.
Where Maladevi lives, and in many parts of India, an informal measure of family poverty is commonly gleaned from the circumference of a girl child's upper arm, because in times of scarcity, she is the last to be fed. As the world's top development professionals examine possible benchmarks against which to measure progress toward achieving the new global Goals, they might consider, as a bottom-line indicator, the relative ability of girls in such settings to thrive.

And back at home, as debate watchers and prospective voters, we might consider presidential candidates' commitment to ensuring the wellbeing of America's most vulnerable - our own impoverished girls, forced to navigate the perils of homelessness, drug addiction, gun violence, domestic violence, prostitution, incarceration -- as the measure of their fitness to serve.
The things girls most need in order to thrive in this or any country are not complicated or prohibitively costly. Our leaders should take time out from their litanies of poll-tested platitudes to listen hard to the voices of our own Monicas, Maladevis and other girls, who will be honored to show them the way.
Support HuffPost
The Stakes Have Never Been Higher
Related
Popular in the Community