ST. LOUIS, Mo. ― "Paula! Paula!" Paula Jones, who sued former President Bill Clinton for sexual harassment, was on the red carpet. Cameras clicked, cell phones flashed, and the 2016 presidential race took another bizarre, soul-sucking turn.
The second presidential debate at Washington University in St. Louis, featuring Democratic presidential nominee Hillary Clinton and Republican presidential nominee Donald Trump, had wrapped up a few minutes earlier.
After the first debate, Trump had wandered into the "spin room," an area usually reserved for campaign advocates to push their message. Security officials on Sunday had prepared for the same thing to happen again, placing barriers in the center of the room and packing in hundreds of reporters along the edges.
Trump never made it. A little over 48 hours ago, a disturbing video emerged in which Trump talked about how he could "grab" women "by the pussy" and get away with it because he's famous. The Trump campaign needed to shift the message.
So as Trump was carted off to the airport with a cooler of post-debate milkshakes, Juanita Broaddrick took his place. Broaddrick claimed that Bill Clinton raped her when he was attorney general in Arkansas in 1978.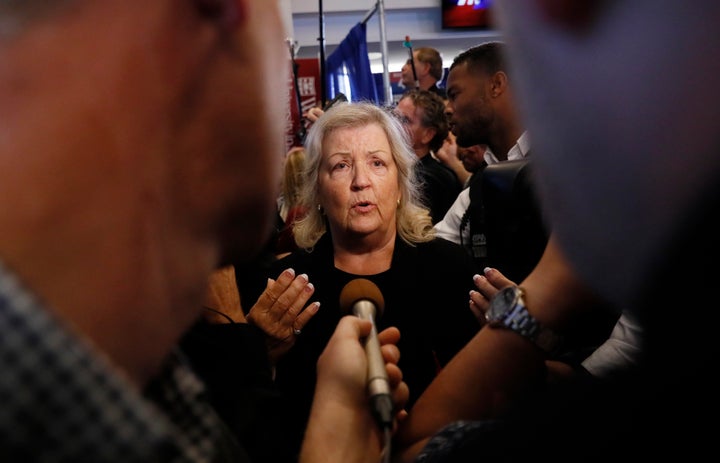 Two hours before the debate, she joined Trump, Jones and two other women in a surprise press conference meant to highlight the Clintons' marital history.
Jones accused Clinton of exposing himself to her in 1991. Kathleen Willey accused Clinton of groping her in 1993. Kathy Shelton said Hillary Clinton was unsympathetic to her when she worked as public defender.
The Trump campaign streamed the event on Facebook Live. As of Sunday evening, it was closing in on 3 million views. But it was only the opening salvo. During the debate, Trump cited the women by name, criticizing Clinton for her response to the women ― with Bill Clinton and Chelsea Clinton seated in the audience mere feet away.
"There actually were four elephants in the room," said Omarosa Manigault, a former contestant on "The Apprentice" who now works as Trump's director of African-American outreach. "Last debate I just thought it was so petty that she brought Mark Cuban to taunt Donald. And you know, if you want to have an October surprise, Donald Trump will bring an October surprise."
Jennifer Palmieri, director of communications for the Hillary Clinton campaign, said Trump's stunt wasn't going to help him with undecided voters and was simply an unsuccessful attempt to throw Clinton off track and "unnerve" her. It didn't work, she said.
"This is not a man who's particularly rational, or who knows what's in his best interest, and certainly doesn't have the best interest of voters in the forefront of his mind," Palmieri said. "This is what he chose to do, and I imagine it was a big turn off to undecided voters that were out there."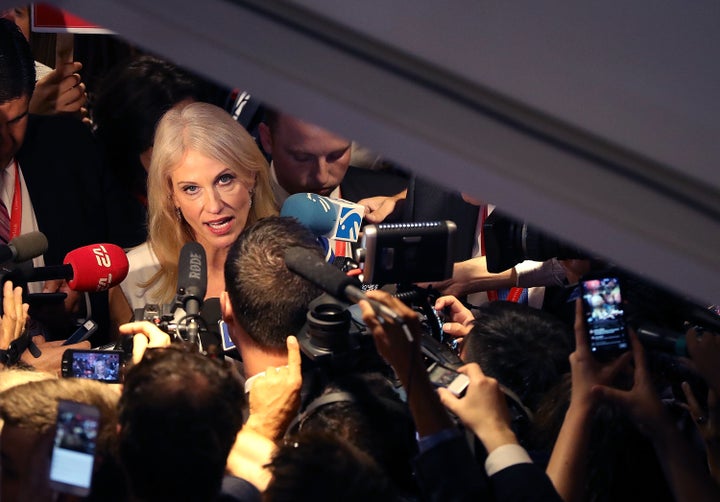 Katrina Pierson, national spokesman for the Trump campaign, said that the "dynamic has changed" since Trump and his team bragged after the last debate that the candidate had held off on specifically detailing Bill Clinton's infidelities and the allegations against him. The Trump campaign bringing out Bill Clinton's accusers was justified, she said.
"I don't know that we've ever had a president have his interns provide oral sex in the Oval Office while he was president and then lie to Congress about it," Pierson said. For too long, she said, these women had been "silenced" by the Clintons and the media. "It was her actions towards the women, which is what many people heard today. Some of them were, in their words, terrorized by her."
Pierson also excused Trump's apparent advocacy of sexual assault as simple locker room talk. Pierson said it was a "stretch" to say that Trump was speaking about sexual assault in the lewd comments.
"He was speaking in the context of already engaging in intimacy with a woman, because he was talking about kissing them," Pierson said. "He was just talking about, there are women out there who are attracted to powerful people, celebrities, sports stars ― I know some of them myself ― who flock to men like that."
Trump and Billy Bush were "two Hollywood celebrities" having what they thought was a private conversation, Pierson said.
"I have two brothers. I was very active in sports. I was hanging around a lot of football guys, I've heard a lot of discussions like that throughout the years," Pierson said. "It's not just men, women have those same discussions in private."
It was "banter between two boys, two men, about women they think [are] attractive," she said.
"That's what boys do," Pierson said. The Huffington Post pointed out that Trump was 59 or 60 years old when the comments occurred. "I think a boy and a man are the same gender," she said.
Sarah Huckabee Sanders, a senior adviser to the Trump campaign, defended Trump's decision to bring the women to the debate.
"Even Hillary Clinton herself has been very public about the fact that any person who has been abused or sexually assaulted should have their voices heard, and this was Donald Trump giving a microphone to those women that have been ignored," she said.
"The Clintons have gone into the gutter, and they've tried to make this a character campaign," she added. "He's going to respond to that, even the playing field, and try to talk about the issues that matter the most."
Brian Fallon, national press secretary for Hillary Clinton, said the campaign didn't know the Trump campaign's plan until the Facebook livestream, but said they weren't surprised.
"It was not a strategy that I think they would have done by choice, I think it was something that they tried out of necessity to get out of the turmoil that they've been in for the last 48 hours," Fallon said. "I expect the race to the exits for Republicans to be even quicker this week. I don't think he did anything to stabilize his campaign."
Fallon said that while Clinton wasn't thrown off, Trump was. The GOP nominee was "stalking, couldn't control himself, couldn't sit down," and was "pacing" and "meandering" around the stage, Fallon said.
Later in the evening, Willey stood with someone who appeared to be a Trump campaign aide and spoke with a handful of reporters. The barriers had been removed, allowing reporters a bit more space to move around. Having been swarmed by members of the media earlier, she kept her answers short, calling Clinton a "fake feminist."
Was she OK with Trump inviting the Clintons to his wedding? "He invites everybody," she said.
As someone who says she was groped by Bill Clinton, what did she make of Trump's boasts? Did they bother her?
"If he had [groped someone], it would have. But he didn't," she said. "The point here is that Donald Trump's never raped anybody."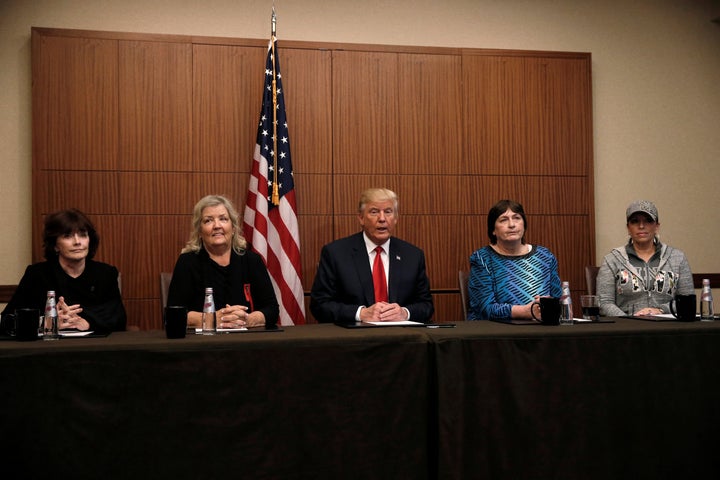 Nearby, Sean Spicer of the Republican National Committee didn't seem to see anything particularly strange about what was happening in St. Louis.
"I don't understand," Spicer said when HuffPost asked about the scene unfolding in the spin room. "What do you mean 'How did we get here?'"
Sign up for the HuffPost Must Reads newsletter. Each Sunday, we will bring you the best original reporting, longform writing and breaking news from The Huffington Post and around the web, plus behind-the-scenes looks at how it's all made. Click here to sign up!
Calling all HuffPost superfans!
Sign up for membership to become a founding member and help shape HuffPost's next chapter
BEFORE YOU GO
PHOTO GALLERY
Republicans Who Have Withdrawn Their Support For Donald Trump