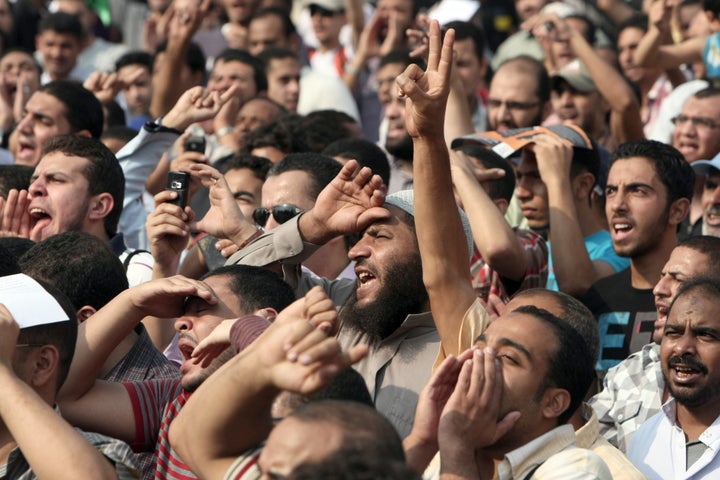 Freedom House, the organization that rates the level of "freedom" in countries around the world and assigns scores, rated Egypt "not free" last year. America, was of course, rated "free." This year the verdict is still out, and more than ever the idea of rating such things seems farcical.
Because what I've been learning in Egypt is that freedom is not condensible. It's a complex mixture of history and the personal experiences of journalists themselves, who in countries both "free" and "not free" exercise varying degrees of self-censorship for varying reasons.
Egypt's state-owned newspapers once exercised a self-censorship under the Mubarak government, when all the editors were appointed. Now, editors in charge of these publications are trying to work out their relationship to the military leaders. Ibrahim Eissa, editor of the independent paper Al-Tahrir, thinks it's an issue of culture. He described the situation at state-owned papers to the Guardian earlier this year as one of "journalists who lived and worked under the 30-year regime. There was only one ideology and opinion. They know only loyalty and hypocrisy."
Nevertheless, journalists have started to take to the streets like every other professional group. Manar Ammar of Bikya Masr reported a little over a month ago on journalists holding demonstrations against the military leadership's new censorship impositions. Columnists have left their columns blank, and last week talk-show host Yosri Fouda pulled his show from the air for three weeks to protest pressure he had been receiving from the military leadership.
On Sunday, I attended a seminar called "Media in Transition" at the headquarters national newspaper Al-Ahram. About a hundred people sat in Muhammad Hassan Heikal Hall, named for the first editor in chief of Al-Ahram after it was nationalized in the 1950s. He was a close friend of Gamal Abdel Nasser and he instituted a culture of self-censorship that many feel has lasted to this day. "This is a guy who has never met a conspiracy theory he doesn't like," wrote an anonymous commenter on The Arabist blog.
As the talks began, editors of Al-Ahram made vague statements about the problems that must be addressed. "Under authoritarian rule," said Abdel-Fattah El-Gebaly, Al-Ahram board chairman, "Egypt was better in terms of journalism than China, because of its deeply rooted ethics and values." Mohamed Sabreen, Deputy Editor in Chief said his paper was "hijacked" by the Mubarak regime, but is now "for the people."
Once the floor opened up, Al Ahram journalists railed against the buck-passing of their leaders. After the revolution, journalist Karem Yehia said, "we found advertisements on behalf of SCAF," the ruling military council. "What is that? A political bribe? What about the military trials of civilians? Not a word was published on that." The audience, composed largely of other Al-Ahram reporters, applauded.
"We have to restore our credibility with the Egyptian reader," said Khaled Daoud, an assistant editor. "We've been raised since the 60s that we are government employees. This needs to change; we have to restore our independence and that our allegiance is not to the government." Daoud peered down at the podium from the stadium-style seating and said, "The editor in chief needs to be replaced."
Just as the discussion was heating up, the organizers called for a snack break. I sipped on some tea, as some reporters from other state-owned papers asked me about newspapers in the U.S. "Are they really free?," a man asked me, "Or are they controlled by corporate ownership?"
I thought of Rupert Murdoch, Sam Zell, the "Big Six," and I had to admit that I did not have any real answers for them. Press freedom is not just a matter of laws, but is also about facts on the ground. The government can step out, but other powerful forces will inevitably step in.
Throughout the rest of the day, however, others were optimistic. Katharine Viner, deputy editor of The Guardian, explained the ownership model of her paper, which relies on a trust that was set up by the Scott family in 1936 to protect editorial independence from proprietors. She blasted other British papers for failing to investigate the phone hacking scandal at the News of the World, calling it a "wall of silence," which "made you realize how unfree the rest of the press was." "Even the most benign corporate owner," she argued, "is in it for something."
The main lesson from these Egyptian debates over press freedom is that countries without government censorship are not above more subtle impediments to traditions of serious journalism. As I write, the sidebar of the Huffington Post has stories about politics competing with photos of "Amy Adams's skin-tight dress." Is this self-censorship? What is it based on? How do we go about criticizing it?
Sunday's most fascinating lessons came from Maritta Adam-Tkalec, deputy editor for German paper Berliner Zeitung, which was once under the socialist single party rule of the German Democratic Republic and was the only paper to survive the merger with West Germany.
"I lived 35 years under a totalitarian regime. Many of you will know what I am speaking about," she said. She told stories about how her paper was "totally controlled by the party." At one point, they were not allowed to publish an article on the 50th anniversary of the Golden Gate Bridge, because the ruling Socialist Unity Party had not been funding bridge construction lately. "We lived with scissors in our minds," she described.
When the wall fell in 1989, she explained, "I had to learn to doubt." The task of "opening one's mind," she said, "is very personal." Everyone in the room nodded.

Calling all HuffPost superfans!
Sign up for membership to become a founding member and help shape HuffPost's next chapter