WASHINGTON -- While one of Michigan's biggest industries remains silent in public on the debate over so-called right-to-work legislation, privately they are worried about the impact it will have on its workforce, according to one of the figures closest to the automotive industry.
The Big Three automakers that fueled Detroit's growth -- Ford, General Motors and Chrysler -- are all maintaining a stance of "public neutrality," according to Rep. John Dingell (D-Mich.), the auto industry's strongest ally in Congress.
"Although the Big 3 are maintaining public neutrality, they continue to highlight that this is a divisive issue and they are focused on other priorities that would promote Michigan's competitiveness at this critical time and support jobs and economic growth," said Dingell in a statement to The Huffington Post.
But in an interview on MSNBC on Tuesday, Dingell's wife, Debbie, said they were "privately and quietly" concerned about the legislation. Debbie is a consultant to the American Automobile Policy Council.
"The auto industry has made it very clear that they are neutral," she said. "I think privately and quietly, they are very concerned about whether this is divisive, and the timing of this. And they would rather see the governor and others focus on other things. Business has not wanted to be in the middle of this fight."
Rep. Sander Levin (D-Mich.), later on MSNBC, offered a similar assessment: "When the governor says it's good for business, just ask the executives of the Big Three whether they want the turmoil within the workplace. The answer is, they don't."
The congressmen have spoken out against right to work and were part of the Democratic delegation that met with the governor on Monday to urge him to veto the bill.
Kevin Frasier, a Chrysler spokesman, said the company was not taking a position on the legislation and would not comment.
"At Ford, we are focused on working with all our partners, including the [United Auto Workers]," Ford said in a statement to the Detroit Free Press on Thursday. "We remain neutral on right-to-work legislation."
"Our position is: We're neutral," added GM spokesman Greg Martin.
Michigan is poised to become the 24th state with a right-to-work law on its books. Such laws forbid contracts between companies and unions that require all workers to pay the union for bargaining on their behalf. Although business groups and conservatives cast the issue in terms of workplace freedom, unions note that the laws allow workers to opt out of supporting the union although they reap the benefits of the collective bargaining. Because the laws tend to weaken unions generally, unions, as well as President Barack Obama, have called such legislation "right to work for less."
There are approximately 120,000 hourly and salaried workers represented by the UAW union in Detroit working for the three automakers.
Michigan Gov. Rick Snyder (R) is expected to sign right to work into law once it passes the legislature, arguing that it will help Michigan economically.
"This is about more and better jobs coming to Michigan, because a lot of companies do look at this as a major factor in their analysis. We'll then be more competitive as a state and that's good for all of us. It's good for workers and good for unions, because it gives them more of an opportunity to grow themselves," he told WWJ Newsradio 950.
Snyder's office did not return a request for comment for this story.
On Tuesday, the House passed one of the two bills needed to turn Michigan into a right-to-work state. Once it passes the second, the legislation will head to Snyder's desk.
Dave Jamieson contributed reporting.
Before You Go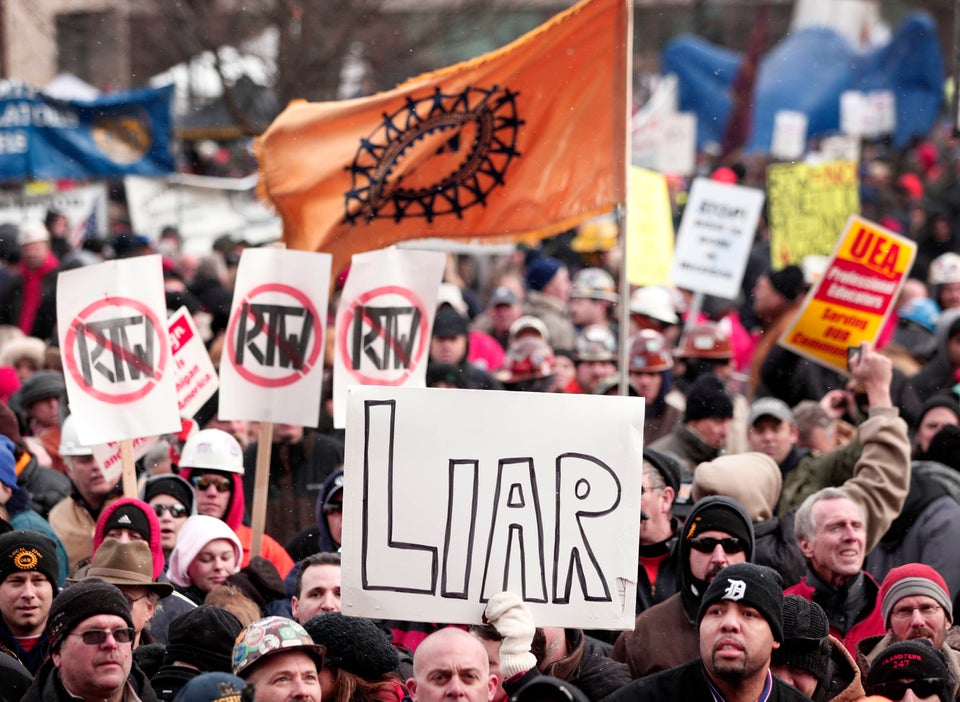 Michigan Protests Right To Work
Popular in the Community