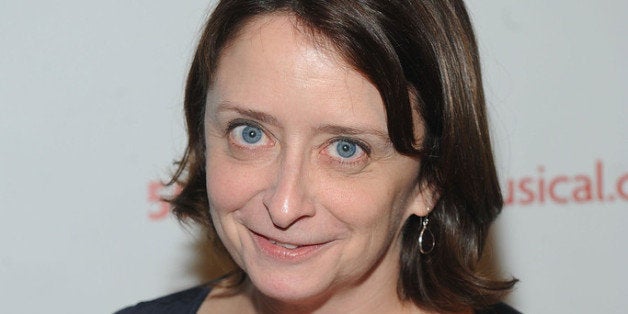 You're having a great time at dinner, and she reminds you of rampant mad cow disease. You're celebrating your birthday, and she brings up hurricane victims. She's Debbie Downer, and she ruins everything -- wah wah waaah.
The bob-wearing, side-smirking, gloomy Debbie was one of the funniest characters on "Saturday Night Live," always bringing everyone down while simultaneously making the entire cast crack up with laughter. She's destroyed lingerie parties, been worse than the Grinch on Christmas, and, in the best sketch of them all, she made Disney World the unhappiest place on earth.
The Debbie Downer sketch turned 10 this month, on Sunday, May 4, and Dratch was just as shocked as we were to realize how much time has passed. Since her "SNL" days, Dratch has made various cameos on TV shows (let us never forget her "30 Rock" Cat Lady) and most recently she hosted the Clorox Ick Awards last month, which Dratch called "a live improv Internet event" with The Second City comedy group.
To celebrate the 10th anniversary, HuffPost TV caught up with Dratch to look back on the Debbie days, hear about her upcoming pilot and find out if she's returning to "Broad City" next season.
We're coming up on the 10th anniversary of Debbie Downer.
Oh my gosh, we are?! That's horrifying! Has it been that long?!
Yeah! It first aired on May 1, 2004.
Oh my gosh! I did not know it's been that long. Let's celebrate. Time is ever marching on, wah waah!
I read that for the Debbie skit with Ben Affleck, NBC later aired the dress rehearsal instead of the live version since it was funnier.
You know what's weird? I didn't know that, but it's funny because that was our second time out -- whenever you're bringing out a new character that did really well once -- and that's true because the dress rehearsal went so much better. I think I was told to not laugh, keep it together and I was really in my head for air, "I cannot laugh." That one felt a lot less fun, but I never knew that they aired the one where we actually laughed.
Do you have a favorite Debbie Downer sketch?
My favorite was the first one [with Lindsay Lohan] where we call cracked up because, you know you try not to laugh when you're on "SNL." It's such a cheat because the audience loves when you crack up and I would really try not to, but that one was just out of control. It was so fun. People often ask, "Is the show really live?" I like it when things go off a little to remind you, yes, the show is truly live and anything can happen. That seems to be the one people remember the most of the Debbie Downers.
Do you think you'll make an appearance on "SNL" again any time soon?
You never know when you might get the call to go back. I guess what I would pray for is that some politician comes along who I look exactly like and I can play her all the time. Maybe something big will happen with Ruth Bader Ginsburg and I could play her or something, but so far that's my front runner.
I'm really excited about your new pilot, "Dead Boss," with Jane Krakowski! What can you say about it?
Well it's just a pilot, so we hope it gets picked up. It's called "Dead Boss" and it's based in the British series created by Sharon Horgan, who's done a bunch of shows over there. Basically, Jane Krakowski's Helen is wrongly convicted of killing her boss, who's played by David Cross. I'm her prison cellmate and I'm very excited to have a new roommate, a little too excited. That's the premise of the show. I'm one of the characters in her world, but a lot of characters have different reasons for wanting her to stay in prison.
You play Christine in the pilot and she's described as an "emotional but needy arsonist." That sounds hilarious.
Yes, I'm a funny arsonist! I am an emotional, needy arsonist and super excited to have a roommate and, like I said, very over eager to show Jane's Helen all the ins and outs of prison.
I also loved your appearance on "Broad City."
I loved that show so much! When I did that I didn't even know really -- like I knew Amy Poehler was producing it, so I was like, "Of course I'll do this." But I didn't really understand the whole world of these two characters. I just showed up to do this part. Now I watch it and I love the show so much. The unique friendship and weird take on New York, it's just a really cool show.
Do you think you'll return next season? They may need more temps ...
I've heard rumors that I might. So knock on wood that it happens because I'd love to now that I fully understand the show.
If you had to pick one of your many characters to live as for an entire day, who would you be?
Oh my god! That's a good one! I thought you were going to say "Who's your favorite," which is what they usually ask. But to live as, wow. I think I kind of already live as Debbie Downer. [Laughs] That came from my own -- let's see. Maybe I would pick The Love-ahs because they're so into their own wackass sensuality. It'd be kind of interesting to live like that for one day in a hot tub.
This interview has been edited and condensed.
Popular in the Community