It's a sign of these troubled times. 
An Asian-American family in San Francisco said that suddenly in the last few months they've received threats for displaying a "Black Lives Matter" placard in their front window.
Debbie Lee and husband Bill Tamayo posted the sign nearly two years ago, according to KRON TV. The first nasty letter arrived this July.
It read, "BLUE LIVES MATTER! Get rid of your sign, or WE will!"
The sign stayed up. Then in August, on the Monday after the protests in Charlottesville, Virginia, the family received another chilling note in their mailbox. The message read, "It's time to replace your BLM sign. How about Chink Lives Matter," according to MissionLocal.org.
Naturally, the notes have Lee on edge.
"It's the threat of 'If you don't take it down, we will,' which implies that they are going to come do something to our property, to ourselves," she told CBS San Francisco. "We think it might be someone in the neighborhood because they know we are Asian."
But the family is standing firm in its beliefs. They've put up a second window sign that reads "Standing With My Neighbors Against Hate."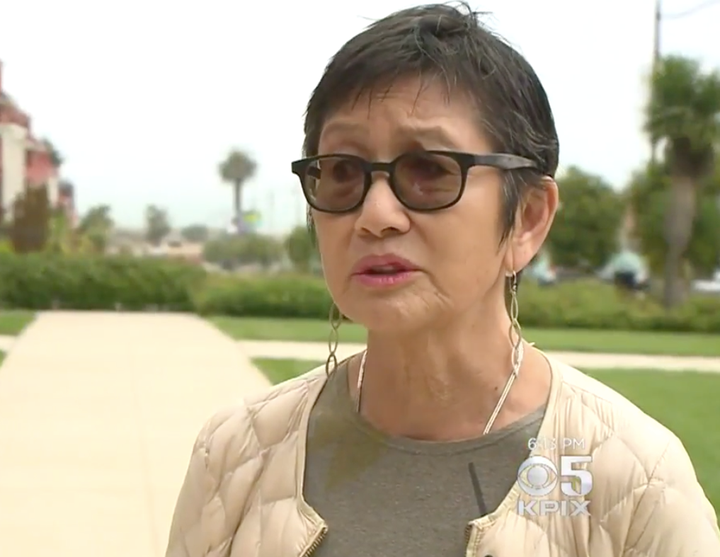 Lee spoke at a community meeting on Monday in hopes of persuading her neighbors to post similar signs at their homes.
"We hope that they will support us and maybe put a sign in their window and let people know that this is a neighborhood that doesn't tolerate this kind of threat," Lee said.
She feels strongly about supporting the Black Lives Matter movement, she told MissionLocal.org, because "African-Americans have been shot down in much disproportionate numbers."
Her daughter Celi Tamayo-Lee suggested that the tenor of the times is making it easier for people to spread hate speech.
It's "the political moment we are in and people feeling more empowered with the president ― with the one we have ― to say things that are averse to Black Lives Matter," said Tamayo-Lee.
The family's defense of civil rights doesn't begin or end with signs. Lee is a senior vice president for Futures Without Violence, a national nonprofit addressing domestic and sexual violence and child trauma, while her husband is the district director for the U.S. Equal Employment Opportunity Commission.
REAL LIFE. REAL NEWS. REAL VOICES.
Help us tell more of the stories that matter from voices that too often remain unheard.
BEFORE YOU GO
PHOTO GALLERY
Black Lives Matter Art Show