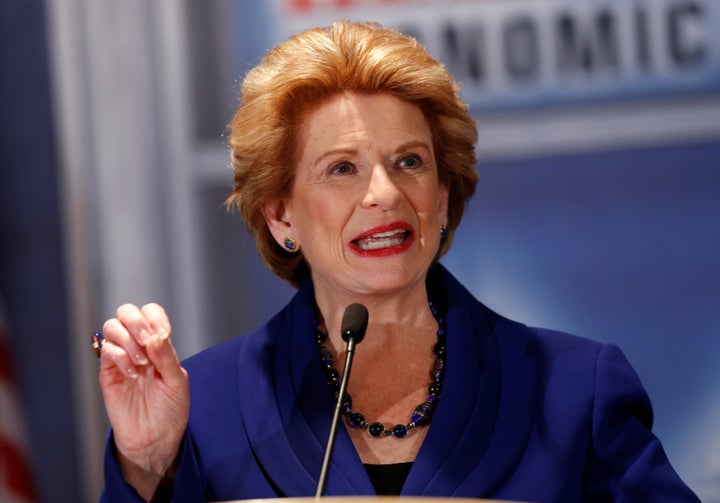 A conservative political action committee has sponsored a radio ad accusing Sen. Debbie Stabenow (D-Mich.) of supporting "black genocide" because she backs abortion rights.
Funded by the Virginia-based PAC Stars and Stripes Forever, the ad highlights the higher rate of abortion among black Americans and then claims that Stabenow, who is up for re-election this year, is "part of the problem" because she supports access to the full spectrum of reproductive health care.
"How can Debbie Stabenow ask for our votes when she doesn't even want our babies?" asks a man's voice.
The ad endorses Stabenow's Republican opponent, black businessman John James. Tori Sachs, his campaign manager, said James did not approve of the spot. Sachs also attempted to blame the ad on the senator herself.
"It's desperate and hypocritical for Debbie Stabenow and her allies to complain about the results of her failed leadership in Washington that have created an environment where ads can be run without consent or approval of a candidate (we didn't consent or approve this ad)," Sachs said in an email to HuffPost.
Stabenow's office said the senator does not have any comment on the ad. Stars and Stripes Forever did not immediately respond to a request for comment.
The spot has aired several times over the past month on 92.3 FM WMXD, a Detroit-area R&B radio station owned by iHeartmedia, according to Bridge Magazine. It is one of several radio ads to air during the midterm election season that uses racist messaging to try to scare black voters away from Democratic candidates.
Black Americans for the President's Agenda, another conservative PAC, recently funded a series of radio ads supporting Rep. French Hill (R-Ark.) and claiming that a victory for his Democratic rival would lead to "race verdicts, life sentences and lynchings."
Those ads aired in predominantly black areas of Arkansas and made a bizarre comparison between sexual assault allegations against Supreme Court Justice Brett Kavanaugh and lynchings.
"If the Democrats can do that to a white justice of the Supreme Court ... what will happen to our husbands, our fathers or our sons when a white girl lies on them?" a woman's voice asks.
"Girl, white Democrats will be lynching black folk again," another woman's voice replies.
Hill has condemned the ads, calling them "appalling" and "outrageous."
Popular in the Community