Rep. Debbie Wasserman Schultz (D-Fla.) is defending her decision to keep an information technology aide on her staff for six months after she was informed he was under investigation for fraud.
"I believe that I did the right thing, and I would do it again," Wasserman Schultz told the Sun Sentinel on Thursday. "There are times when you can't be afraid to stand alone, and you have to stand up for what's right."
In February, Imran Awan was banned from using the House computer system and fired by multiple members of Congress following revelations that he was under investigation for "procurement violations and data transfer violations."
Wasserman Schultz was the only lawmaker at the time to not terminate him, claiming she was concerned about "racial and ethnic profiling" directed at her aide, who is Muslim and is a naturalized American citizen from Pakistan.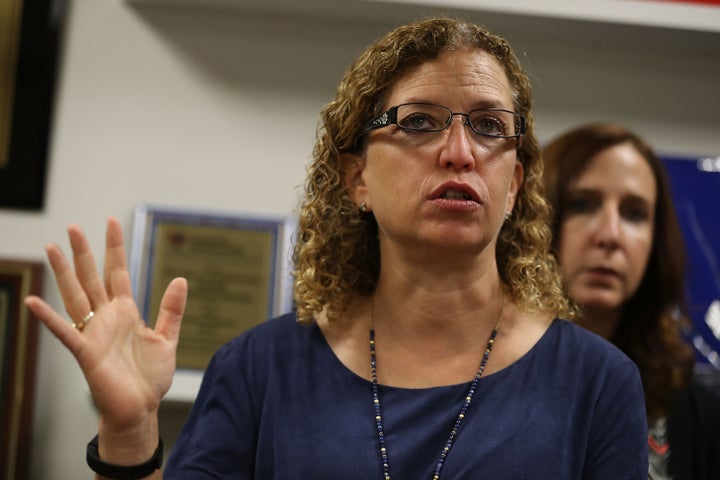 "I had grave concerns about his due process rights being violated," Wasserman Schultz said. "When their investigation was reviewed with me, I was presented with no evidence of anything that they were being investigated for."
Wasserman Schultz did fire Awan last week after he was arrested on bank fraud charges at Dulles International Airport near Washington, D.C., as he prepared to travel to Pakistan.
Awan, who had worked for the congresswoman since 2005, and his wife had illegally claimed a rental property was a "principal residence" to secure a home equity line of credit, according to an FBI affidavit. Wasserman Schultz told the Sun Sentinel that there's no evidence that's he done anything wrong involving his work for Congress. 
The Florida Democrat dismissed right-wing conspiracy theories that Awan was attempting to "flee" the country when he was arrested, pointing to the unpaid leave of absence forms he filled out with her chief of staff before he left. Awan had purchased a return ticket to the U.S. for January, reported The Tampa Bay Times. 
"He is from Pakistan," Wasserman Schultz told the Sun Sentinel. "He's an American, a naturalized American citizen. His children are natural born citizens. His wife is a naturalized American citizen. And I mean when you're trying to flee, you don't fill out a form with your employer and go on unpaid leave."
Awan pleaded not guilty last week and was released on the condition that he wear a GPS monitor and stay within a 50-mile radius of his home, according to The Tampa Bay Times. A preliminary hearing was scheduled for Aug. 21.
Awan's arrest is the latest controversy to plague Wasserman Schultz, who resigned as Democratic National Committee chair in July 2016 after then-presidential candidate Sen. Bernie Sanders (I-Vt.) and his supporters accused her of rigging the Democratic primaries against him.
REAL LIFE. REAL NEWS. REAL VOICES.
Help us tell more of the stories that matter from voices that too often remain unheard.
BEFORE YOU GO
PHOTO GALLERY
2017 Scenes From Congress & Capitol Hill