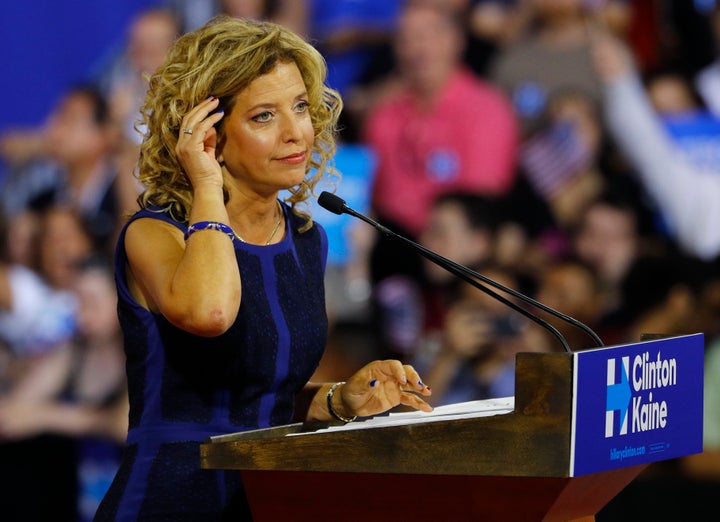 PHILADELPHIA ― Though she had already announced her intention to resign as the head of the Democratic National Committee, Rep. Debbie Wasserman Schultz (Fla.) held on to the possibility that she'd get one last turn on the big stage.
The departing chairwoman wanted to gavel in the convention Monday afternoon, even as officials from Hillary Clinton's campaign urged her to reconsider, worried that Wasserman Schultz's presence would produce an avalanche of boos from a crowd still reeling over leaked emails showing her DNC tipping the scales of the primary against Sen. Bernie Sanders (I-Vt.). But on Monday morning, she appeared before her home-state delegates and was loudly booed, jeered and taunted by Sanders backers ― an affair that shook the Floridian.
After the event, sources close to Wasserman Schultz say she went to a holding area to assess the fallout. The first call made was to ensure the security was up to snuff, because, as one aide put it, "the situation on the ground had changed from what it had been 24 hours beforehand." Wasserman Schultz remained in the room for several hours, consulting with close friends and advisers, eventually reaching the conclusion that she could not take the stage later that night.
Her fellow DNC officers had come more quickly to the same conclusion. The officers had scheduled a call on Monday morning to discuss transition plans for when Wasserman Schultz stepped down from the DNC post after the convention. But after the Florida delegation blowup, the call took on new urgency and meaning.
Frustrated by Wasserman Schultz's resistance to give up her convention gaveling duties, they decided that they would need to intervene to ensure that the chair didn't step foot on the podium. Wasserman Schultz was not on the call.
"It was very painful for all," said one of the sources familiar with what was discussed, who, like others interviewed for this story, would only talk about the private conversations on condition of anonymity.
"It was still an open question and lots of tense discussions going on and lots of horse trading," another source said.
By that point, however, it was a moot discussion. Wasserman Schultz, who had fought hard till then to keep her spot at the convention, let it be known that she too understood it would be a distraction if she appeared onstage.
The Monday meeting capped a drama-filled few days that saw an end to Wasserman Schultz's run as party chair. The Florida Democrat had hoped for Philadelphia to salvage her already-controversial tenure by showcasing a unified party and a smooth convention. But the leaking of DNC emails in the days prior, showing some committee staffers plotted ways to raise doubts about Sanders' religion and candidacy, put a quick end to those notions.
In reality, sources say, Wasserman Schultz's reputation wouldn't have been improved by Philadelphia even if the convention went swimmingly or if the emails had never leaked. The soon-to-be former chairwoman has a well-earned reputation as a political knife-fighter with a knack for fundraising.
But that official, like many others, said that her management style ― or lack thereof ― left people inside the DNC wondering if she was using the post to advance her own career and not the party's interests.
In one recent incident, according to two sources, Wasserman Schultz was asked to place a call to Vice President Joe Biden to get him to help out the DNC. But instead of asking him to do a fundraising appearance and to lend his name to a digital campaign, she ended up discussing a fundraiser that the VP would do for her congressional campaign ― in order to help her with the hit she'd taken for supporting trade promotion authority and the Iran nuclear deal ― and whether he would attend or record a video for her daughter's bat mitzvah.
A spokesman for Wasserman Schultz's congressional office did not comment for this piece. However, sources close to her note that the VP has had a long personal relationship with Wasserman Schultz and her family, and often is asked to record videos or send photos for members of Congress.
Biden's fundraiser was ultimately delayed after the shooting in Orlando. Another DNC source said he wasn't aware of the incident with Biden, but knowing the reputation that Wasserman Schultz had earned inside the building, he said it didn't surprise him.
"It doesn't sound unlikely," the source said. "I can believe it. And not so terrible. She loves her daughter."
As HuffPost reported Monday, the problems DNC officials had with Wasserman Schultz didn't end at her tendency to prioritize her own races. Staffers said morale was low, and there were failures to fill key positions, distrust from Clinton's campaign over how to handle messaging, and a sense that the committee lacked a core mission. One former DNC official, commenting on Wasserman Schultz's departure over the leaked email flap, put it this way:
"I think she was convicted of the wrong crime. Once these emails came out, I get that the impression it stoked, I understand why the Clinton campaign and the president moved the way they did to clean the situation up."
With Wasserman Schultz gone, the DNC officers are now cleaning up the mess. They spent a significant amount of the meeting Monday drafting a formal apology, which they sent out later in the day. Several of them are now going around to delegation meetings this week in Philadelphia, continuing to apologize in person. Interim DNC Chair Donna Brazile spoke to a black caucus meeting Monday, and Vice Chair R.T. Rybak spoke to the Minnesota and Michigan delegations Tuesday morning.
Popular in the Community