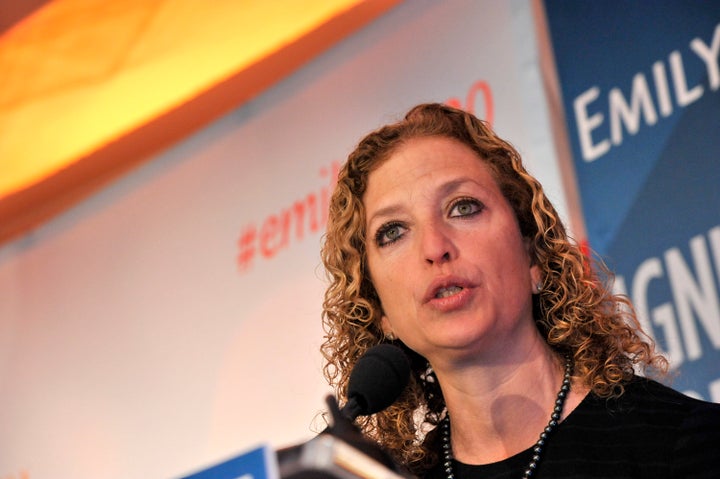 SIMI VALLEY, Calif. – As reporters swarmed candidates Wednesday night following the second Republican presidential debate, another record-setting television event, Democratic National Committee Chair Debbie Wasserman Schultz said she wasn't worried about her party being left out of the 2016 conversation.
"I want the American people to get as much of a look at these Republican candidates in these debates as possible," she told The Huffington Post. "The food fight that they had tonight was extraordinary in its extremism."
Democratic campaigns have criticized the DNC for starting debates a couple months after the Republicans and limiting the process to six sanctioned events -- a schedule that's perceived to help front-runner Hillary Clinton. While the RNC rolled out its schedule in January, the DNC announced its plan just last month, with the first debate set for Oct. 13 in Nevada. Only four debates will occur before voting begins in Iowa next year.
Politico reported Wednesday on the rift between Democrats over the schedule amid perceptions that Clinton is being protected by party leaders.
Former Maryland Gov. Martin O'Malley and his campaign have been the most vocal critics of the DNC plan. Campaign manager Dave Hamrick told Politico that "every Democratic campaign and the DNC should have to explain why we are ceding the discussion and attention to the Republicans by refusing to the kind of robust debate schedule we've always had."
Wasserman Schultz defended the DNC's schedule Wednesday night in the post-debate spin room at the Reagan Library. The process allows candidates "the opportunity to balance the time they need to spend in the early primary states, in particular, doing the retail politics that is so important for them to be able to have those voters kick the tires," she said.
One critique of the Republican process has been that candidates who rank lower in the polls would feel compelled to be spend more time in TV studios, rather than meeting voters in Iowa and New Hampshire. That's because GOP candidates vying for a primetime spot on the Fox News or CNN stage needed to boost national poll numbers -- a feat that might be more easily accomplished by appearing on cable news or late-night talk shows, as opposed to campaign stops at coffee shops.
Though many Americans likely tuned in to the Republican debates to see what Donald Trump might say next, the much-anticipated events have also provided significant exposure for the party's many candidates, allowing some strong debaters -- like former Hewlett-Packard CEO Carly Fiorina -- to increase their standing nationally.
"We will have, in a month, an opportunity in a debate," Wasserman Schultz said. "But we already have an ongoing opportunity with our candidates to draw the very clear and serious contrasts for voters across America."
Popular in the Community