WASHINGTON -- Florida Democrat Rep. Debbie Wasserman Schultz spoke forcefully against a new Iran sanctions bill in a private meeting Tuesday at the White House with about four-dozen House Democrats, people familiar with the gathering told The Huffington Post.
Wasserman Schultz, typically a fierce ally of the American Israel Public Affairs Committee (AIPAC), which is pushing hard for new sanctions, warned that a push by Congress could unsettle the fragile nuclear negotiations involving the U.S., Iran and other nations.
Mara Sloan, a spokeswoman for Wasserman Schultz, didn't address the White House meeting but reinforced that the congresswoman is firmly committed to preventing Iran's nuclear weapon capability.

"Rep. Debbie Wasserman Schultz has been a strong supporter of sanctions against Iran and will continue to be," Sloan said in a statement. "As her record reflects, she has always been and remains a staunch proponent of stricter sanctions against Iran as a deterrent to their nuclear weapons ambitions. Wasserman Schultz will continue working with her colleagues and the Administration to ensure that Iran will never achieve that goal."
The sanctions push had appeared to be gaining momentum at the end of last month, but has been dealt brutal setbacks in recent days. The Washington Post, The New York Times, the Los Angeles Times and USA Today have all come out against new sanctions, as have influential commentators Ron Fournier, James Fallows and Jeffrey Goldberg, who is generally a strident Israel defender.
The White House gathering was designed to shore up opposition to a new sanctions bill being pushed in the Senate by Sens. Robert Menendez (D-N.J.) and Mark Kirk (R-Ill.). The Senate bill would require additional sanctions to go into effect unless Iran meets certain conditions related to its nuclear activity. Both the White House and its international partners in the negotiations say the conditions are simply unrealistic.
Critics of the sanctions bill are concerned it could thwart a delicate agreement reached Sunday between Iran and six negotiating countries to curtail Iran's nuclear activities in exchange for relief in some sanctions. That deal is set to take effect Jan. 20 and remain in place for six months.
The latest supporters of the sanctions legislation are nearly all Republicans. A number of Democrats, including Sens. Jeff Merkley (Ore.), Chris Murphy (Conn.), Richard Blumenthal (Conn.), Tim Kaine (Va.) and Bill Nelson (Fla.), announced their opposition Tuesday.
"The bill before the U.S. Senate, which has 59 co-sponsors at last count, will not achieve the denuclearization of Iran," Jeffrey Goldberg wrote on Tuesday, though he typically takes a hawkish stand toward Iran. "What it could do is move the U.S. closer to war with Iran and, crucially, make Iran appear -- even to many of the U.S.'s allies -- to be the victim of American intransigence, even aggression. It would be quite an achievement to allow Iran, the world's foremost state sponsor of terrorism, to play the role of injured party in this drama. But the Senate is poised to do just that."
The House is poised to do the same, with House Majority Leader Eric Cantor (R-Va.) considering introducing the Senate version on the House floor.
The White House has gone on the record to accuse backers of new sanctions with secretly wanting to disrupt negotiations. "If certain members of Congress want the United States to take military action, they should be up front with the American public and say so," Bernadette Meehan, National Security Council spokeswoman, said in a statement. "Otherwise, it's not clear why any member of Congress would support a bill that possibly closes the door on diplomacy and makes it more likely that the United States will have to choose between military options or allowing Iran's nuclear program to proceed."
For Kirk, that desire is not so secret. "The path of appeasers always leads directly to war -- it just increases the appetite of the other side," he said Monday. "Appeasers always lead directly to war. You can give Czechoslovakia to Hitler and he wants more. If you give billions of dollars to the Iranians, you're probably leading directly to conflict."
"There have been some that have suggested in the White House that those folks were more interested in war than they were in the resolution by peaceful means," Hoyer said Tuesday. "I think that is absolutely untrue, an irresponsible assertion and ought to be clarified and retracted by those who have made it within the administration."
A House GOP leadership aide said it's unclear if the House will take any action this week, and said it comes down to talks currently underway between Hoyer and Cantor. The two have been in discussions for weeks on a possible alternative to moving the Senate bill: voting on a nonbinding resolution that would give members a chance to lay out their preferred endgame in Iran.

"The ball seems to be in Hoyer's court on this one," the GOP aide said.
When asked if Hoyer and Cantor were working together on a resolution, Doug Heye, a Cantor spokesman, said, "Conversations are ongoing."
Hoyer is a close ally of AIPAC and regularly leads the AIPAC-funded House Democratic trip to Israel. But he's in a tough position, as it is becoming increasingly evident that the bulk of House Democrats will oppose any resolution at all, no matter how watered down. Hoyer needs those Democrats' backing for any future political prospects within House leadership.
Cantor, too, is taking heat for not moving forward with new sanctions.
There has been "a lot of pressure building that we should act," despite warnings from the administration that doing so could splinter the international coalition, Cantor told CQ-Roll Call on Tuesday.
This developing story has been updated to include details of the negotiations.
Before You Go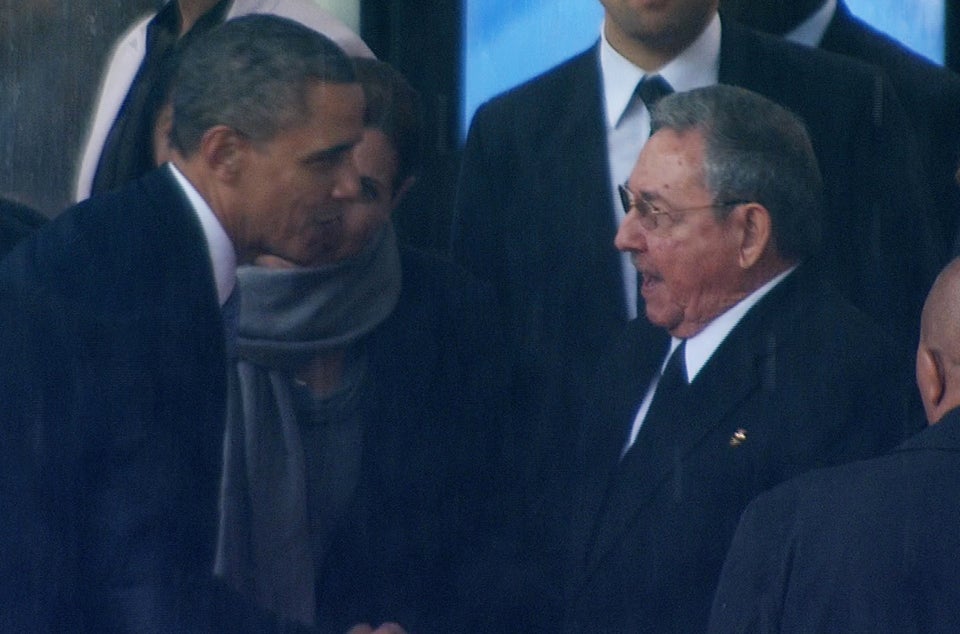 Obama's Handshakes Around The World
Popular in the Community