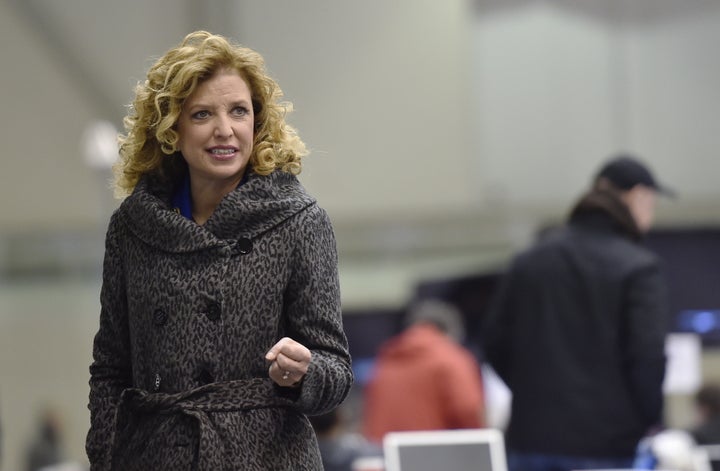 WASHINGTON -- Grumblings over Debbie Wasserman Schultz's tenure as chair of the Democratic National Committee crescendoed this week, with chatter growing inside the party that she may not survive through her current term.
But as votes of confidence are fewer and further between, Wasserman Schultz continues to enjoy significant leverage with respect to her future at the committee. There is neither an obvious mechanism to make her go, nor, in all likelihood, is there enough time to execute a tidy switch.
"The fact that people are talking replacement is pretty unprecedented," said one top Democratic official who consults closely with the committee and who, like others, would speak only on condition of anonymity. "But I would be shocked if she's replaced at this point. It's just so late." 
Multiple top Democratic officials on Wednesday said they fully expect Wasserman Schultz to remain at the helm of the DNC, despite calls from Sen. Bernie Sanders (I-Vt.) to see her gone. The worry is that replacing the DNC chair just two months before the convention could be chaotic, and doing so afterward would be a self-inflicted headache.
But even some of Wasserman Schultz's defenders acknowledge that she's in a vulnerable position. Her role at the committee has been gradually downsized, with fewer fundraising and managerial responsibilities, according to sources there. Amid talk of her potential exit, she sent a note to staffers on Wednesday encouraging them to remain united and focused on the campaign. But sources in the building say the mood is dour. They've had trouble filling roles in the past, and there is a sense that staffing changes are coming in the future.
Wasserman Schultz's management of the primary has only galvanized calls for fresh leadership. The party remains at a divisive and messy phase, while Donald Trump has consolidated Republican ranks. And that's even after Wasserman Schultz's handling of the debate schedule, her showdown with Sanders' campaign over voter file access, and a controversial fundraising agreement the DNC struck with Clinton left the impression that she was tipping the scales for a preferred candidate.
Privately, top Democratic lawmakers are now pushing for Wasserman Schultz to step aside. But a key variable remains whether Hillary Clinton's campaign would go along. Other Democrats can create an opening, but ultimately Clinton has the authority to ask her to resign -- and her campaign on Wednesday re-emphasized its support.
"From our viewpoint, Debbie Wasserman Schultz is a very dedicated leader for our party," Clinton spokesman Brian Fallon told CNN. 
Still, senators have begun tossing around potential names of Wasserman Schultz replacements, including Sen. Elizabeth Warren (D-Mass.), Sen. Amy Klobuchar (D-Minn.) and Planned Parenthood President Cecile Richards, according to one Democratic aide. A separate senior Democrat suggested that finding a new chair might be used as a means of addressing "Sanders' supporters' concerns as part of the process of wooing him and his voters."
In that vein, someone like Rep. Keith Ellison (D-Minn.) is seen as a possibility, since he endorsed Sanders, has media savvy and has a national profile -- though he'd likely clash with officials over what role lobbyists and corporate money should play in the party.
One other scenario discussed in private settings is for Wasserman Schultz to "voluntarily" leave her post to turn her attention to her first-ever primary challenger: law professor Tim Canova, a progressive newcomer who picked up an endorsement from Sanders and has been pulling in serious cash. Into that void would step an interim chair -- someone like Donna Brazile, the committee's first vice chair, who previously played this role when former DNC Chair Tim Kaine (D-Va.) decided to run for Senate.
DNC officials dismiss the name-floating as nothing more than a time-honored Washington tradition of baseless but entertaining chatter. And, indeed, for all the big-name Democrats who sidestepped questions about Wasserman Schultz's future on Wednesday, a number of party luminaries offered their support.
"The real story is you have a bunch of notable U.S. senators and members of Congress, and the Vice President, on the record expressing support for the strong leadership Rep. Debbie Wasserman Schultz has provided at the party, and some anonymous disagreement," Luis Miranda, the DNC's communications director, said. "The Chair and the DNC are going to continue to focus on uniting Democrats and on being an asset to help elect them up and down the ballot in November, just as we've done for many in both chambers."
Within the DNC, meanwhile, Wasserman Schultz retains a close cadre of allies. One DNC fundraiser said calls for her resignation amounted to scapegoating from both the Sanders campaign and, earlier, Martin O'Malley's campaign.
"Both candidates have realized going after the DNC is a good way to energize their base and their grassroots donors," the fundraiser said. "But the irony is that is actually not DWS, but those very campaigns, that are misleading people. It's very frustrating to watch, and I can only imagine how DWS must feel. Being the party leader is a thankless job."
Even if she maintains her post, Wasserman Schultz is likely to cede power in the coming months. The expectation is that once the nomination is in hand, Clinton -- much as Barack Obama did in 2008 and 2012 -- will install an executive director within the staff to effectively run the committee. But even before that moment arrives, Wasserman Schultz has moved to ensure she remains, at least, in a ceremonial post. Earlier this week, Sanders won big victories in staffing the DNC's platform committee with sympathetic voices. The senator's top aides viewed it as a welcome concession from the chair and a potential thawing of their relationship.
"We can find ways to work together like we did on the platform drafting committee," said Sanders' top adviser, Tad Devine. "With DWS we will see what happens. She is going to have to make her decisions. But as long as she is in a position of authority we expect to be treated fairly. ... I think everyone should step back and look at [the final vote tally] numbers and say that's going to be reflected on the floor of the convention and dealt with fairness and respect. And if we do that, we can be positive going forward."
Calling all HuffPost superfans!
Sign up for membership to become a founding member and help shape HuffPost's next chapter