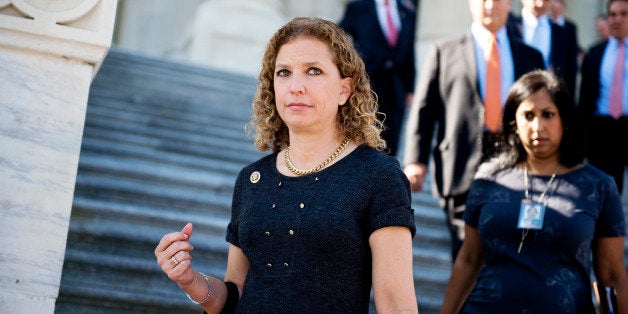 We know that the most vulnerable among us were hit the hardest during the 2008 financial crisis. Millions of people lost their jobs, their homes, and their bank accounts. That's enough to make you sick to your stomach. But for many, it got worse.
Predatory payday lenders stepped in to profit during the financial crisis. They targeted poor communities -- and people without access to credit from banks -- by offering them short-term loans at sky high interest rates.
On an annual basis, these companies charge late fees and rates as high as 300 to 400 percent and many companies have even charged up 1,900 percent interest on loans, which is obscene. Worse, they target people -- particularly people of color -- who are unable to pay the loan back. If they fall behind, they are offered another payday loan to help cover the cost of the prior payday loan, with fees and percentages get higher and higher, trapping them in an process that never ends.
I have pushed for regulation of payday loan companies my entire career as a law professor and political activist and I opposed the deregulation of lending standards when I served as a legislative aide to the late U.S. Senator Paul Tsongas in the 1980s. I worked with Senator Bernie Sanders and his staff on provisions in the Dodd-Frank Wall Street Reform Act of 2010, and I was heartened when Congress created the Consumer Financial Protection Bureau (CFPB) to do just that -- to provide some basic minimum standards in payday loans to prevent the poorest and most vulnerable among us from getting ripped off and trapped in a downward cycle of debt. This is a reform that has been championed by Senator Elizabeth Warren and supported by President Obama.
The answer is simple: Debbie Wasserman Schultz has been taking millions of dollars from the same corporate interests that profit from payday loans. She recently reversed President Obama's long-standing ban on corporate lobbyist donations to the Democratic National Committee (DNC), opening the door to influence peddling by the payday loan industry.
"...the industry has cultivated a powerful new ally in recent weeks: Democratic National Committee Chair Rep. Debbie Wasserman Schultz (D-Fla.).

Wasserman Schultz is co-sponsoring a new bill that would gut the CFPB's forthcoming payday loan regulations. She's also attempting to gin up Democratic support for the legislation on Capitol Hill, according to a memo obtained by The Huffington Post."
Not only is Wasserman Schultz carrying water for an industry that is actively defrauding poor communities out of millions of dollars -- one company recently was forced to give $19 million dollars back to customers in illegal overcharge payments -- but she is actively convincing Democrats in Congress to do so as well. Which party does she lead again?
Loan sharks should feel right at home in the party of Donald Trump, but con artists should have no place in the Democratic Party. This is another example of Debbie Wasserman Schultz failing the people of her district and progressive activists like you and me.
In barely seven weeks, our campaign has received more than 11,000 individual contributions, making us the fastest growing grassroots campaign for Congress in the country. When we win this race, it will send a loud and clear message that voters will no longer tolerate corporate domination of our politics.
Popular in the Community