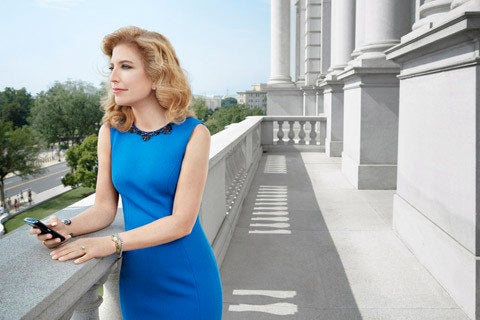 Vogue's recent profile of congresswoman Debbie Wasserman Schultz, written by Jacob Weisberg, lists her well-known professional achievements, from becoming the youngest female legislator in Florida's history to serving as the 52nd Chairman of the Democratic National Committee. But the images of the congresswoman that run alongside the profile show her with straightened hair, pale, generic facial features, designer dresses by Jason Wu and Roland Mouret, and a picture-perfect body -- an appearance that, according to critics, is at odds with the congresswoman's image in the public eye as a hardworking and down-to-earth mother-of-three.
Weisberg's piece describes Wasserman Schultz as "frizzy-haired," and notes that she is "neither elite nor rich," but Emily Goodin wrote on "The Hill" that "Wasserman Schultz's strike-a-pose is a different look for a lawmaker known for her rapid-fire schedule of fundraising, congressional duties, television appearances and being a mom of three."
On Twitter, users disappointed by Vogue's portrait of the congresswoman included Em Hall, who described the Vogue picture as "disheartening" and asked "What did they do to her?!" User Katie McHugh said that the congresswoman looks "bafflingly unrecognizable," and Afterseven claimed that "Whoever is in charge of airbrushing at Vogue deserves a raise."
But is it really such a problem for a congresswoman to let herself be styled glamorously for a magazine shoot?
Hillary Reinsberg of BuzzFeed SHIFT says it isn't. She tweeted that Wasserman Schultz "looks awesome" in the images and argued in a piece on SHIFT that attempts to "write off the [Vogue] piece as prissy" or lighthearted would be "mostly inaccurate."
Some on Twitter expressed approval of the photos. Self-described "political junkie" Russell Schaffer posted "DNC Chair @DWStweets looks great in this Vogue spread," and one Brooklyn man defended the congresswoman, "@DWStweets you look amazing in the Vogue photos. Don't listen to the haters! Nothing wrong with styling up your look."
Jonathan Beeton, Wasserman Schultz's Director of Communications, told BuzzFeed SHIFT that the pictures don't contradict anything Wasserman Schultz stands for and suggested that the photos would resonate with women around the U.S.:
"Debbie Wasserman Schultz really is many working Moms throughout the country. They are at their kids' softball practice in a tshirt and shorts. They're at work in a suit. In the times that they're able to go out for a special occassion, they can put on a nice dress."
What do you think of the congresswoman's makeover? Tweet your thoughts @HuffPostWomen or post a comment below!
Related
Popular in the Community