Democratic National Committee Chair Debbie Wasserman Schultz (D-Fla.) on Thursday denounced former New York City Mayor Rudy Giuliani for saying President Barack Obama "doesn't love" America.

"Just last night, Rudy Giuliani, a former mayor and a former GOP presidential candidate spoke at an event in New York City," the congresswoman said at the Association of Democratic State Chairs meeting in Washington. "And he said, according to press reports…and I want to read the whole quote…'I do not believe, and I know this is a horrible thing to say, but I do not believe that the President loves America. He doesn't love you, and he doesn't love me. He wasn't brought up the way you were brought up, and I was brought up, through love of this country.'"
Giuliani made the remarks at a private dinner in New York on Wednesday for Wisconsin Gov. Scott Walker (R), a potential 2016 presidential candidate. Wasserman Schultz, who is contemplating a run for Senate in Florida, pointed to the remarks as proof of yet more personal animus toward the president by prominent Republicans.

"Sure, we have policy differences, and we should talk about them. Sure, we have big differences over the direction we should take the country; we should talk about those too. But for them, it's more than that. It's personal, and it's ugly, and there's no sign of it getting better," she said of Republicans.

"In all seriousness, I rarely agreed with President Bush, but I never questioned his love for our country," she added. "I don't often agree with my Republican colleagues on the Hill, but I know they love America."
The party chairwoman recalled that in 2008, then-GOP presidential nominee John McCain denounced racial comments about Obama. She called on the rest of the field of potential Republican candidates to do the same.

"If the Republican Party really wants to be taken seriously…really wants to avoid its problems of the past…now is the time for its leaders to stop this kind of nonsense. Enough," she said.
Walker, who was in the room Wednesday night, responded to Giuliani's comments in an interview on Thursday. "The mayor can speak for himself, I'm not going to comment on what the president thinks or not," he said.
Before You Go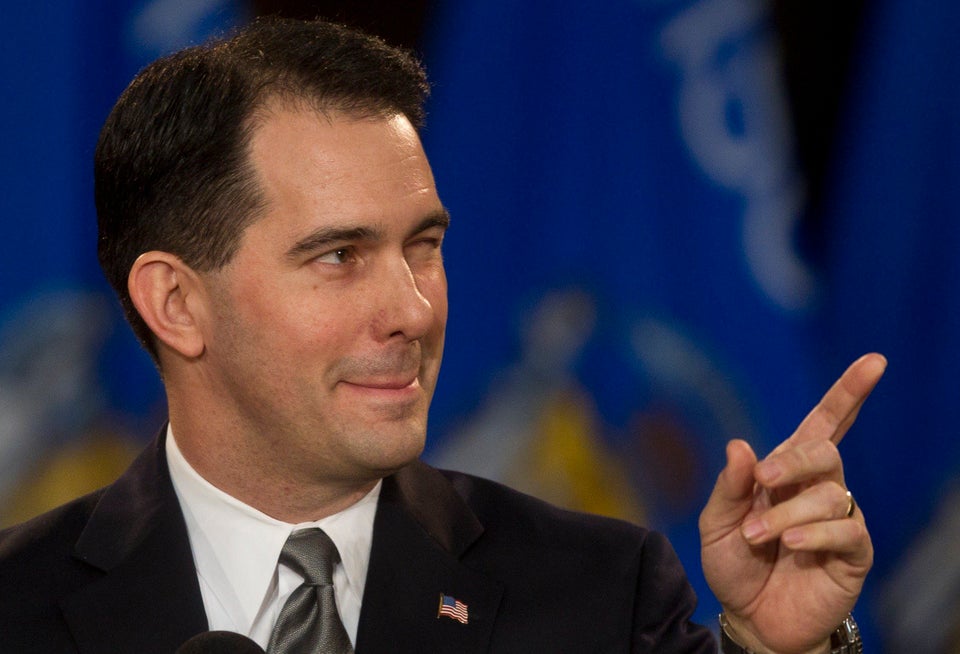 Scott Walker Pointing Fingers
Popular in the Community