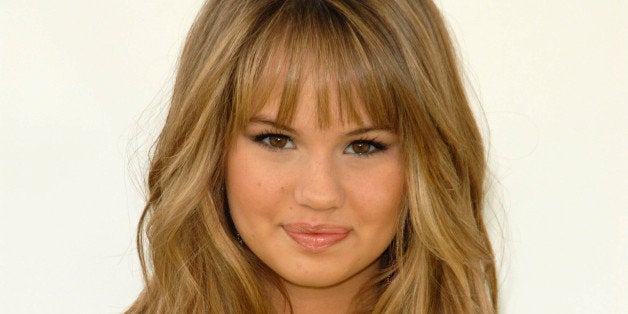 "Dweebs are the new chic," Debby Ryan announced when we sat down for an interview at the HuffPost offices in New York. She proves it, too. Born in Alabama, the 19-year-old actress got her big break as Bailey on The Suite Life on Deck in 2008. Now, she stars as the title character on JESSIE, where she plays a small-town girl working as a nanny in New York City. The Disney star is undeniably dorky -- she spilled about getting rejected by former co-star Cole Sprouse and even dared me to call her a nerd. But if you think Ryan isn't unbelievably cool too, think again. Like her on-screen persona, she's instantly warm and friendly, as if she's been your best friend forever.
That upbeat spirit came in handy for her most recent project, an animated Tinkerbell movie called Secret of the Wings, in which Ryan plays a fairy called Spike. She stars alongside acting legends Timothy Dalton and Anjelica Huston, as well as up-and-coming stars like Mae Whitman, Lucy Hale, and Megan Hilty. The movie is out on DVD this week.
Hannah Orenstein: How did you relate to your character Spike in Secret of the Wings?
Debby Ryan: I'm very practical and realistic... I'm trying to not use the word "pessimistic." She and I are very similar that way. She's a hardcore fairy. I like her!
How do you relate to your character Jessie?
She and I are both tough. It's not easy to shake us. We're both kind of the bounce-back queen. A lot of her is just really written for me. She has a pretty self-deprecating sense of humor and she loves the kids fiercely. She can be a complete dork. That's what I like about her.
Is it weird for you to have so many dedicated fans on Twitter?
It's weird that some have my face as their icon. It's strange for me because I remember tacking posters up on my wall and writing fan mail. I remember going to acting class, so certain that no one's ever going to know my name. It's a bit hard for me to grasp.
Twitter user @juliabalicka1 asks, "Who are you closest to in the JESSIE family?"
I have the most scenes with Zuri, so I'm probably closest with Skai [Jackson]. I'm also really close with Cameron Boyce, who plays Luke. We don't have that many scenes together, but he has this part of him that can pick up on what I need -- if I'm stressed, if I'm happy. He can see through me more than most people. You see us bantering back and forth on screen, but you don't see us knocking on each other's dressing room doors crying and supporting each other.
Are you close with Disney stars from other shows?
[The other Disney stars are] kind of like people you go to class with. I know I'm going to see you in class every day and I'll probably borrow your notes. When I first was on "Suite Life," I was like, "Let's go to play ping-pong after work!" Cole [Sprouse] was like, "Debby, no. I just worked eight hours on set with you. I'm going to work eight hours on set with you tomorrow." At the time, I thought that was insensitive, but I totally get it now. You have to have your own space.
Twitter user @TCharboneau2012 asks, "Are the rumors true about there being a Jessie movie in the worx?"
The rumors are true. You're kind of going to get to know everyone, especially Jessie, in a way you never have before. Bigger adventures, bigger mayhem, and really amazing, heartfelt moments. We haven't filmed it yet.
You recently did a beautiful cover of Taylor Swift's "We Are Never Ever Getting Back Together" with your friend Nick Santino. Do you have any musical plans for the future?
I'm definitely interested in making more music and uploading new covers; I like to take suggestions because it's more fun if people know the song. I've had this affinity for '90s rap ever since I first saw "The Fresh Prince of Bel-Air." I've been writing raps for people at tempos that no one else can keep up with, like, "Cooler than a cooler full of ice, real nice / Chilling in the back, post that with a hashtag." So, I think covering rap songs would be really fun, especially if we add that folky vibe that we did with the Taylor cover.
Do you want to record your own album?
I write songs accidentally all the time. I'll get out of the shower, my hair is dripping wet, I'm in my sweats, and I'm like, "Listen, we have to record this hook I just wrote!" If I were to have three months off, I genuinely believe I could completely piece together a record. But I don't even have six hours off.
And now you're getting into the fashion world.
Yeah, I have a web series that I produce with my mom and my stylist called Ryan Style. The idea is Emma Stone just wore this outfit to go out shopping at Whole Foods. How do I do this with the clothes I already own and make it my style? It's four or five episodes a year.
What fashion trend are you really into right now?
I like brocade a lot. I really like kind of big tote bags and big fold-over bags. As far as beauty, I like a sleek pony.
On the Halloween episode of JESSIE, your character crashes a Halloween party and gives a famous editor a copy of her short story. What's the most daring thing you've ever done to advance your career?
I was fifth-billing on Suite Life when it was coming to a close. I went in and sat down with the channel and said, "Listen, I want to produce for you." So, essentially, I'm asking for them to recreate their business model. I was 17. They loved it. And I was like, "Seriously? That worked?!" [laughs] Sitting in front of those executives brought me back to middle school. I would rather sit in front of the cheer captain and my scary English teacher than do a pitch meeting with those executives.
How did you get over that fear?
I could either not go in there and know that it definitely won't work out. Or I could go in there and they could hate it, but be like, "Man, she had the guts to come in and do what she wanted." Or it could go incredibly well and this could be the greatest thing I've ever done. You never know unless you try.
You were bullied in middle school for being a quote-unquote "nerd."
I decided one day to not let [the bullies] make me cry anymore. Every time she would say something [mean], I would roll my eyes and be like, "Ugh, really? I hope putting someone down makes you feel so awesome. Look, you can throw an insult at someone! That makes you special." At that point, they realize that you're indestructible. Once you appear indestructible, you slowly start to become indestructible.
If you could steal any actress's career, whose would it be?
Emma Stone -- the variety of hair colors that woman has used! But also, the variety of roles that she's taken has been amazing. She's incredibly classy, she doesn't take herself too seriously, and she has a total smoke of a boyfriend.
If you could give one piece of advice to yourself as a younger teen, what would it be?
I was so focused on making sure that I was there for everyone else -- I was the shoulder to cry on for all of my heartbroken friends and I was wisdom for my friends who didn't know what to do. Now, my mom is like, "You need to rest, you need to go to Disney Land, and be a kid."
PHOTO GALLERY
Debby Ryan Photos
Calling all HuffPost superfans!
Sign up for membership to become a founding member and help shape HuffPost's next chapter