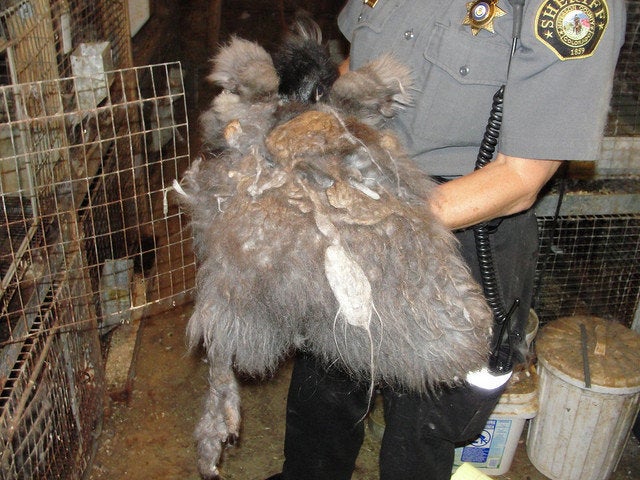 Debe Bell, 59, a Colorado rabbit farmer who operated Six Bells Farm, has been found guilty on 35 counts of animal cruelty, The Denver Post reports.
Bell was charged with 55 counts of misdemeanor animal cruelty after authorities raided her Six Bell's Farm in Arvada in July of 2011 and found the rabbits in "inhumane and cruel" conditions, 7News reports. She was found not guilty of animal cruelty in the deaths of 20 rabbits found in a freezer on the farm's property.
Jefferson County Sherrif's Office released this press statement about the shocking conditions the rabbits were kept in, "After Officers and veterinarians' did an initial inspection of the rabbits and the conditions they were being kept in, it was determined that the 200 rabbits needed to be seized for their welfare. The rabbits are being transported to the Jefferson County Fairgrounds for further evaluation and care by Foothills Animal Shelter."
Piles of feces and pools of urine in many cases so profound that the animals are sitting or lying in it.
Impossible to determine sex of many of the rabbits due to severely matted and filthy coats.
Unacceptably high ammonia levels caused by excessive urine.
Many of the rabbit's coats are so severely matted that they cannot urinate or defacate without extreme difficulty.
There is a lack of food and water, resulting in "terrible dehydration" which is evidenced by "tacky gums."
75% more rabbits housed in the shed than the space allows.
The arrest affidavit went on to describe rabbits with severe eye discharge, nasal discharge and even a dead rabbit and another with a neurological disease. When Animal Control Officers and medical personnel placed clean bowls of water in front of the rabbits, the sick animals "lunged" at the bowls of water.
Bell's attorney, Elizabeth Kearney, hoped to beat the charges against her client with the claim that Bell's rabbits should be considered livestock, not pets, and that Jefferson County Sherrif's are incorrectly enforcing standards for domesticated animals, according to The Denver Post.
Bell is scheduled for sentencing in March, she could receive up to 18 months in jail for each count of animal cruelty.
Photos taken at the scene of Six Bell's Farm animal cruelty call in July 2011. The animals were seized due to the conditions, following a search warrant. Courtesy of Jefferson County Sheriff's Office. WARNING: PHOTOS ARE GRAPHIC.
Calling all HuffPost superfans!
Sign up for membership to become a founding member and help shape HuffPost's next chapter