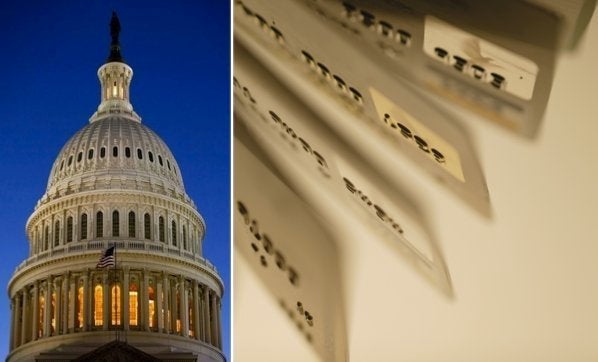 WASHINGTON -- The hardest fought, most expensive legislative battle of 2011 is coming to a head today in the U.S. Senate.
The question: How much should merchants have to pay to banks to swipe customers' debit cards? Although the media haven't zeroed in on the debate like a crotch close-up, the issue has dominated the calendars of members of Congress both when they're in Washington and back at home.
In May 2010, Senate Majority Whip Dick Durbin (D-Ill.) managed to secure 64 votes -- including 17 Republicans -- for an amendment that requires the Federal Reserve to cap the fees. The banks have been battling ever since to roll it back, first proposing a two year delay, then a 15 month pause and now a one year delay.
Bank and merchant lobbyists will be working furiously for the next few hours to lock down the last votes before a new amendment to delay the fee cap, carried by Montana Democrat Jon Tester, is voted on at 2:00 p.m.
Tester sat in the presiding officer's chair Tuesday as Durbin excoriated his amendment. "with some reservation, the senator from illinois," Tester quipped when giving the floor to Durbin, who responded that it was "cruel and unusual punishment" for Tester to have to to sit silently while he attacked the amendment. "But I'm going to inflict it anyway," Durbin added.
The issue is as hot as it is because it pits two powerful corporate interests against each other. "This is one of those where people have friends on both sides of it," Sen. Mark Pryor said yesterday. Pryor, a Democrat who represents Arkansas, the home base of Walmart, said he remained undecided.
At stake are roughly $16 billion a year in "swipe fees" that merchants pay to banks for the privilege of allowing their customers to shop with plastic. The new federal rules aiming to rein in those fees are slated to take effect on July 21.
The melee features a proxy leadership fight in the Democratic Party that depends heavily on Republican votes. It has major implications for the future of campaign financing for both parties.
On Tuesday, HuffPost asked Durbin about Tester's decision to attach his amendment to a legislative vehicle that is running on empty. Durbin responded with a wide, wry smile, relishing the timeworn congressional jiu-jitsu that pinned Tester without the Montana senator even realizing it. "Well," Durbin said, "we haven't had a lot of luck passing bills in both chambers."
K Street, which has lobbyists representing banks and merchants, wins either way and is grateful to Durbin for the payday, he says. "A friend of mine who is a lobbyist downtown in Washington said, 'Durbin, praise the Lord. Come up with some more ideas. This is a full employment amendment. Everybody who is a lobbyist in Washington is working on this amendment. We just love you to pieces,'" Durbin recounted on the Senate floor Tuesday afternoon. "Well, the sad reality is, it's coming maybe to a close with a vote on this amendment."
The Washington subway system, its airwaves, its trade newspapers and websites -- including this one -- have been blanketed by ads paid for by banks and merchants arguing both sides of the debate, likely costing more than $100 million this year alone.
As the vote nears, an accurate whip count is hard to come by. Lobbyists on both sides are uncertain. Senators whom The Huffington Post queried generally said they remained undecided -- often a sign that members of the herd were waiting to see which way the voting stampede might be headed. In Congress, the only thing worse than flip-flopping and angering a powerful industry is going to all that trouble for a losing cause.
Both sides publicly expressed confidence. "We aren't taking a single vote for granted, but we will have the votes we need with some room to spare," said Brian Dodge, a lobbyist for the retailers.
"Most people have told me how they're going to vote," Durbin said when HuffPost noted his colleagues hesitation. But then he hedged: "They may change their mind. It isn't over."
"If it's a 60-vote threshold, that's hard to get there," said Sen. Richard Shelby (Ala.), the top Republican on the banking panel and a strong Tester backer. The banks got a major boost this week when Americans for Tax Reform, Grover Norquist's group, designated the issue a "key" vote, meaning that breaking with the banks will count against senators tax-hawk bona fides.
Tester, with Corker's help, has been asking for months for a vote. Durbin said he could have pushed it back but decided not to. "He was going to get a vote and the question was when," said Durbin. "I could have delayed it. It reaches a point where I think the arguments have been made, so now let's have a vote."
If this debate is what Washington wants to focus on, then we're going to cover it minute to minute. Check below for live updates or take a moment to read our (very long) take on what this fight says about the current state of Washington politics.
Lobbyists, flacks and senators: email us at ryan@huffingtonpost.com or zach.carter@huffingtonpost.com with news, speculation, tidbits, whip counts or whatever else.
REAL LIFE. REAL NEWS. REAL VOICES.
Help us tell more of the stories that matter from voices that too often remain unheard.