"I say to people all the time that I have only thus far really worked at three places in my life: The Robert Blackburn Printmaking Workshop, El Museo del Barrio, and now at The Wallach Art Gallery here at Columbia University. I knew from the time that I was a kid that I wanted to be in the arts, and that is pretty much what I have done."
Deborah Cullen-Morales has been Director and Chief Curator at The Miriam and Ira D. Wallach Art Gallery since she made the move from El Museo del Barrio some five years ago. Says Cullen-Morales, "I was hired to bring the Gallery to our new Building in the Lenfest Center for the Arts at 615 West 129th Street. To understand the importance of what we are trying to do here," she explained, "you have to understand a little bit about the history of the Gallery.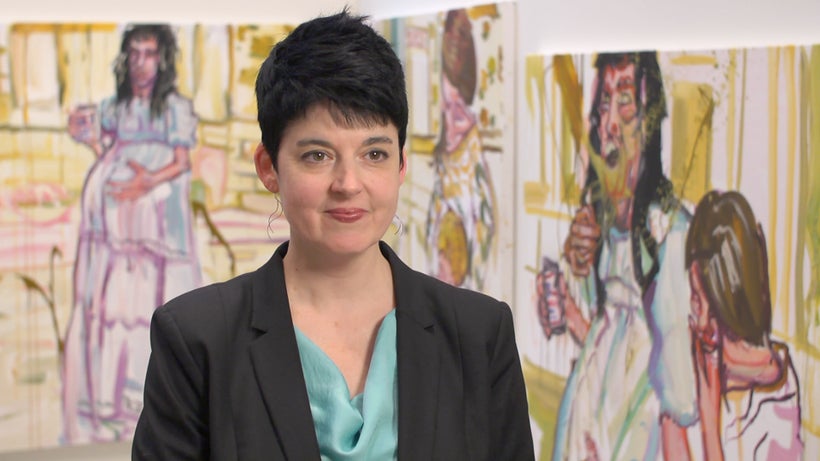 "The Miriam & Ira D. Wallach Art Gallery was founded by the Art History Department at Columbia University and we still work with the Art History program at Columbia on projects that they would like to see happen here. In addition, we concretize work with Columbia's collections. Since my time at the Gallery we have established a relationship with living artists through our first year and thesis MFA exhibitions.
"But equally important for us is the work that we are doing with the broader community living and working around us. We want these communities, our neighbors, to know that they are welcomed here, that they are included here, that we are inclusive of a broad art-going public. This is encoded in the very transparency of the museum language and its see-through walls, and the fact that our exhibitions are free and open to the public. We have also partnered with other arts organizations to put on a Triennial focused on artists who live uptown."
Deborah Cullen-Morales was born in what she describes as the fantastic city of Bridgeport, Connecticut to a father who worked for the postal service and a mother who was a homemaker. Growing up in Bridgeport, before the family moved to more affluent Trumbull, she went to public school where she was exposed to a diverse student body. Even as a child she was interested in the arts, in drawing and painting, and by the time she got to a better-resourced high school in Trumbull she could draw and paint quite well. Trumbull, though, was a shock to someone coming from Bridgeport because everyone seemed so sheltered and it was more of a white enclave.
From very early on she had her eyes set on New York City. However, when she told her parents that she wanted to go to the School of The Visual Arts to be a painter, they tried to encourage her to do something "more practical" like becoming an engineer or a doctor. "Art History or being a curator was not even part of my vocabulary then," Cullen-Morales recalls.
Nevertheless, she ended up at the School of the Visual Arts in the 1980s. She remembers a time, at SVA, when all the professors were practicing artists and the school was not very heavy on academics. For example, there were few art history classes. One of her professors at SVA was a guest artist at Robert Blackburn's Printmaking Workshop and arranged to take the students there on a trip, and, the rest as they say, is history.
"I am still involved with The Printmaking Workshop!" Cullen-Morales said, laughing. "I think I will always be involved with the Printmaking Workshop! I was on the phone with them yesterday!"
The now-legendary Robert Blackburn was the person who showed the students around. At the end of the tour, he asked who wanted to intern at The Printmaking Workshop and Cullen-Morales' hand shot up as if it had a will of its own. She would continue on at SVA finishing her bachelor's degree while working part-time at The Printmaking Workshop. Her thesis consisted of several neo-expressionist paintings, one of which won an award and was acquired by the SVA, but one gets the sense that her real education was at The Printmaking Workshop being mentored by Robert Blackburn, and artist and art administrator Robin Holder.
After completing her undergraduate degree, she spent nine months travelling throughout Europe and the Middle East, mainly looking at art. That was when she started to realize that she needed art history classes. Back in New York, she continued working at The Printmaking Workshop during the day while she took a job at Columbia University at night, which allowed her to take some classes as she prepared to go to graduate school. At this time, she still thought of herself as primarily an artist.
Cullen-Morales was now inventorying and organizing the print collection, and curating shows at The Printmaking Workshop. "Had I ever done this before? No!" She laughs. "I was doing everything from bottom to top! But it was a great way to learn to do what I am now doing. Suddenly, I was the curator of the print collection at The Printmaking Workshop and I learned about all these artists from all over the world, because the Printmaking Workshop offers the best training in printmaking in the world."
During this time, she had applied to and started doing the doctoral program in art history at the CUNY Graduate Center. As she was thinking about choosing the subject for her dissertation, it suddenly occurred to her that there had been no retrospective or major publication on the founder of The Printmaking Workshop, Robert Blackburn. She set out to right this wrong with her dissertation. To do so though, she felt it necessary to leave The Printmaking Workshop in order to develop some perspective on her subject. She took a curatorial position at El Museo del Barrio, where she would remain for close to sixteen years.
"It was such a different time, then," she muses. "There was no email. You called artists on the telephone. People dropped off these things called slides. The work El Museo did was and is absolutely vital to the culture of New York City, especially so in meeting the needs of the core Spanish-speaking communities there."
These days though, Cullen-Morales is very much focused on meeting the needs of the various constituencies served by the new gallery space in the gorgeous Lenfest Center for the Arts building at 129th Street. The curatorial team is getting ready to close the third exhibition in the new space, 'Living in America: Frank Lloyd Wright, Harlem & Modern Housing', and putting up the next exhibition, 'Arthur Mitchell, Harlem's Ballet Trailblazer'.
I wanted to know if Cullen-Morales felt she had moved away from her roots in the work that she now does for Columbia University.
On that point, she was emphatic.
"If you look around the office," she pointed out, "you will see that we are a very small staff doing a lot! We work extensively with other arts organizations in the area. We make a point of working with local artists, uptown artists, and in inviting the community into the art space. From time to time, I still practice as an artist, though my primary identity now is definitely that of a curator and an art historian. I like to think that my creativity and all the work I have done in the past helps me to work with artists and to understand what they are saying. I don't think I have moved away from my roots at all."
Deborah Cullen image courtesy of Columbia University School of the Arts
Calling all HuffPost superfans!
Sign up for membership to become a founding member and help shape HuffPost's next chapter
This post was published on the now-closed HuffPost Contributor platform. Contributors control their own work and posted freely to our site. If you need to flag this entry as abusive,
send us an email
.