I've always admired Deborah Koff-Chapin's artistic talent and commitment to her Touch Drawing process, but when I've tried Touch Drawing my pieces haven't been much to look at. With her SoulTouch Coloring Journals, however, I've been able to meld my skills and natural creativity with her amazing images, and that has allowed me to manifest something that I find both artistic and powerful.
Here's how Deborah describes the Coloring Journals:
"These coloring books engage the user in a collaborative relationship with the evocative images through free-form coloring. Rather instruct the user to fill in the lines as other coloring books do, the text suggests more free-form, creative ways to play with color on the images. The books are printed on very high quality, heavy weight paper for a satisfying coloring experience. ... The text also includes instructions on how to create an atmosphere for renewal and inspiration as one works with the coloring journal alone or with others in a coloring group."
It's been less than two weeks since I began the Coloring Journals process, and I've only made a single image thus far (seen below). It began the day that the Coloring Journals arrived in the mail. I had just returned from a weeklong silent retreat, so I was doing my usual catch up routine when the package was delivered. Needless to say, delving into what I later found to be a solitary, silent, meditative, artistic practice seemed like a welcome respite from the stress of returning to "reality."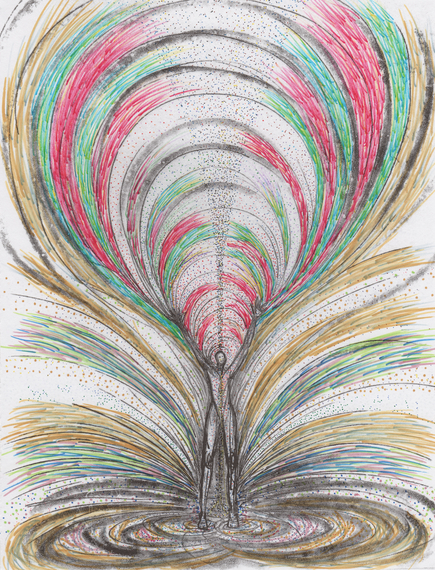 First, I briefly scanned Deborah's instructions before finding my own way on this journey. (What can I say. Guys and directions. Not so much.) The process of finding my path and creating my first image took twelve days.
You don't have to make your own path. Deborah has been kind enough to put simple, clear directions at the front of each book. She has also gone the distance in creating a user-friendly book that opened new doors to some of my previously dormant creativity.
It's wonderful that the paper is heavy enough to withstand wet mediums like watercolors or acrylic. I used what was familiar to me - colored pens, and I was thankful to find no bleeding with this paper. I was also grateful that each page is perforated so that when I was done I could easily remove the image for scanning.
My personal process involved using the Coloring Journal image for intentional manifestation. The initial step was deciding what image to use, which was a fairly daunting task the since each of the five books has thirty-eight images. Fortunately, I've been doing intuitive work long enough to appreciate simply allowing intuition to guide me and not make a big deal about what catches my attention. After all, I still have the books, and I'm eager to begin again with another image.
With Deborah's image in place, I wrote my intention for the piece I was creating on the backside of the sheet, which is conveniently lined and can be written on with dark pen with no bleed though. (I tested it.) That done, I immediately forgot my intention and began to layer my artistic vision on top of Deborah's work.
This was an amazingly liberating and challenging process that could only happen when it was ready to happen and each session ended quite naturally. Then, I'd leave the book open to that image on a table until I was moved to take the next step.
The process went on for twelve days. During that time, I twice added more to my intention on the backside, but I was careful not to look at the previous writing, as I did not want to find myself trying to create some representation of an intention within the image itself.
When I had completed my piece to my satisfaction, I looked at the intentions written on the back of the page only to find that several unexpected incidents had occurred over those twelve days, and those incidents moved two of my intentions forward dramatically. The third intention had only been added three days before completion, but it, too, was beginning to see the glimmer of manifestation.
All in all, the process of working with this Coloring Journal was magical, effortless and challenging. The challenge was to let go and allow the process to occur in its own time. Once I did that and really trusted the process, everything flowed with ease and grace.
Deborah's SoulTouch Coloring Journals, like her art itself, are a unique gift for all who are willing to step out and partake in a new form of creative awakening. Hopefully, these books will soon become icons of modern personal growth and enlightenment.
Popular in the Community