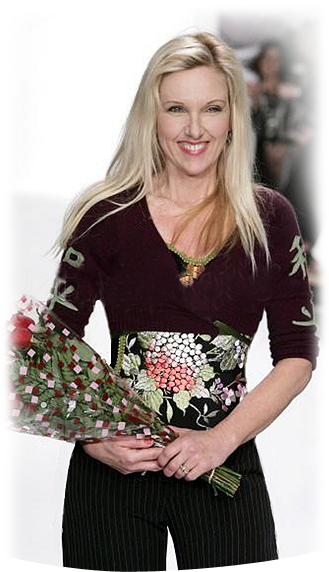 Every time I design a collection, I consider the multi-seasonability of the garments I create. When you shop, so should you. I am known as an "eco designer" and for my use of recycled/vintage mixed with new pieces to create a complete look. That's where the real creativity takes place within your own wardrobe. It's so much more fun and creative to design your own look with your favorite pieces rather than buying a whole coordinated look at the mall. For one thing, you won't see yourself coming and going, and it allows you to express your individuality while keeping your budget in check.
Here are 5 ways to recycle your summer wardrobe into fall, using some key fall trends as a guideline:
1. Sheer maxi skirts: While you may have worn them as sheer as possible for spring/summer, consider wearing a fun pair of tights (plain or patterned) under your sheer maxi and pull on your motorcycle boots. I especially like the tough/feminine look of a chunkier boot with a long feminine skirt, paired with a simple t-shirt and perhaps a vintage leather cropped jacket or perhaps an appliqué cashmere cardigan.
2. Almost anything 1970s: While there are many 1970s trends re-emerging for fall 2011, I'd like to consider the questionable coolness of hot pants. If you wore them when they were fashionable back then, you probably shouldn't wear them quite like that now--but, as they say, the legs are the last to go.
So if you're not of a certain age, and you've got 'em, work 'em. With that in mind, a cute pair of tailored short shorts layered over opaque tights and over-the-knee boots will show off those gams you're so proud of. Add a basic turtleneck or crewneck sweater to keep it simple. If hot pants aren't your thing, substitute your favorite miniskirt. I like the idea of keeping this look tonal. Think greys, browns, and denim blues.
3. Bright colors: Add a brightly colored summer t-shirt to a neutral or dark palette. Bright turquoise with dark brown, periwinkle with grey heather, hot pink with black are all good choices, or make up your own. My tissue-weight micromodal/silk basic t-shirts are the perfect layering pieces for this kind of look. For instance, layer a crewneck periwinkle short-sleeved t-shirt over my long sleeve grey heather t , allowing the bottom of the grey heather to extend below the hem of the periwinkle to create an easy, layered look. It's best to keep the necklines the same with this silhouette.
Or take a spaghetti-strap hot pink t-shirt and layer a long-sleeved black boatneck t over it. The color of the hot pink with shine through the sheer black t and the colors of the straps will pop at the neckline. Play with lengths, allowing the layers to do what they will at the hem. An ideal length juxtaposition is 2-3 inches. Keep it easy and comfortable.
4. Layered jewelry: Picking some bold necklaces you may have left behind in your jewelry box for some time now and mixing them with longer chains can be the perfect way to update a basic t-shirt. I like this look with a basic white t-shirt the best but you could also pick a neutral color or black. Vary the lengths of the necklaces, keep them in similar metal finishes but not necessarily the same. Mix antique nickel with brushed silver, antique gold with brushed gold, even mix in a strand of pearls. Pendants work well in the layering to keep it interesting. You can create a similar look on your wrists, layering bracelets together. If you pick the layered necklace idea, keep the earrings simple. If you pick the wrists, your earrings could be bolder. I wouldn't suggest adorning all places at once.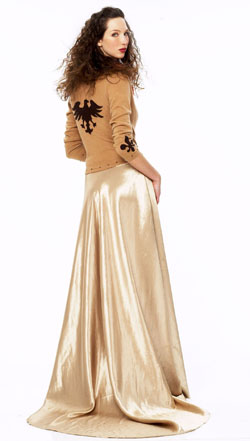 5. Platforms with stockings: We girls love our platform sandals. I especially like how they help me to stand 6' tall. All the better to see into my boyfriend's eye. I especially like wedgie platforms with this look but it also can work with a traditional heel, provided the heel is chunkier. Avoid rope or cork soles and opt for leather sandals with leather or wood heels and soles. You can mix a bright shoe with a bright tight or stocking, or a dark shoe with a contrast neutral or bright. Keep the stocking opaque and simple, not brightly patterned. Another option is a tonal pattern such as a cable tight. Perhaps oatmeal heather cable tights with a medium brown shoe?
Have some fun with these suggestions--always keeping in mind your personality and lifestyle.
As one of American's most sought after environmentally conscious designers, Deborah Lindquist creates exquisite apparel out of a mix of "reincarnated" and new Earth-friendly fabrics, such as cashmere, hemp, and bamboo. Lindquist's avant-garde apparel has been showcased in numerous publications including Elle, In Style, Lucky, WWD, Vibe, People, Brides, and Maxim. You can also catch her one-of-a-kind pieces during episodes of Lifetime's "How to Look Good Naked" and Access Hollywood's "Hollywood Green." She has dressed trendsetters such as Rhianna, Pink, Christina Aguilera, Jessica Simpson, Paris Hilton, Keisha Cole, and Jessica Alba. Check out her designs at deborahlindquist.com and read her blog on Red Room.