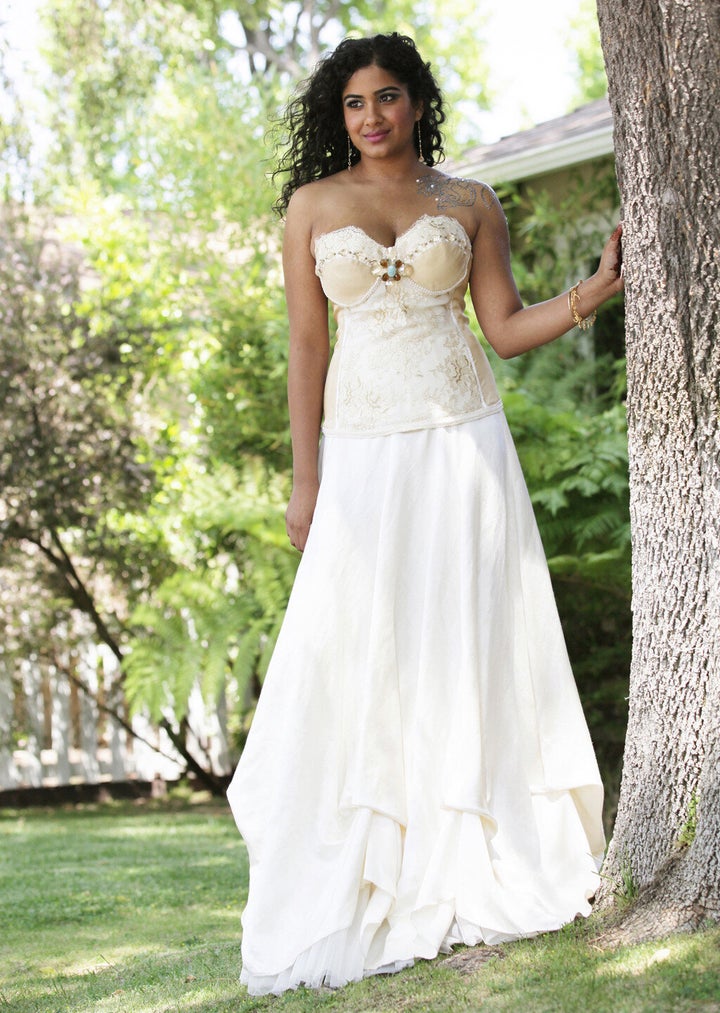 You're getting married and friends and family members all seem to have opinions about what you should wear and how to plan everything. How do you accommodate tradition and the opinion of loved ones while satisfying yourself with the dress you want for your wedding?
The modern bride has so many options today. From a traditional religious ceremony to a bohemian barefoot ceremony on the beach at sunset, the ceremony itself has traditional roots. The sacred bond of love, intimacy, and unity is the integral part of the tradition, no matter what your cultural roots are. The following ideas get you out of a "white-dress-only" mindset and into some interesting alternatives.
Long to Short Some brides are choosing a more traditional dress for the ceremony, then changing into a piece that's more fun, maybe a shorter dress, for the reception in order to be free to dance without everyone stepping on the train.
A budget-conscious way of making this formal-to-fun transition is to choose a two-piece look. For instance, this beaded muga silk and vintage lace bustier is worn here with a long hemp/silk bustled skirt. Swap the long skirt for a flirty mini for the reception.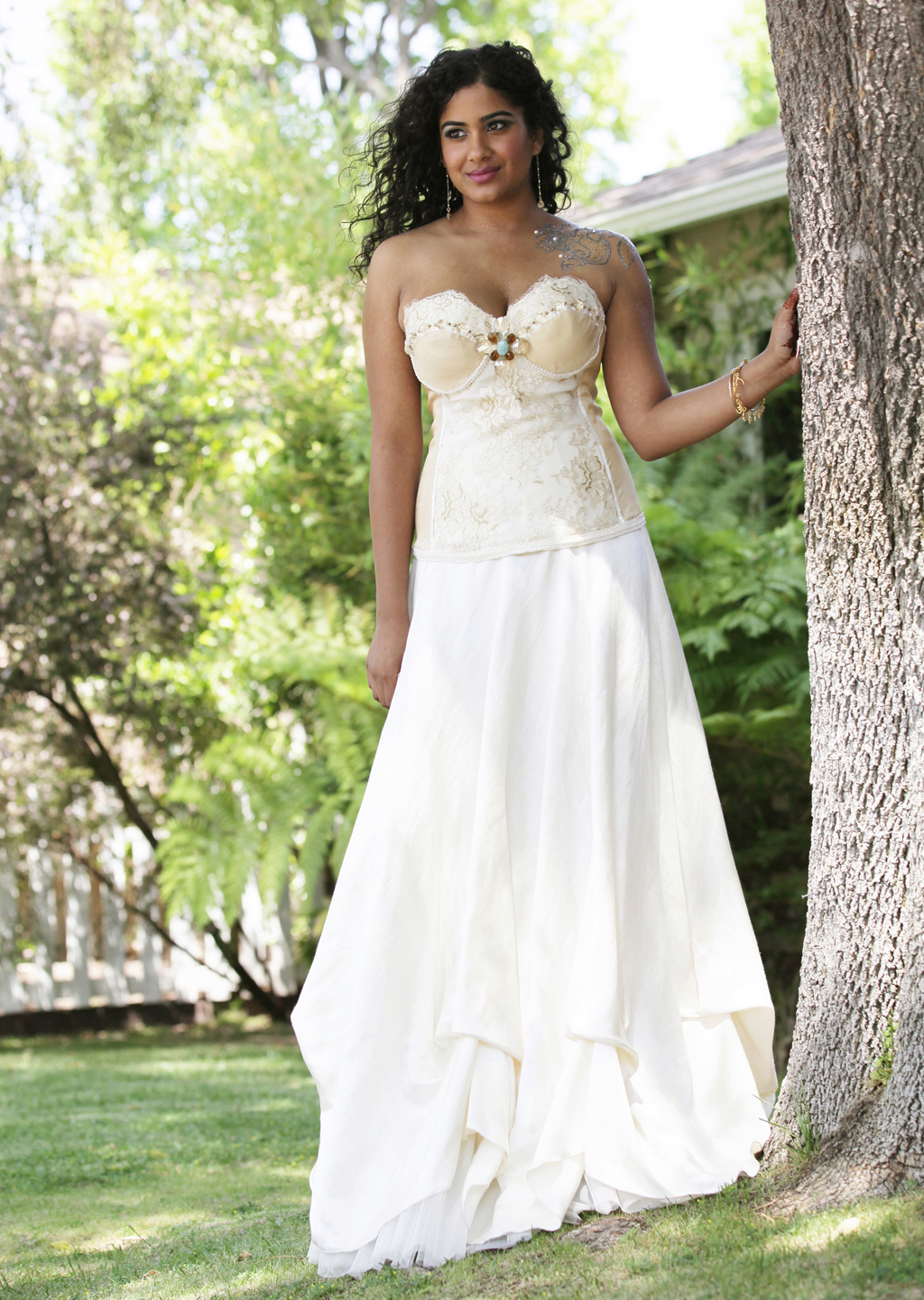 The Convertible I love items of clothing that morph into multiple looks. An interesting idea is to choose a dress that has a convertible aspect. Perhaps one with a detachable train or overskirt that can be completely removed, unveiling a slim, body-conscious silhouette underneath. Or a more covered-up bodice with sleeves that can be removed to reveal a sexy, strapless, shoulder-baring look for later.
The Chill of the Night The day can be long and it may get chilly. If you choose an arm-baring dress, wrapping yourself up in a pashmina to keep warm doesn't really offer you the option of being able to hug everyone. Neither does throwing on the groom's jacket, although that may be a chivalrous move on his part. A shrug is a perfect option since it keeps your shoulders warm. This vintage cashmere shrug with three-dimensional flower appliqués is the perfect solution to keeping the chill factor at bay, all the while keeping your arms free to hug away.
Cultural Artistry Each culture has a traditional textile art form. From preciously beaded French Chantilly lace to Scandinavian hand embroidery, your choice in what to wear may perhaps come from your ancestry. A modern take on a traditional Indian sari, for instance, could be this vividly colored, ornately embroidered silk organza gown created in part from a vintage sari.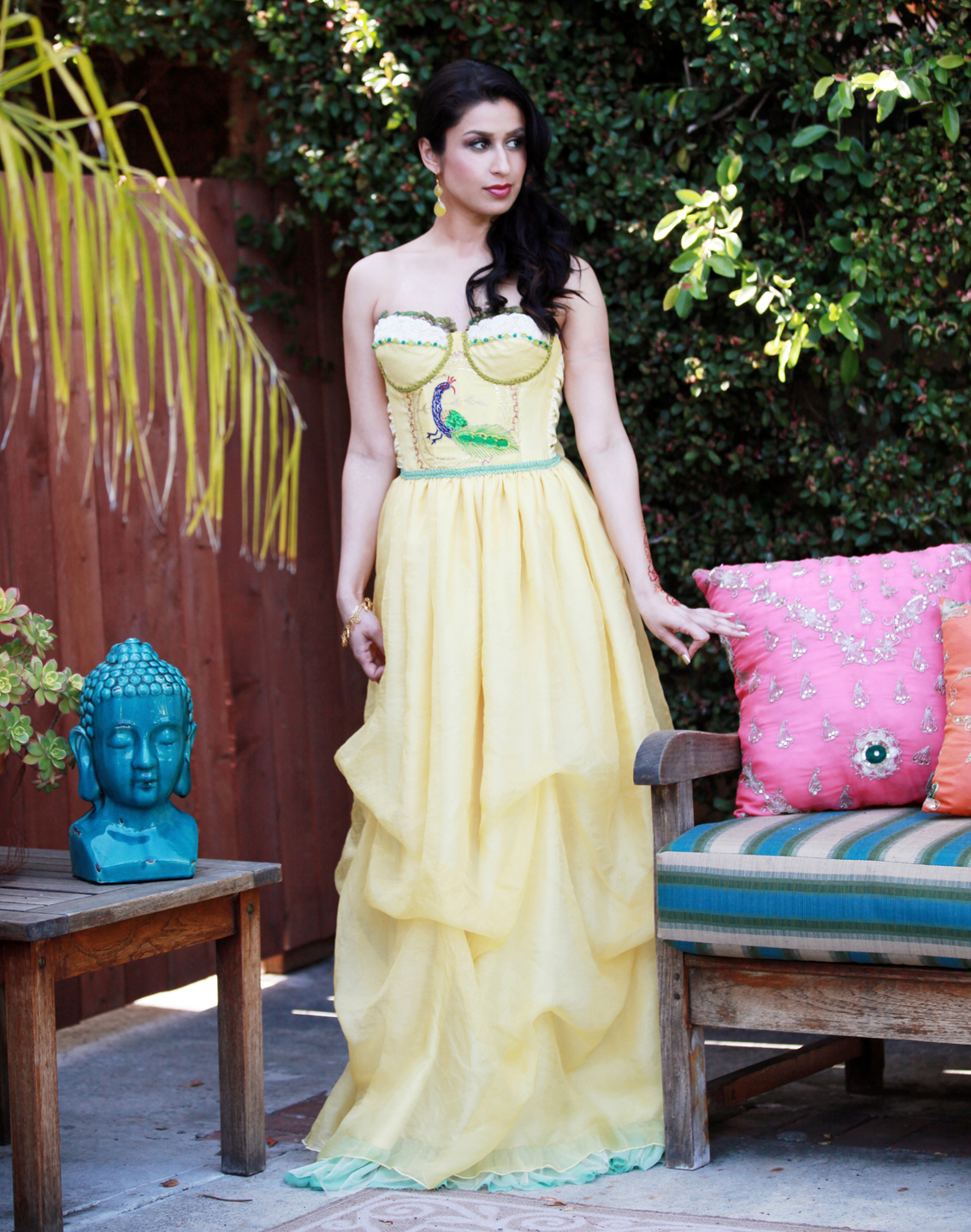 Our diversity makes us interesting. Blending tradition with modernity is a creative way to celebrate love today.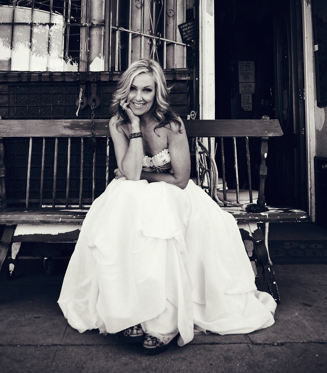 As one of American's most sought after environmentally conscious designers, Deborah Lindquist creates exquisite apparel out of a mix of "reincarnated" and new Earth-friendly fabrics, such as cashmere, hemp, and bamboo. Lindquist's avant-garde apparel has been showcased in numerous publications including Elle, In Style, Lucky, WWD, Vibe, People, Brides, and Maxim. You can also catch her one-of-a-kind pieces during episodes of Lifetime's "How to Look Good Naked" and Access Hollywood's "Hollywood Green." She has dressed trendsetters such as Rhianna, Pink, Christina Aguilera, Jessica Simpson, Paris Hilton, Keisha Cole, and Jessica Alba. Check out her designs at deborahlindquist.com and read her blog on Red Room.