By Deborah Lindquist
A field of wildflowers, lush gardens, rustic buildings and a night under the stars. While planning a wedding is many things, relaxing isn't usually on the top of the list. But nature offers us such a beautiful and perhaps rare opportunity to relax and enjoy all of its abundance. Choosing a country setting can be truly a breath of fresh air for you and your guests. And resourcefully incorporating natural, locally sourced, eco-conscious elements in your wedding is a wonderful way to start your life together as a couple.
It makes sense that the gown you choose should be a reflection of your surroundings. Vintage elements, perhaps a bouquet of wildflowers, or a gown made of sustainable or organic fibers are all good choices.
Keep it simple.
While the embroidered lace and bone beading may be complicated on this vintage lace wedding gown, the silhouette is simple, elegant and body conscious. With natural makeup and hair, you can skip the veil and accessories and just be in nature. Sometimes keeping it simple is the most elegant choice.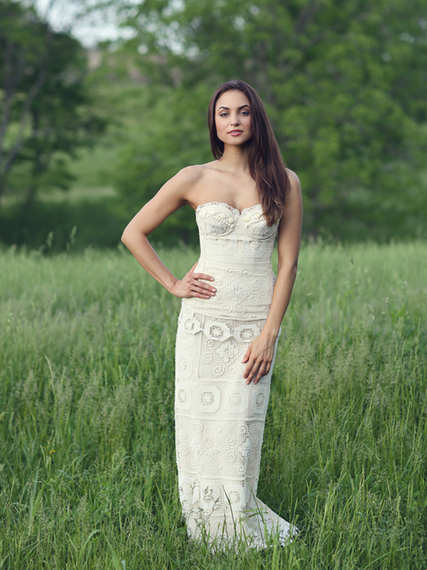 Photo courtesy of Suzy and Lukas Van Dyke.
Incorporate a vintage element.
A cherished heirloom can creatively be incorporated into your wedding gown. Upcycling is not only a trend in fashion, it is a creative way to design a wedding gown that has true meaning to you personally. Plus, "reincarnating" a vintage item is an innovative way to satisfy the "something old" tradition in weddings. This beaded wool bustier is made from a vintage beaded wool sweater. Artistic and one of a kind, its beading is from a past era and could have belonged to your grandmother or a favorite aunt. Worn with an organic linen bustled skirt with a bouquet of locally picked wildflowers, it's also eco-conscious in every way.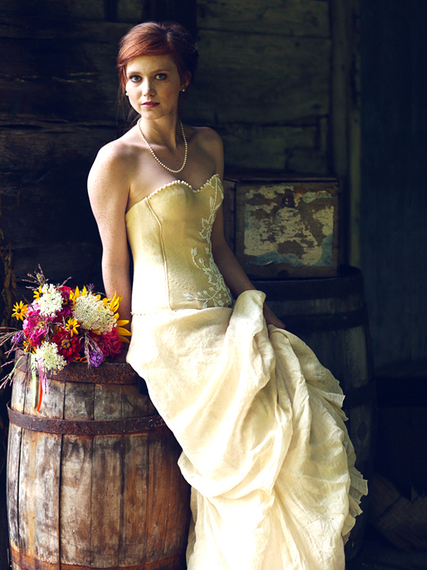 Photo courtesy of Suzy and Lukas Van Dyke.
Try an eco ball gown.
The most formal and feminine silhouette is of course the ball gown. In a rustic country setting, the word itself might not make sense, but this vintage beaded lace and organic linen ball gown is both dramatic, environmentally conscious, perfect for a country wedding. The embellished bustier bodice, nipped-in waist and ruched full skirt adorned with rosettes reflect many of the elements that make a ball gown a ball gown, but the fabrications in this gown make it eco.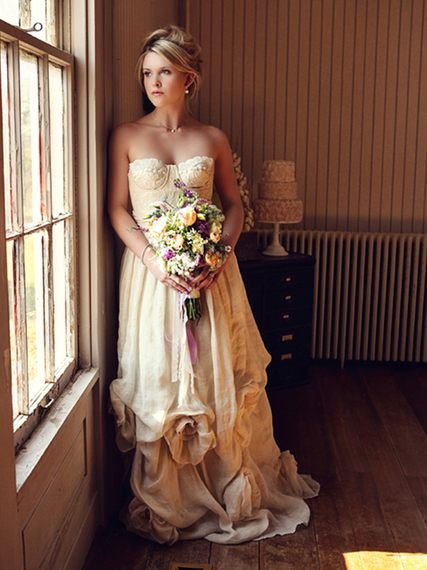 Photo courtesy of Suzy and Lukas Van Dyke.
May your country wedding be filled with the love of family and friends, celebrated in the beauty of nature.
As one of America's most sought after environmentally conscious designers, Deborah Lindquist creates exquisite apparel out of a mix of "reincarnated" and new Earth-friendly fabrics, such as cashmere, hemp and bamboo. Lindquist's avant-garde apparel has been showcased in numerous publications including Elle, In Style, Lucky, WWD, Vibe, People, Brides and Maxim. You can also catch her one-of-a-kind pieces during episodes of Lifetime's How to Look Good Naked and Access Hollywood's Hollywood Green. She has dressed trendsetters such as Rihanna, Pink, Christina Aguilera, Jessica Simpson, Paris Hilton, Keisha Cole and Jessica Alba. Check out her press page and blog to learn more about Deborah.
REAL LIFE. REAL NEWS. REAL VOICES.
Help us tell more of the stories that matter from voices that too often remain unheard.