One of the most glamorous trends in weddings today is metallic wedding gowns. While the thought of considering a metallic wedding gown may bring up visions of bad disco dressing back in the Studio 54 days or blinding pageant dresses, the high fashion/glamorous version of today is a subtle metallic sheen.
Even more beautiful as the days shorten and the less intense fall/winter sun is upon us, the subtle shimmer of a metallic gown is glamorous and romantic. And just as a woman's preferences of wedding rings and jewelry range from choices of platinum, yellow gold, or rose gold, so can her choice of metallics in her wedding gown.
A Gold Gown The subtle gold sheen in this two-piece vintage metallic lace and metallic silk organza mermaid gown is an elegant yet understated option. Just a hint of pale gold makes this gown unique. Worn with gold jewelry and a simple, sophisticated updo, the result is a beautifully romantic and body conscious wedding look.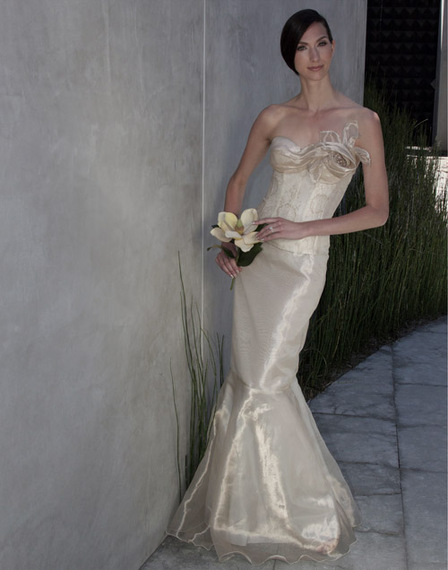 A Pewter Gown Should your preferences in jewelry tend toward the coolness of white gold and platinum, a grey-toned gown may be the perfect choice. With the grandness of a ballgown, this labradorite beaded, vintage metallic lace and pewter silk taffeta gown has a subtle, cool silvery sheen. Complimented by a dramatic take on the traditional bridal veil, the asymmetric headpiece/veil can be worn wrapped around the shoulders or left trailing down the back. And carrying a vintage brooch bouquet is a creative way to incorporate sentimental pieces of jewelry into your wedding day look.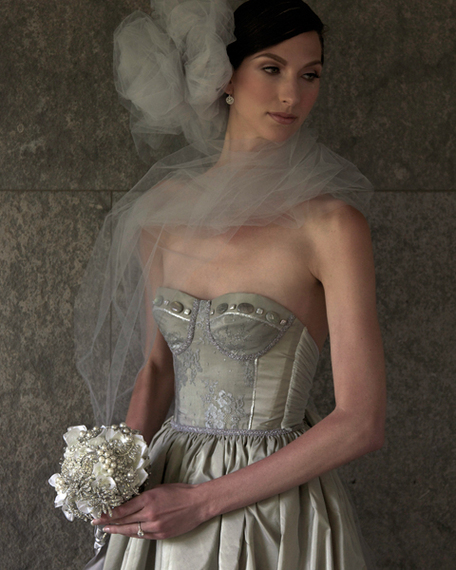 A Rose Gold Gown If you see the world through rose-colored glasses, a rose gold or copper-toned gown is a perhaps unusual but perfect choice. The pink hue of rose gold is not only pretty, it's a new standout in wedding rings and jewelry, and flattering on many skin tones. As brides veer away from the traditional white gown to their own choices reflecting their personality and lifestyle, a rose gold gown is a beautiful option for an autumn-themed wedding. Reflecting the colors of the fall season, the metallic sequins and beads on this vintage lace and silk taffeta gown are what give this bustle-back gown its shimmer. Wear rose gold jewelry, keep the hair understated and sophisticated, and you have an unusually elegant wedding look.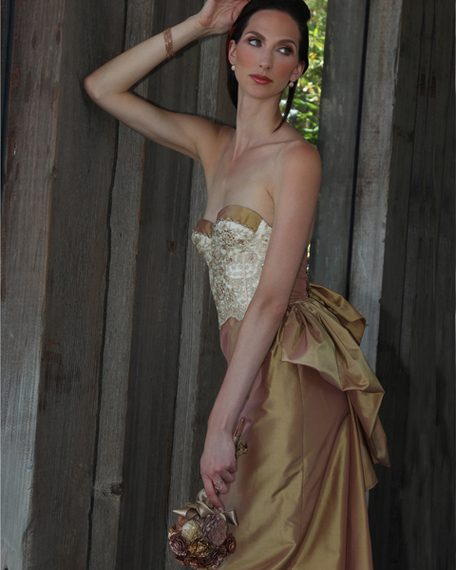 For a glamorously regal take on wedding gowns, consider dressing in the subtle sheen of gold, pewter, or rose gold on your wedding day.
All photos by Kay Greenwood.
As one of America's most sought after environmentally conscious designers, Deborah Lindquist creates exquisite apparel out of a mix of "reincarnated" and new Earth-friendly fabrics, such as cashmere, hemp and bamboo. Lindquist's avant-garde apparel has been showcased in numerous publications including Elle, In Style, Lucky, WWD, Vibe, People, Brides and Maxim. You can also catch her one-of-a-kind pieces during episodes of Lifetime's How to Look Good Naked and Access Hollywood's Hollywood Green. She has dressed trendsetters such as Rihanna, Pink, Christina Aguilera, Jessica Simpson, Paris Hilton, Keisha Cole and Jessica Alba. Check out her press page and blog to learn more about Deborah.
Popular in the Community