Under a clear blue sky on a snowy mountaintop in Aspen or in an intricately carved ice castle church in Sweden surrounded by gently falling snow, a winter wedding is something unusually spectacular.
While some of our friends in cold, snowy regions may be tired of the white stuff, there is something so truly romantic and beautiful about a fresh blanket of softly glistening crystals of snow.
Reasonably enough, a winter wedding dress should offer the bride some warmth. Here are some ideas to keep you warm while keeping your look romantic and feminine without feeling like you should just throw a parka over your shoulders.
Feathers:Feathers are surprisingly warm. The soft feather trim on the bodice of this vintage beaded wool and organic linen wedding dress offers a bit of warmth against the skin while keeping the look romantic and feminine. Additionally the feathers will offer up some drama for your beauty shots.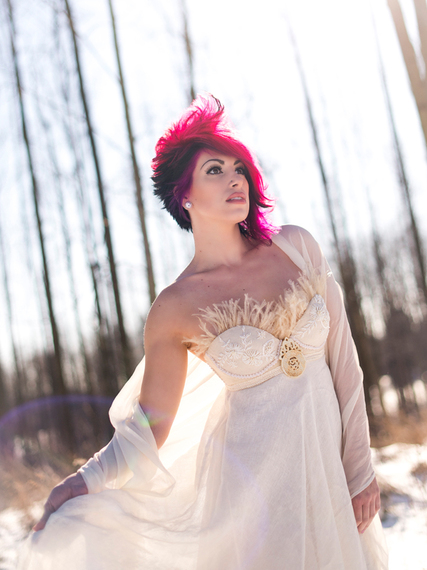 A sheer layer:Keeping your arms covered under a fitted bustier may seem like a difficult look to pull off, but this 3-piece wedding ensemble includes a beaded sheer silk mesh long sleeved top under a vintage beaded wool bustier. Worn with a bustled organic linen skirt, it's a creative way to keep warm. The silk tee is so light, you barely know its there.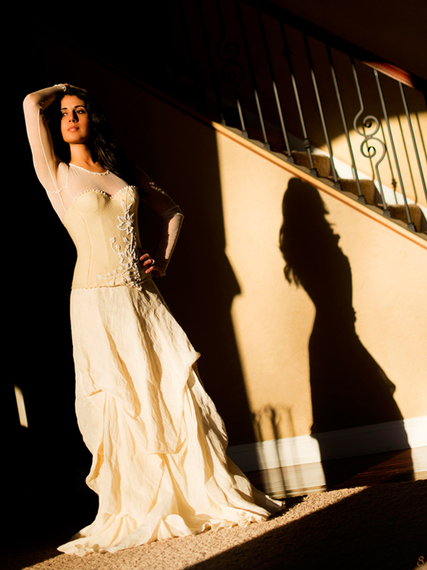 Cover your body in cashmere:Nothing is quite as warm and luxuriously soft as cashmere. This winter wedding dress has a mermaid shape but is made of vintage cashmere with a beaded wool bodice. Sexy and figure hugging, it's the warmest winter wedding dress you can imagine. Add a ruffled sleeve shrug and you are perfectly prepared for an ice castle wedding.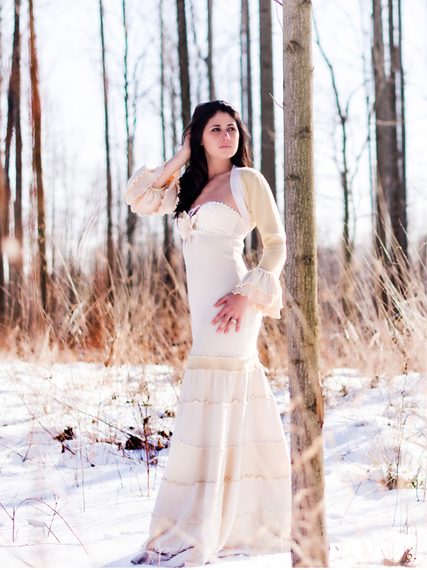 Now for the shoes...I say pick the warmest little wedge heeled boots you can find so your heels don't sink into the snow. Because I bet your significant other doesn't like popsicle toes.
Happy winter wedding season!
All photos courtesy of Autumn Stankay.
As one of America's most sought after environmentally conscious designers, Deborah Lindquist creates exquisite apparel out of a mix of "reincarnated" and new Earth-friendly fabrics, such as cashmere, hemp and bamboo. Lindquist's avant-garde apparel has been showcased in numerous publications including Elle, In Style, Lucky, WWD, Vibe, People, Brides and Maxim. You can also catch her one-of-a-kind pieces during episodes of Lifetime's How to Look Good Naked and Access Hollywood's Hollywood Green. She has dressed trendsetters such as Rihanna, Pink, Christina Aguilera, Jessica Simpson, Paris Hilton, Keisha Cole and Jessica Alba. Check out her press page and blog to learn more about Deborah.
Related