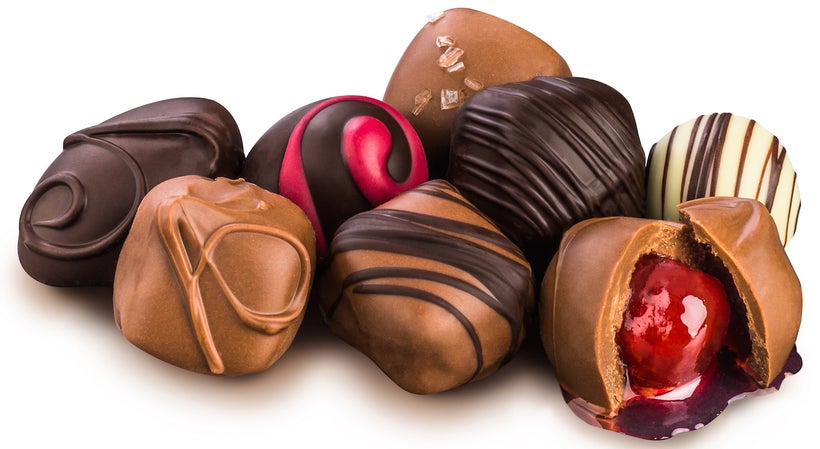 That information just sweetened my feelings.
I asked her to send me a copy so I could share her research with fellow chocoholics, and once I read it, I had to do a Q&A with her.
This beautiful book would make a great holiday gift, especially when accompanied by a plane ticket. I'm planning to make a trip to Missouri next year so I can taste every one of these chocolates — and visit my new friend, of course.
First of all, reading your book made my mouth water — I was tempted to take a bite out of that gorgeous chocolate square of a cover — and I started Googling flights to Missouri. Why did you decide to write it? As you say in your Preface, it's not the first state that comes to mind when thinking about chocolate.
Like most of my project ideas, this one just popped into my head. I think it was in October 2014. Chocolate probably was in the news with Halloween. I suppose that's what triggered my thought about it. This made me think about the places to get chocolate in St. Louis. I tried to find a book about chocolate and Missouri, but couldn't find anything; the closest was a book about the history of Crown Candy Kitchen in St. Louis.
Also, I've ALWAYS loved chocolate, although I couldn't always eat it. I had a mild food allergy as a child, but chocolate was my siren's song, so I'd sneak a bite, scratch the hives, and it was all good. I'm so happy I grew out of that allergy. I'm thinking about chocolate right now as I'm writing this (hot chocolate with DiSaranno is.my new bedtime treat). I am NEVER going to be thin! Oh well ...
Tell us about doing the research – in detail, please – so we can live vicariously.
I first researched the chocolate shops in St. Louis, often taking friends along to sip chocolate martinis and nibble on chocolate. I felt like a tourist visiting my home town. I'd sample truffles, caramels, barks, beer, wine, fudge, and the stories I'd hear were almost as sweet as the candy. Such friendly folks, and so dedicated to make the best candy they can make.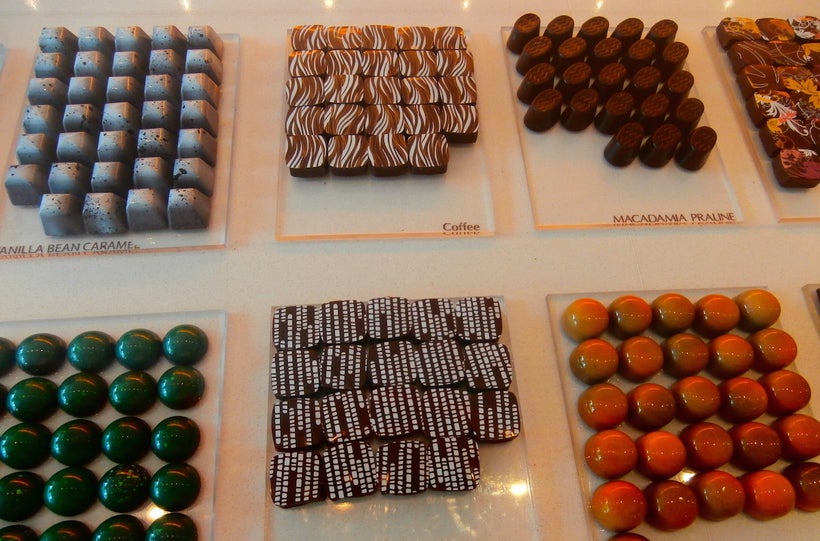 What are some of the most surprising facts you learned while researching your book?
We have three bean-to-bar chocolatiers in Missouri; I think California has 9 or 10. I knew of the chocolatier in Springfield (Shawn Askinoise), but I didn't know about Alan McClure (Patric Chocolate) in Columbia, and right under my nose in St. Louis, Rick Jordan. Alan and Rick just quietly go about their business, concentrating on making outstanding chocolate.
Are there certain characteristics shared by all the chocolatiers you interviewed?
Passion for what they make. All of them are extraordinarily dedicated to making the best chocolate they can and operating a welcoming store.
Talk a little about making chocolate in the Midwest, as opposed to the two coasts which have made Hershey and Ghirardelli famous. How is it different?
I'm not sure if the chocolatiers have special challenges in the Midwest, other than combating our humidity! Even with the machines, tempering chocolate is an exacting process and a couple mentioned to me that humidity in summer can be tough. One of the homemade fudge shops said they don't even try to make divinity until October.
What's the most popular kind of chocolate in Missouri?
Milk chocolate is popular with most people. We also have a good number of fudge shops; maybe that's a Midwest thing. But some of the chocolatiers also push the envelope with unusual flavor pairings, too. It's tough to pin down "Missouri chocolate" because I think its strength lies in its variety.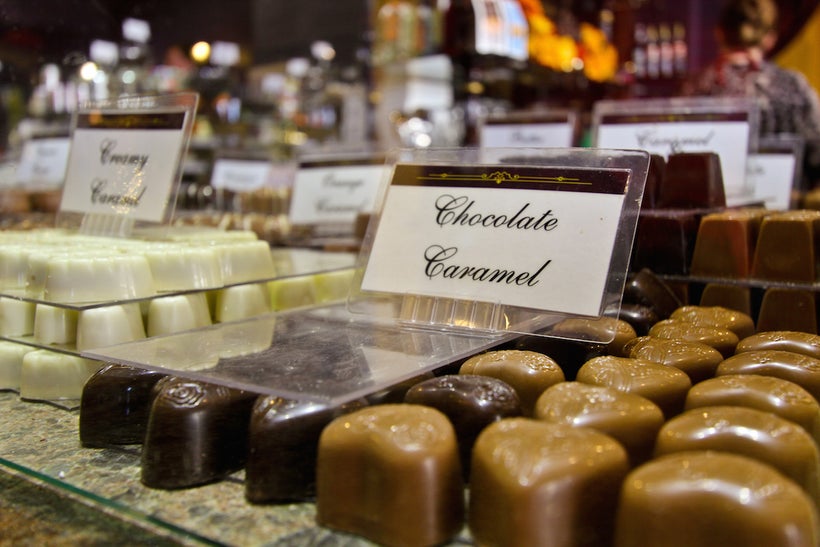 Some of the chocolatiers are doing amazing things for their own communities and for people in other countries. Can you share a couple of their stories?
Probably the one that receives the most coverage is Askinosie Chocolate in Springfield. Owner Shawn Askinosie started the business because he burned out as a defense attorney. While still working in law, he baked to relieve stress, which is how he discovered chocolate. Leaving his job, he studied cacao agronomy in Central America and came back to Springfield to open a small chocolate factory in a blighted neighborhood. He's since started a program to teach high school students about international business; he takes them on his sourcing trips. He embodies fair trade principles, and has written a book about his business model called "A Stake in the Outcome," which has been featured in national press including The New York Times.
In St. Louis, Dan Abel Jr. of Chocolate Chocolate Chocolate, who is a history buff in addition to being a wonderful chocolate maker, recently partnered with a historical home museum called Campbell House. With the help of local food historian/writer and Campbell House volunteer Suzanne Corbett, Dan and his family's company has brought back the Busy Bee Chocolate line using original recipes, and proceeds benefit the Campbell House.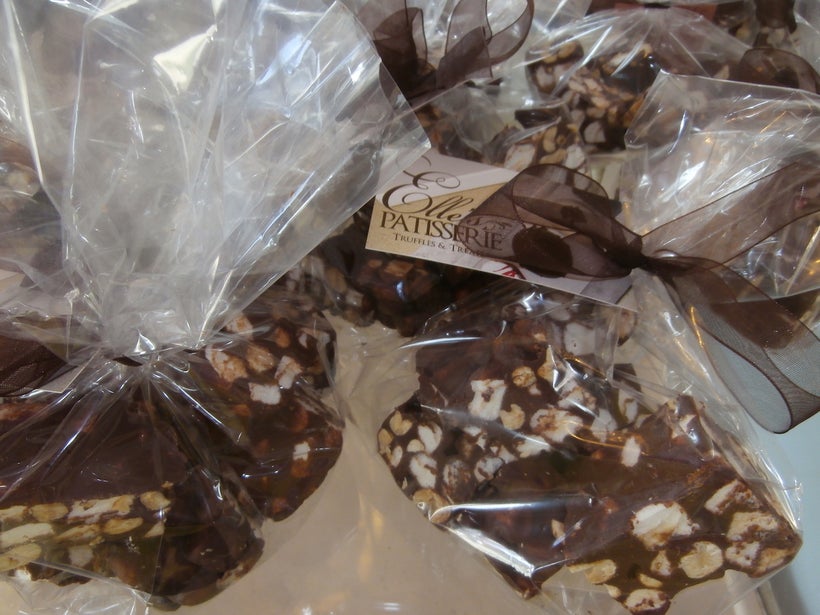 I know this is an unfair question but what are a few of your personal favorites from all the different varieties you sampled?
With a glass of wine, I love a simple dark chocolate bar by either Askinosie or Patric chocolate. The flavor profiles in each bar are so different, largely due to where the beans came from. It's fascinating really.
For the sheer beauty and unusual pairings, I love Christopher Elbow in KC and Rick Jordan in St. Louis. I could eat the toffee from The Candy Factory in Columbia all day (okay, I only did that once), and the cocoa-dusted chocolate-covered almonds from Andre's Confiserie Suisse in Kansas City really are addictive. I dare anyone to eat only one. Truffles the size of your head can be found at Chocolate Chocolate Chocolate; they're called "dessert truffles," and when paired with a cup of coffee or an after-dinner drink, it really is an elegant dessert. Gorgeous molded European chocolates are in Hannibal's Chocolaterie Stam.
I love that you included some recipes, as well, and I'm drooling over your Decadent Chocolate Cupcakes with Hazelnut Spread Whipped Frosting. How did you come up with that?
When I'm not writing about food, I'm watching shows about food! Cupcakes were on one of the shows, which created through the power of suggestion, a taste for them. But I'm not much of a baker. I'm more a savory cook. I do the drop of this or pinch of that, you know, cooking to taste. Baking is a whole other story, and so I take a lot of shortcuts, such as the boxed cake mix. It's just made a little better with the hazelnut frosting. That was the first recipe I made and photographed for the book and, interestingly, it's always the most popular when I share it on my book's Facebook page. However, the chocolate-cherry martini also gets a lot of hits!
Are you planning to write other Delectable Destinations books about chocolate – or other fantastic foods – in additional states? I can't imagine a better way to travel than following a route of chocolate makers. In fact, I think the Missouri Division of Tourism just may want to make a Delectable Destinations map for tourists! They may also want to change the state's nickname from the Show-Me State to the Taste-Me State!
I'll share your idea with the Division of Tourism!
I had planted a seed of a suggestion with the publisher about a follow-up, but nothing definite has been said. I'd like to stick with the Midwest because it's home and I'm most comfortable in that region; there's a chocolate trail in Illinois, for example, that I'd like to take a weekend to explore. Fudge in Michigan is ridiculously popular and delicious. But Missouri's also experiencing a huge growth in craft distilling, and while it's not the scope of Kentucky's Bourbon Trail, I think I could do a travel guide for people interested in spirits.
Travel and food, I mean, what's not to love?
All photos courtesy of Deborah Reinhardt
Calling all HuffPost superfans!
Sign up for membership to become a founding member and help shape HuffPost's next chapter
This post was published on the now-closed HuffPost Contributor platform. Contributors control their own work and posted freely to our site. If you need to flag this entry as abusive,
send us an email
.