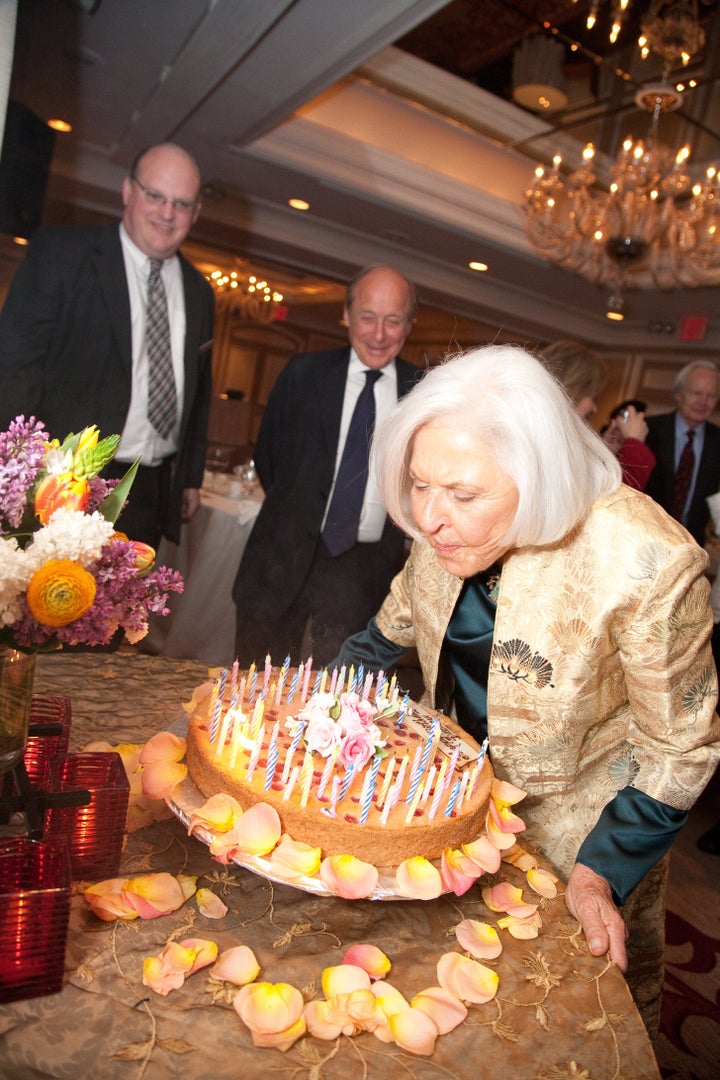 What better way to celebrate one's 90th birthday than with a pledge to change the world -- one healthier body at a time? Meet Deborah Szekely (pronounced SAY-Kay), the co-founder of the Rancho La Puerta and Golden Door spas and regarded as the godmother of the modern-day fitness movement.
Szekely is marking her birthday today, May 3 -- and her 72 years devoted to a holistic approach to personal well-being -- with an initiative to encourage us to change the way we eat and live. You've heard of the Arab Spring? Well this is the Wellness Spring, and instead of taking to the streets, she is launching her campaign along the pathways of social media.
Szekely, who turns 90 on May 3, practices what she preaches. At age 90, the only pills she takes are vitamins, a little something for her thyroid and a B12 shot every month. She is living evidence that 90 is the new 60, and energy-wise, she shows no sign of slowing down. In fact, those who know her well say that on the occasion of her 85th birthday, she announced that she intended to only age one year in the next five and, by all accounts, she aced it.
"I can't be 90," she exclaimed, "My schedule is the same as it was when I was 60!" She eats no red meat or chicken and follows a diet "as close to nature as possible." Four times a week, she does pilates and her weight has stayed steady at 118 to122 for decades. While we're checking her vitals, her blood pressure is 104/62 and her cholesterol, 193 (not fasting).
About the only thing that raises her blood pressure are the actions of agri-business and Big Pharma and the government's support of programs that have fueled the country's obesity epidemic. Her Wellness Spring initiative aims to raise $10 million by collecting $10 each from one million people. The money will be used to fund lobbying efforts to counter those of businesses that she argues are poisoning and killing Americans with fast food and a culture that "considers watching TV an activity."
"How is pizza possibly a vegetable?" she asked incredulously of the congressional decision that deemed it so. "Americans are getting fatter and sicker by the day and the soft drink and fast-food companies are going merrily on their way while Big Pharma is happy to provide pills for all the diseases and health problems the bad food causes."
Szekely is arguably the best-placed person on the planet to launch a wellness initiative of this magnitude because of her background. For the past 72 years, she has operated world-renowned spas based on her philosophies of treating your body as a temple, not polluting it with processed food, developing a lifestyle of physical activity and allowing your body to heal itself whenever possible. And in the process of spreading her wellness gospel, has accrued a cadre of influential followers.
For a long time, her Golden Door Spa in Escondido California was the go-to place where movie studios would send their A-List stars to get in shape before a film. ("That was in the day before personal trainers," noted Szekely, who said her clientele today is less star-studded.) While some of the Hollywood guests of yesterday came incognito, Burt Lancaster, Kim Novak and Aldous Huxley all were well-known regulars. Her spas have been frequented by Jane Fonda, Oprah Winfrey, Barbra Streisand, Martha Stewart, and Arianna Huffington, who calls the petite fitness guru "a force of nature." Huffington first met Szekely at the Golden Door in 1980 and describes her as "an inspiration and a real teacher on how to live life to the fullest while taking care of your body, mind and soul and trying to make the world a little better."
The goal of a spa stay, Szekely said, is nothing short of changing how the spa guest thinks. At the spa, visitors are taught to picture the food they are eating in its natural setting. If it's an apple, envision it on the tree where it grew. "You can't do that with fast food, now can you?" she asked.
Spa guests come for a week and while weight loss may occur from the program of exercise and food preparation, the larger goal is teaching them how to repurpose or redirect their lives, Szekely said: "The idea is to silence the noise." One thing silenced is cell phones. While the official spa policy is just a recommendation that they be turned off, truth is that the cell reception at her spas is frequently so spotty that it's mission accomplished, she laughed.
Szekely's road to becoming a fitness and spa guru began when she was just 18 and forced to leave America because of her husband Edmund's immigration status. He was an Hungarian scholar who had hastily fled Nazi persecution without papers. The two wound up in Tecate Mexico, where they opened the Rancho La Puerta spa. Their daughter, Sarah Livia Brightwood, now runs the facility. (Edmund died in 1979.)
As the Rancho La Puerta website notes, Edmund and Deborah Szekely were "undocumented aliens" when they arrived in Mexico -- one of the reasons why she has championed immigrant rights and cross-border cultural and environmental programs throughout her life. Volunteerism and activism have always been at her core.
Szekely ran an unsuccessful campaign for Congress in 1982 but found a new chapter in her life in public service in Washington D.C. In 1984, President Reagan appointed her president of the Inter-American Foundation (IAF), an independent foreign assistance agency of the U.S. government which supports grassroots development by awarding grants directly to the organized poor in Latin America and the Caribbean. She also conceived and launched "Setting Course: A Congressional Management Guide," which is now in its 11th edition.
Check out the slideshow below for more on Szekely's story, and her video describing the Wellness Spring movement.
Calling all HuffPost superfans!
Sign up for membership to become a founding member and help shape HuffPost's next chapter
BEFORE YOU GO
PHOTO GALLERY
Deborah Szekely