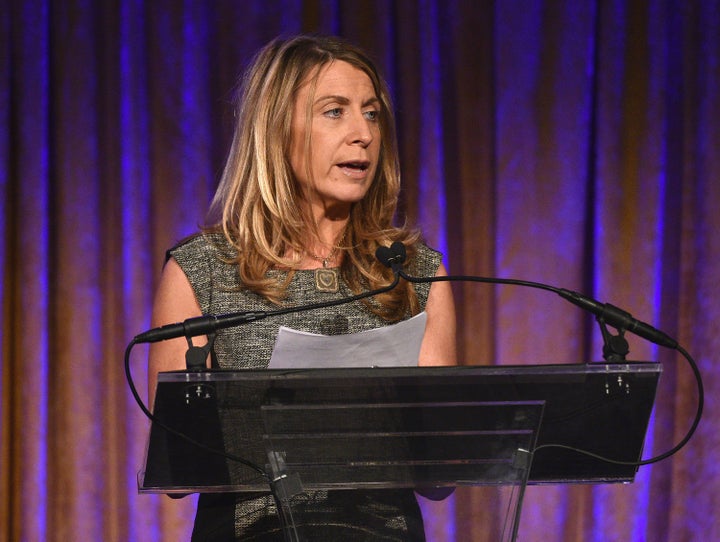 NBC News President Deborah Turness needs a lesson in cultural sensitivity.
Turness angered members of the Congressional Hispanic Caucus during a meeting Wednesday by first referring to undocumented immigrants as "illegals," and then speaking in Spanish in an attempt to pander to those present.
"Yo hablo español," the NBC News president said during the meeting, according to sources who attended. "We love the Hispanic community."
The incident, first reported by Politico, took place during a meeting that Latino lawmakers had requested to discuss diversity at NBC and Donald Trump's recent appearance on "Saturday Night Live." Members of the Caucus had sent a letter to NBC protesting the network's decision to host the reality TV star and presidential candidate. In June, Trump sparked outrage among Latino groups by referring to Mexican immigrants as "rapists" and "criminals."
Rather than smoothing things over, Wednesday's meeting left lawmakers feeling frustrated and offended.
Near the start of the meeting, Turness was describing a story her network had covered about Pope Francis' interaction with a young girl who said she feared her parents would be deported. Turness referred to the girl's parents as "illegals."
"I'm going to stop you right there," interjected Rep. Juan Vargas (D-Calif.), according to a Democratic congressional staffer who was in the room. "We don't use the term 'illegals' to describe people. We use the term 'undocumented immigrants.'"
Turness apologized, but later reignited tensions by speaking Spanish, purportedly to try and show Latino lawmakers she understood their concerns.
"Speaking Spanish to make up for insensitivity was tone-deaf," the staffer, who spoke on the condition of anonymity, told The Huffington Post.
"The insensitivity of these comments is exactly why we need Latino representation among news media."
The staffer argued that Turness' comments show why more Latinos need to be in newsrooms and on the air.
"The insensitivity of these comments is exactly why we need Latino representation among news media," the staffer said, adding that diversity at NBC would ensure that "there is someone in that room -- even before decisions like the Trump one get made -- to say, 'Hold on, that's offensive and tone-deaf to our community.'"
Other lawmakers present included Rep. Luis Gutiérrez (D-Ill.), Linda Sánchez (D.-Calif.) and Tony Cárdenas (D-Calif.).
Among the NBC executives who attended were NBCUniversal Chief Diversity Officer Craig Robinson, Senior Vice President of Human Resources Joanne O'Brien and NBC News Washington Bureau Chief Ken Strickland. Phil Griffin, president of subsidiary company MSNBC, was also present.
The network invited one of its Latino staff members to attend the meeting, but she barely spoke, sources said.
Adding insult to injury, the executives told the lawmakers at the beginning of the meeting that they could not address objections to Trump's appearance on "Saturday Night Live" because it was a matter for NBC Entertainment, whereas only representatives from the news division were present.
"There was a lot of frustration in the room," Cárdenas told Politico, adding that the exchange "was about them sitting down with the Hispanic caucus for the sake of saying they met with us -- like that is progress."
Define American, an immigrant rights group, released a statement Thursday condemning Turness' use of "illegals," which many in the Latino community consider a racial slur. NBC News' own guidelines bar the use of "illegal" and "illegal immigrant" in news coverage.
"Words matter because words and phrases like 'illegals' frame the conversation, how politicians talk about the issue, and -- inevitably -- how policies are created," said José Antonio Vargas, the group's founder. "It is absolutely an ethnically tied slur."
Rev. Ryan M. Eller, Define American's executive director, said he "would like to personally invite Ms. Turness to have a conversation with undocumented immigrants and allies about the very real reasons terms such as 'illegals' are antiquated, offensive and inaccurate."
A spokeswoman for NBC declined to comment on the meeting, directing HuffPost to a statement made to Politico, in which a representative said the exchange was "an open and respectful dialogue about the progress that's been made on diversity both in front of and behind the camera in the news division."
CORRECTION: An earlier version of this article was accompanied by the wrong photo.
Related
Popular in the Community