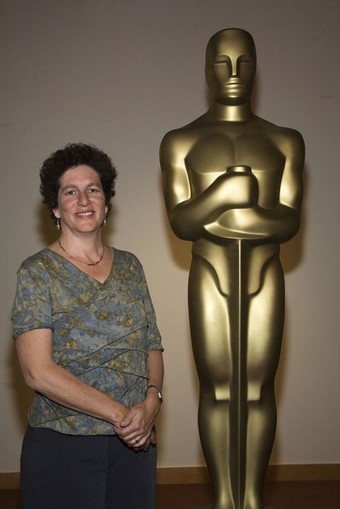 Academy Award-Winning Director Debra Chasnoff
Leading up to the 85th Academy Awards, SnowbizNow we decided to check in with Academy Award-winning documentary filmmaker Debra Chasnoff about her life after becoming the first lesbian to ever thank her partner during an Oscar acceptance speech. It's all right here in a one-hour episode of this popular online radio program.
Chasnoff's official biography confirms her work has fueled progressive social-change movements in many fields:
Chasnoff is president and senior producer at GroundSpark, a national non-profit documentary and activist education company headquartered in San Francisco. Her producing and directing credits include a group of films focused on youth: Straightlaced--How Gender's Got Us All Tied Up, about the gender and sexuality struggles teens face today; Let's Get Real about young teens' experiences with name-calling; That's a Family!, which looks at family diversity from a kids' perspective; the landmark documentary It's Elementary--Talking About Gay Issues in School; and it's ten-year follow-up, It's STILL Elementary.

Her other film credits include the Oscar-winning Deadly Deception- - General Electric, Nuclear Weapons & Our Environment, a crucial component of a successful international grassroots campaign to pressure GE out of the nuclear-weapons industry; Homes & Hands -- Community Land Trusts in Action, which is used extensively to inspire local communities to explore new models of creating permanently affordable housing; Wired for What?, part of the PBS series Digital Divide about the push to computerize education; Choosing Children, which explored the once seemingly impossible idea that lesbians and gay men could become parents; and, One Wedding and a Revolution, which captures the frantic days leading up to the bold political decision of San Francisco mayor Gavin Newsom to start issuing marriage licenses to gay and lesbian couples.

Chasnoff is the Chair of New Day Films, the premiere national social issue film distribution co-op. She is a graduate of Wellesley College and the recipient of its first-ever alumnae achievement award in documentary filmmaking.
Watch an ABC Television Profile on Debra Chasnoff:
Popular in the Community