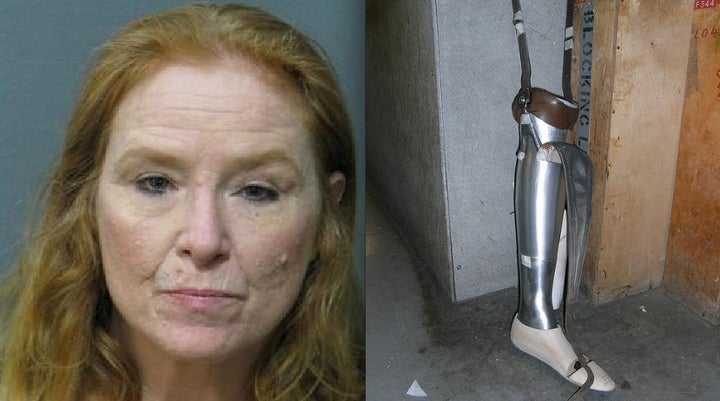 It took a Louisiana jury less than two hours last week to convict a 47-year-old homeless woman of killing her boyfriend with her own prosthetic leg.
Debra Hewitt -- whose nickname "Angel" has led her to be called the "Angel of Death" -- was convicted for the 2010 killing in which she stomped on her boyfriend, Dwayne Ball, and then took off her prosthetic leg and beat him in the head with it, the Advocate reported.
The decomposing body of 47-year-old Ball was found about six weeks later in Lafayette Parish. He had been choked, beaten, stabbed and left for dead.
"The Angel of Death happened across Dwayne Ball in January of 2010 and the state submits to you that the Angel of Death sits right there," prosecutor Pat Magee told jurors before their deliberation.
Her second-degree murder conviction carries a mandatory life sentence.
Magee didn't mention Hewitt's previous murder charges -- both of which were either dismissed or reduced -- or her alleged accomplice, John Romine, who will be tried for second-degree murder next month, according to KPEL.
Hewitt maintains that she stabbed Ball in the leg while Romine, whom she said she was also dating, strangled Ball from behind, the Associated Press reported. Hewitt also argued that she was acting in self defense because Ball was threatening her, and that she tried to call for help after the incident.
"Do reasonable people let their loved ones rot for weeks?" Magee said to the jury. "No reasonable person who felt scared, who thought that a homicide was justified, would have done that."
Hewitt's lawyers said that they will appeal the decision.

Related
Popular in the Community