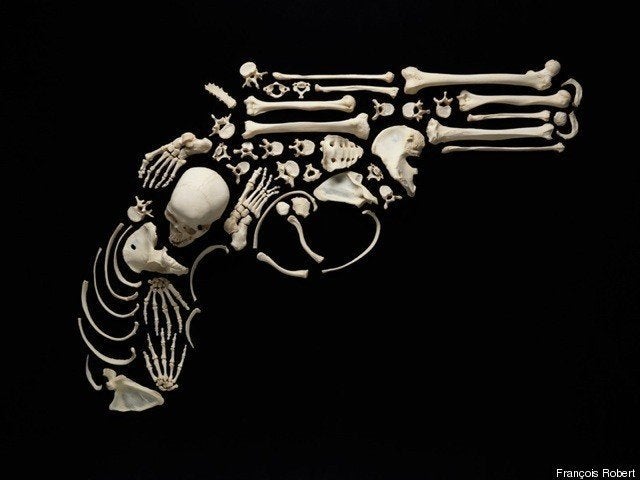 Narrative Magazine: The January 8, 2011, shooting in front of a grocery store in Tucson, Arizona, in which six people died and thirteen were wounded, including Congresswoman Gabriel Giffords, generated heated debate on the rhetoric of violence that has become commonplace in American media. Debra Hughes, a writer who has made Tucson her home, frames the current public debate within the history of Arizona's deeply divided community.
The Tucson Shootings: Words and Deeds
AN ESSAY
The night of the mass shooting in Tucson, a downtown art gallery hosted an already scheduled reception for an exhibition, Flesh · Bone · Spirit. The images on display from François Robert's photography series Stop the Violence were of human bones arranged in the shapes of a handgun, grenade, knife, Kalashnikov, fighter jet, and other symbols of violence, all starkly set on black backgrounds. Those images confronted viewers with their own heavy feelings. That morning six people had been killed and thirteen wounded in the shooting rampage at Gabrielle Giffords's political rally at a local Safeway. Jared Lee Loughner had tried to assassinate the Arizona congresswoman, using a Glock 19 semiautomatic pistol and firing thirty-one rounds into the crowd in about fifteen seconds.
The shooting took place at a small shopping center in my neighborhood. I wasn't there that morning, though my family and I easily could have been. Our bank is there, along with the stores where we mail our packages, buy pastries, toothpaste, and paper towels, and where we regularly run errands. That morning people had gathered to hear what their state representative had to say. She called the event "Congress at Your Corner."
In the afternoon, at a press conference addressing the violence, Pima County Sheriff Clarence Dupnik, a seventy-five-year-old with the sagging cheeks and drooping eyes of a bulldog, spoke his mind. "People tend to pooh-pooh this business about all the vitriol that we hear inflaming the American public by people who make a living off of doing that." He was alluding to talk-show hosts and politicians who use inflammatory rhetoric, and he added that the effect of their words should not be discounted. "That may be free speech, but it's not without consequences." Almost immediately a heated public debate began over whether or not political rhetoric had spurred Jared Lee Loughner to kill.
Tucson forensic psychologist Dr. Gary Perrin, a professional familiar with violent crime, was asked if a mentally disturbed person might distort strong messages into a belief that violent acts are noble. Perrin replied, "In these recent days, and I mean the past few years, rhetoric has increased. Words are powerful, and certainly words can make a [mentally unstable] person act in a certain way." But he emphasized that violent acts are "situational, and many things contribute. Words can be one of the factors."
As forensic specialists pieced together the factors that provoked Loughner, the debate about political vitriol flourished. Within a week of the shooting a Google search produced 55 million results about the event, including myriad bloggers arguing over free speech. Steven Colbert, on his Comedy Central TV show, aired a segment entitled "The Word: Life, Liberty, and the Pursuit of Angriness," in which he deadpanned, "If incendiary rhetoric isn't connected to the Arizona tragedy, it logically follows that it must be good."
The night before Gabrielle Giffords was shot, she sent an email offering congratulations to Kentucky Secretary of State Trey Grayson, a Republican, after he was named director of Harvard University's Institute of Politics. In it she wrote, "After you get settled, I would love to talk about what we can do to promote centrism and moderation. I am one of twelve Democrats in a GOP district (the only woman) and we need to figure out how to tone our rhetoric and partisanship down."
Here, in Arizona's Eighth Congressional District, set among picturesque desert scenes of saguaro, mesquite, and towering mountain ranges, factional tensions run high. The district shares a long stretch of borderland with Mexico, and immigration issues get as hot as the summer temperatures. This past year Arizona passed the country's toughest statute on immigration reform. Town Hall meetings have the reputation of turning into cauldrons of polarized debate about other issues as well, such as government spending, health care, and guns.
During the past year, Giffords struggled through a brutal reelection campaign in which her opponent appeared in a Web advertisement, holding an assault weapon. Last year Arizona became only the third state that doesn't require a permit to carry a concealed weapon, and people with concealed-weapons permits can take their guns into restaurants and bars if the proprietor allows it.
The Tucson shooting and its aftermath are being followed around the world, especially in places where violence is a problem. Venezuelan magazine editor Sergio Dahbar wrote, "The Giffords shooting is being followed very closely in Latin America because we also have this illness. We have the illness of intolerance." A well-known maxim from Victor Hugo commenting on unrest in France in the 1830s runs, "The guilty one is not he who commits the sin, but the one who causes the darkness."
At the University of Arizona's basketball stadium, in the memorial tribute to those who died or were wounded in the shooting, President Obama asked for a return to civility. "What we can't do is use this tragedy as one more occasion to turn on one another. As we discuss these issues, let each of us do so with a good dose of humility."
Habits are hard to break. Only days after the shooting, Arizona passed laws prohibiting picketing within three hundred feet of any home, cemetery, funeral home, or house of worship before, during, or after a ceremony or burial. As the shooting victims were being laid to rest, a group called Angel Action donned white wings and stood with hundreds of others dressed in white, to shield mourners from potential protests by fanatics, such as the Westboro Baptist Church congregants, who have been disrupting services for US soldiers slain in Iraq and Afghanistan. The Westboro group is emblematic of the flashpoints of opinion and controversy across the land. In the weeks and months ahead, only determined national leadership and conscientious, principled activity and restraint on the part of major media, and on the part of each citizen, can restore humanity and civility to American discourse.
Image courtesy of François Robert.
REAL LIFE. REAL NEWS. REAL VOICES.
Help us tell more of the stories that matter from voices that too often remain unheard.