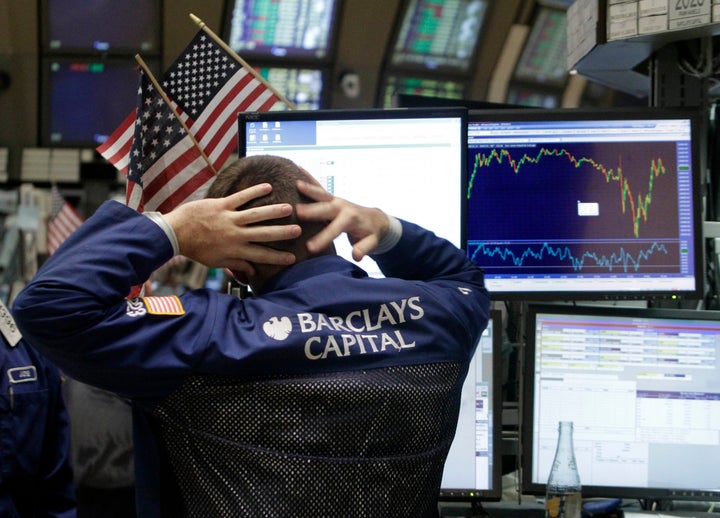 While the stock market has plummeted on concerns about the near-term strength of the American economy, the larger issue could be that the long-term prospects of American innovation -- a cornerstone for broader economic growth -- remain grim.
One key measure of innovation, Total Factor Productivity, has slowed significantly since the 1970s.
"Prior to 1973, TFP increased at an annual rate of 1.9 percent," the report said. "But since then this growth rate has fallen to 0.7 percent."
Education, one of the chief drivers of innovation, has also lagged -- resulting in a workforce that is less prepared to both develop and adapt to innovative technologies.
According to the report, "In the late 1970s, about 27 percent of men aged 25 to 34 had graduated from college; since then, the share fell through the 1980s and has only recently approached the level it was thirty years ago."
Michael Greenstone, the director of the Hamilton Project, said the drop-off in education remains "a giant mystery."
"Incentives for going to college have gone up" since the 1970s, he said, "but men in particular have not responded to those increased incentives."
Although women have entered college in greater numbers since the 1970s, their numbers have also declined since 2000, Greenstone added.
Compounding the lower attendance rates, fewer U.S. students are gravitating towards "innovation fields" -- namely, science, technology, engineering and math (STEM).
"The share of U.S. degrees in STEM fields rose in the 1980s as computer science became popular," the report said, "but this was a short-lived trend. In the 1990s, the share of bachelor's degrees in STEM fields leveled off and the share of advanced degrees declined."
While President Obama announced a goal of preparing 100,000 new science and math teachers in the next 10 years during his State of the Union speech this year, the recent budget melee in Washington has complicated efforts to make the American education system more competitive.
Speaking with HuffPost, Joel Packer, executive director at the Committee for Education Funding, an industry coalition, addressed the recent debt limit package, saying: "The good news is that they put more money into Pell grants. The bad news is it pays for that by cutting student loans for graduate and professional students."
Packer noted that the money for Pell grants was not an increase from previous years, but rather an effort to keep the funding at current levels. In effect, he said, "College students are contributing $4.6 billion towards deficit reduction," a fairly steep price to be shouldered by an education system already in need of rehabilitation.
Packer added that if the soon-to-be-formed bipartisan congressional super committee is unable to come to an agreement, "everything other than Pell grants could be subject to a 9 percent across-the-board cut," and estimated the government would see a total $4 billion in cuts to education.
Beyond concerns over education, the Hamilton Project report pointed to a decline in government support for basic research and development as another key area of concern around American innovation.
It further emphasized that "support of federal R&D spending is critical to U.S. innovation because government can sponsor the kind of 'basic' research projects that seek wide-ranging scientific understanding that can affect entire industries, rather than individual firms."
With the recent emphasis on curbing discretionary spending, the federal government is unlikely to increase spending on basic research in the coming years. Tyler Cowen, a Professor of Economics at George Mason University, told HuffPost, "To get anything done, Obama has to be seen as having winning economy -- which isn't easy," given persistent unemployment, slow economic growth and a volatile market.
Cowen remained sanguine about the dynamic in Washington, "Presidents always want to do nice, noble, long-run things," he said. "And Congress is less keen to do so. We've seen that throughout the history of this country."
Greenstone, for his part, argued that the health of American innovation is linked to the well being of American workers. "The thing that best determines our standard of living is innovation, and then productivity, and then higher wages."
He also challenged the common perception that wages for American workers have merely stagnated over the last 40 years.
"It turns out that's statistically wrong -- wages have declined," Greenstone said, referring to statistics in the report. For middle class American men, wages "have actually declined by nearly 28 percent since 1969."
But if there was a strong case to be made for focusing on the long-term drivers of American innovation, even in a period of economic uncertainty, Greenstone acknowledged, "In tough times, it's always difficult to argue for planting corn seed rather than eating it. And that's always what innovation is about."
REAL LIFE. REAL NEWS. REAL VOICES.
Help us tell more of the stories that matter from voices that too often remain unheard.