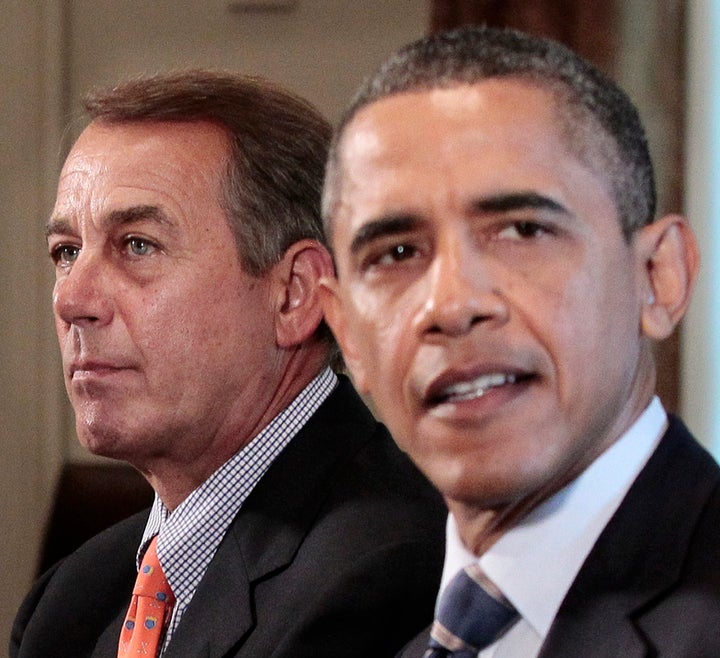 WASHINGTON -- President Barack Obama says he and Congress "need to" agree on a budget deal in 10 days in order to meet an Aug. 2 deadline to increase the nation's debt ceiling and avoid a potentially calamitous government default.
Obama spoke as he and the eight top House and Senate leaders assembled at the White House for a rare Sunday session to negotiate the terms of a deficit reduction package.
The meeting came a day after House Speaker John Boehner abandoned efforts to bargain for a $4 trillion, 10-year debt trimming agreement. Boehner said a smaller deal that would reduce the deficit by about $2.4 trillion over the next decade was more realistic.
During the 90-minute session, Obama pressed for the $4 trillion deal that congressional Republicans have rejected, arguing that a more modest approach would be equally hard to negotiate.
Republicans insist that any deal include no tax hikes. Democrats oppose Obama's plans to cut government aid to seniors and poor Americans.
Obama plans to hold a news conference on Monday, and the group of eight lawmakers plans to meet at the White House every day until a deal is struck, officials said.
Popular in the Community