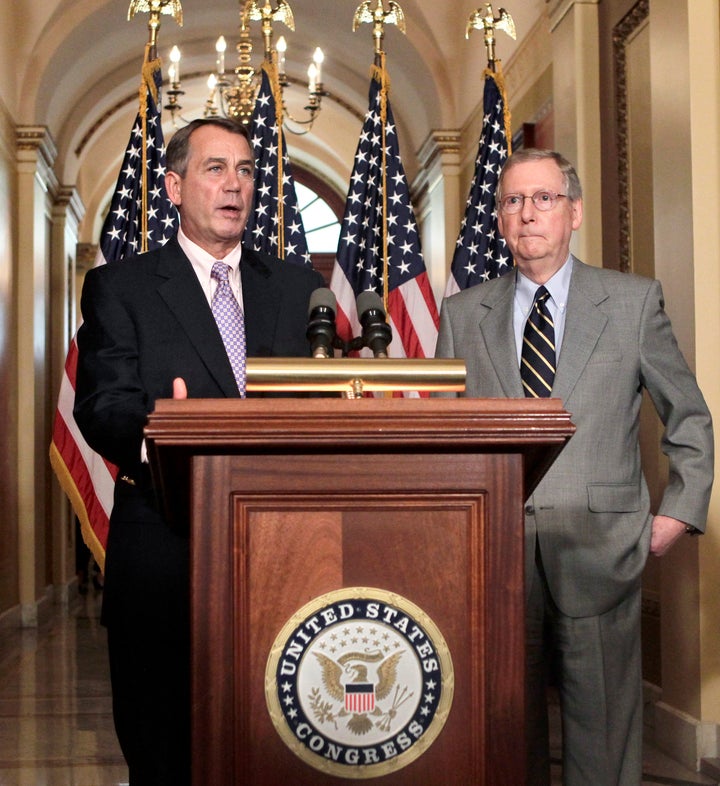 WASHINGTON -- Congressional leaders and President Obama on Sunday night announced they've cut a deal to avert a historic U.S. default, saying they have assembled a framework that cuts some spending immediately and uses a "super Congress" to slash more in the future.
The deal calls for a first round of cuts that would total $917 billion over 10 years and allows the president to hike the debt cap -- now at $14.3 trillion -- by $900 billion, according to a presentation that House Speaker John Boehner (R-Ohio) made to his members. Democrats reported those first cuts at a figure closer to $1 trillion. It was unclear Sunday night why those two estimates varied.
The federal government could begin to default on its obligations on Aug. 2 if the measure is not passed.
The next round of $1.5 trillion in cuts would be decided by a committee of 12 lawmakers evenly divided between the two parties and two chambers. This so-called super Congress would have to present its cuts by Thanksgiving, and the rest of Congress could not amend or filibuster the recommendations.
But if the super Congress somehow failed to enact savings, the measure requires automatic cuts worth at least $1.2 trillion. Those cuts would be split equally between military and domestic programs. Social Security, Medicaid and programs for the poor would be spared, but Medicare providers -- not beneficiaries -- would take a hit.
White House officials confirmed that there would not be an extension of unemployment benefits as part of the final package. The administration had insisted that an extension be part of the grand bargain it was negotiating with Boehner. But when those discussions fell apart, so too did efforts to ensure that unemployment insurance was part of a final package. A senior administration aide added that the president would push for an extension in the months, if not weeks, ahead.
Some observers scored one victory for the president -- the second round of cuts do not kick in until 2013, when the Bush-era tax cuts are set to expire. Having a fresh round of deficit reduction that is all cuts with no revenues could give the White House ammunition to end the tax cuts on wealthier Americans, as it failed to do last winter.
Though none of the leaders sounded pleased about the deal, they said they were relieved it may present a chance to avert default. President Obama seemed especially dissatisfied with the idea of the super committee, saying the leaders should have been able to accomplish all the cuts now.
"Is this the deal I would have preferred? No," Obama said. "I believe that we could have made the tough choices required -- on entitlement reform and tax reform -- right now, rather than through a special congressional committee process."
The two Senate party heads also expressed qualified support for the deal.
"Leaders from both parties have come together for the sake of our economy to reach a historic, bipartisan compromise that ends this dangerous standoff," Majority Leader Harry Reid (D-Nev.) said on the Senate floor Sunday night.
"At this point I think I can say with a high degree of confidence that there is now a framework to review that will ensure significant cuts in Washington spending," said Minority Leader Mitch McConnell (R-Ky.)
"We can assure the American people tonight that the United States of America will not for the first time in our history default on its obligations," McConnell added.
In spite of the guarded optimism, all sides will face quite a sales job in getting enough lawmakers in the middle to accept a deal.
Liberals were extremely displeased with the final result of the talks, which began with Democrats saying there should be no strings attached to a debt limit increase that would enable the country pay its bills.
Then they insisted that if deficit reduction was going to be linked to the debt limit, then closing loopholes and raising taxes on the rich had to be part of the deal.
They lost completely on both counts, and House Republicans managed to pull the entire deal further and further to the right, even inserting a requirement into the agreement for a vote on a balanced budget amendment to the U.S. Constitution.
Both the Congressional Black Caucus and the Progressive Caucus in the House had called emergency meetings for Monday as details of the plan started to leak. They seemed likely to oppose the deal.
One top House aide said his boss would vote against the measure, and the aide predicted Minority leader Nancy Pelosi (D-Calif.) would not be eager to whip her members to get on board.
"This is going to be close. I think in the end, the president and Nancy are going to have to twist arms, and I'm not sure how hard she'll work to do that," the aide said, noting that Pelosi still remembers the infamous TARP vote where she delivered 150 of her members but Boehner did not get 100 of his.
Many of Boehner's freshman Tea Party members also are likely to find the proposal tough to swallow, since many wanted no hike in the borrowing limit to begin with. They also wanted the passage of a balanced budget amendment to be a prerequisite for increasing the debt ceiling.
Both sides can afford to lose members if 217 representatives can still back the plan.
Boehner's talk to his 240 members Sunday night had the greatest note of triumph.
"Now listen, this isn't the greatest deal in the world," he said, according to remarks his office sent out. "But it shows how much we've changed the terms of the debate in this town."
He also sounded a note of vindication.
"There is nothing in this framework that violates our principles. It's all spending cuts. The White House bid to raise taxes has been shut down," Boehner crowed. "And as I vowed back in May -- when everyone thought I was crazy for saying it -- every dollar of debt-limit increase will be matched by more than a dollar of spending cuts."
Notably, Pelosi was the only of the four congressional leaders not to pledge support for the plan.
"I look forward to reviewing the legislation with my Caucus to see what level of support we can provide," she said in a statement.
Popular in the Community