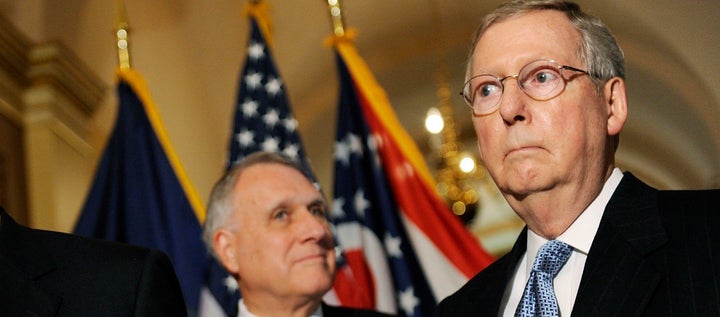 (Reuters) - The Senate's top two Republicans on Sunday stood firm against including tax increases in any deal to raise the debt limit and shrink budget deficits one day before a meeting with President Barack Obama, but said the showdown need not go down to the "11th hour."
Obama is to meet separately with Senate Democratic and Republican leaders on Monday to try to revive negotiations that collapsed on Thursday when Republicans walked out over Democrats' demands for tax increases.
Sending a message to Obama in appearances on Sunday news interview shows, Senate Republican leader Mitch McConnell and Jon Kyl, his deputy in the leadership, presented a unified front demanding spending cuts and opposing tax hikes.
"We have a spending problem. We don't have a problem because we tax too little," McConnell said on the ABC program "This Week."
"We need to quit borrowing, quit spending, and get us our trajectory heading in the right direction. Throwing more tax revenue into the mix is simply not going to produce a desirable result, and it won't pass," McConnell added.
Obama said on Saturday he remained committed to working with Congress to solve the government's debt problem, but the focus could not be only on spending cuts, as Republicans demand.
The $14.3 trillion U.S. debt ceiling must be raised before August 2 or the Treasury Department will run out of money to pay the nation's bills. A default on debt payments could send markets plunging globally and raise the risk of another U.S. recession.
"One of the reasons we are meeting tomorrow (Monday) is that I think both the Democrats and the Republicans would like to come together and finish this negotiation and finish it sometime soon. It need not necessarily go to the 11th hour," McConnell said.
"We need to put something together that will actually pass and make a difference, impress Standard & Poor's and Moody's and the rating agencies that are about to downgrade the U.S. credit rating for the first time in our history," he added.
The U.S. federal deficit stands at $1.4 trillion, among the highest levels relative to the economy since World War Two.
Speaking on "Fox News Sunday," Kyl said "we have to try" to get a deal by August 2.
"I think the president has to make a decision -- which is more important to him: solving this problem, reducing spending somewhat, or making sure that we raise taxes on American economy?" Kyl said.
"If you want to kill the economy, raise taxes. Are we going to vote to absolutely put another anchor around the neck of the economy, which is struggling to try to recover here? Absolutely not. It's terrible policy," Kyl added.
Democrats have eased back from their insistence that personal income tax rates need to rise on the wealthiest Americans to focus instead on ending a wide range of tax breaks on everything from corporate jets to oil and gas subsidies.
They have also proposed closing tax breaks that benefit the wealthy, such as limiting the deductions for households making more than $500,000 a year.
Republicans control the House of Representatives while the Democrats control the Senate.
Appearing on CNN's "State of the Union" program, House Minority Leader Nancy Pelosi said Democrats must have a say in crafting an agreement, especially if Republicans in the chamber cannot generate enough support on their own to pass a final plan.
Pelosi said any package that only cuts spending is unworkable, suggesting that closing what she and other Democrats call corporate "tax subsidies" for oil companies and other businesses should be included in any deal.
"You cannot achieve what you set out to do if you say it's just about cutting. It has to be about increasing the revenue stream as well. There are many things you can do in terms of special interest loopholes," Pelosi said.
Republican Senator Jim DeMint, a favorite of the conservative Tea Party movement advocating deep spending cuts, said he believes the United States would not default on its obligations if Congress fails to raise the debt ceiling.
"If we add another $2 trillion to our debt without taking control of it, I think you're going to see the markets respond in a much worse way," DeMint said on CNN.
(Reporting by John Crawley, Paul Simao, Paul Eckert and Lucia Mutikani; Writing by Will Dunham; Editing by Vicki Allen)
Popular in the Community