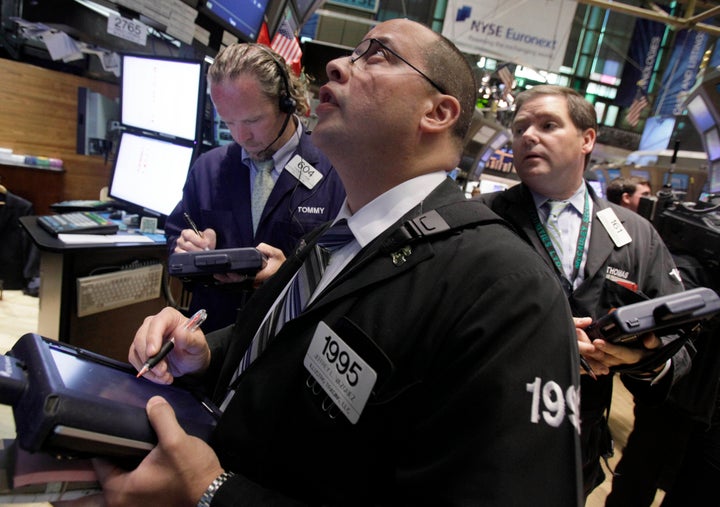 This story has been updated.
NEW YORK -- With just over a week left before the federal government is set to exhaust its borrowing authority, financial markets are on edge.
U.S. stock market futures shuddered Monday, and Asian and European stocks dropped, as federal policymakers still had not come to an agreement to raise the nation's debt ceiling and avoid default. Investors shunned risky assets and moved money toward safety. The tremors, though relatively muted for now, suggest that anxiety about the ongoing stalemate in Washington has crept into markets worldwide, dampening economic prospects as the reliability of the world's most rock-solid credit has been called into doubt.
"There's a lot of disappointment that there doesn't seem to be a process," said John Silvia, chief economist at Wells Fargo, in an interview before the U.S. stock market opened Monday. "We have enough plans. All we really need is people to come to some kind of an agreement on what's going to get done."
White House Chief of Staff Bill Daley said Sunday on CBS that markets may experience "a few stressful days" in the absence of a debt ceiling deal. That prediction seems to be coming true.
Before the New York stock market open, futures for the Standard & Poor's 500 Index dropped 0.8 percent, and futures for the Dow Jones Industrial Average were down by almost the same amount, according to reports from Bloomberg News and Reuters. The slump in U.S. stock futures that trade elsewhere in the world points to a rough market opening in this country.
(UPDATE: 9:55 a.m. -- Stocks fell Monday morning in New York, with the S&P 500 dropping nearly 1 percent before paring losses, to settle around 0.8 percent below Friday's close. The Dow was down 0.9 percent.)
(UPDATE: 11:47 a.m. -- Stocks continued to pare losses, with the S&P down 0.35 percent below Friday's close, and the Dow down 0.44 percent.)
Major stock indices around the world felt strain. The Stoxx Europe 600 Index dropped 0.4 percent, biting into a four-day run of gains, and in Japan, the Nikkei 225 Stock Average fell 0.8 percent, down from a recent high, Bloomberg reports.
Yields on 10-year U.S. Treasury notes increased slightly, reflecting increased nervousness about the nation's debt. The 30-year rate rose to a nearly two-week high, Bloomberg reports. Treasury rates are still low enough, though, to suggest that investors see default as a remote possibility.
Gold, which investors treat as a safe haven, rallied.
"In stock markets, this crisis is giving investors a buying opportunity," said David Kotok, chairman and chief investment officer of Cumberland Advisors, in a newsletter Monday morning. He also expressed frustration with the state of negotiations in Washington, saying, "the single best insurance we have is the wrath of the American citizen."
The government risks defaulting on its loans if Congress does not increase the debt limit by August 2, the Treasury has said. With Republicans insisting that large spending cuts must accompany a debt ceiling increase, lawmakers have been locked in contentious debates over how much to cut, and whether tax revenue increases will also be part of the deal. Talks fell apart Friday evening, and showed little progress over the weekend.
With the prospect of a U.S. default now a real possibility, major credit rating agencies have called into question the reliability of the nation's debt, which investors consider the safest asset in the world.
Moody's Investors Service and Standard & Poor's have both placed U.S. debt on review for a possible downgrade. S&P said last week that there's a 50 percent chance it will cut the nation's top rating within the next three months.
The rating agency also said that it's not just the debt ceiling issue that has put the Treasury rating at risk: If lawmakers don't strike a deal to reduce the long-term deficit, the government's rating could be docked, S&P said.
Silvia, of Wells Fargo, emphasized this point.
"The challenge," he said, "is not only having an agreement, but having an agreement that looks credible."
Related
Popular in the Community