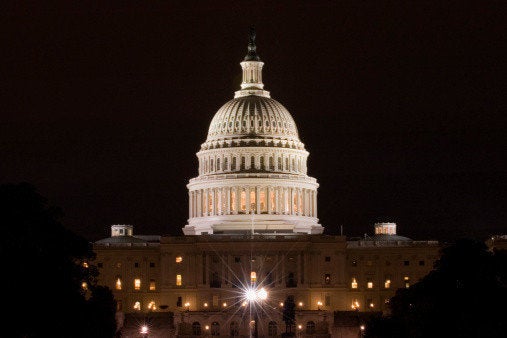 WASHINGTON (Reuters) - They have been in Washington barely four months but the 85 first-term Republicans in the House of Representatives have found themselves the target of a massive lobbying campaign by Wall Street banks, big business and the Treasury.
The fiscally conservative freshmen are under intense pressure to vote to raise the cap on U.S. borrowing so that the United States can continue to pay its bills after May 16. The Obama administration has expressed confidence that a deal can be reached with Republicans but Wall Street is less sure.
Yet there are signs the intense lobbying effort is falling flat. Many freshmen still insist they will not vote to raise the debt ceiling unless it comes with legislation to slash America's $1.4 trillion deficit.
This is no ordinary class of rookie Republican lawmakers. Many are aligned with the loosely organized conservative Tea Party movement that is devoted to dramatically scaling back federal spending.
After being elected to Congress from relative obscurity, they are being lavished with attention and receive almost daily warnings that a failure to raise the debt limit will trigger a global economic catastrophe.
There are invitations to meet with Wall Street executives, coffee mornings with business leaders, calls from the Treasury Department, visits from economists, and weekly hour-long meetings with John Boehner, the Republican speaker of the House.
The lawmakers are reminded frequently in these meetings about the concerns America's foreign creditors, especially China, have about the prospect of a U.S. default. Chinese officials in Washington say they are watching the debate closely.
"There is no question about it -- there is a lot of pressure being put on the freshman," Michael Grimm, a first-term Republican from New York, told Reuters.
"I have had meetings in D.C., meetings in New York, meetings with Fortune 500 companies, meetings with financial institutions," he said. "I get invitations to meet with boards of directors, or a group of CEOs, from insurance companies, big banks, community banks, financial institutions, small businesses.
"And the message is: not to raise the debt ceiling will lead to a catastrophic event. I understand that. But if it doesn't come with serious cuts and real systemic reform, it's just short-term relief."
The Republican freshmen are seen as a crucial voting bloc in the looming battle over whether to allow the U.S. to go deeper into debt to avoid defaulting on its loans.
The lobbying campaign is unusual in that it spans almost the entire financial and business community -- often natural allies of the Republicans who now oppose them on the debt issue.
Treasury Secretary Timothy Geithner has said the nation will hit its current debt limit of $14.3 trillion in mid-May, and a refusal by Congress to raise it would be "catastrophic." Geithner already has sent two letters to members of Congress urging them to back the move.
Economists say a failure to raise the ceiling would trigger a crisis in bond markets and possibly another recession. Interest rates would soar and foreign investors would lose confidence in America's creditworthiness.
China, the biggest foreign holder of U.S. debt, warned Washington this week to protect investors in its debt after Standard & Poor's rating agency threatened to lower the United States' coveted AAA credit rating.
"The budget issue has international consequences," one Chinese official in Washington told Reuters. "We are of course following it," another official said.
The U.S. Chamber of Commerce, which has held dozens of meetings with Republican freshman on the debt ceiling issue, is sending a letter to every member of Congress next month urging them to vote to raise it.
"We have told them we understand it's a tough vote," said R. Bruce Josten, executive vice president for government affairs at the Chamber. "But we also tell them this is about the full faith and credit of the United States and the consequences of a no vote will be dramatic."
The Financial Services Forum, a financial policy organization that includes the CEOs of some of Wall Street's biggest banks such as JPMorgan Chase and Bank of America, has focused almost exclusively on the House Republican freshmen.
FSF officials have held meetings with freshmen and their staff in their Capitol Hill offices, in the FSF's Washington office and in "meet and greet" sessions over coffee.
The freshmen are not told how to vote but they are told of the dire consequences if they do not -- investors will flee, interest rates will spike, the markets will panic, and higher interest rates will explode the deficit.
Yet many are standing firm. "I am not going to vote to raise the debt ceiling if it does not include long-term structural reform to reduce the deficit," one Republican freshman said.
(Reporting by Tim Reid and Rachelle Younglai; Editing by Ross Colvin and Bill Trott)
Calling all HuffPost superfans!
Sign up for membership to become a founding member and help shape HuffPost's next chapter