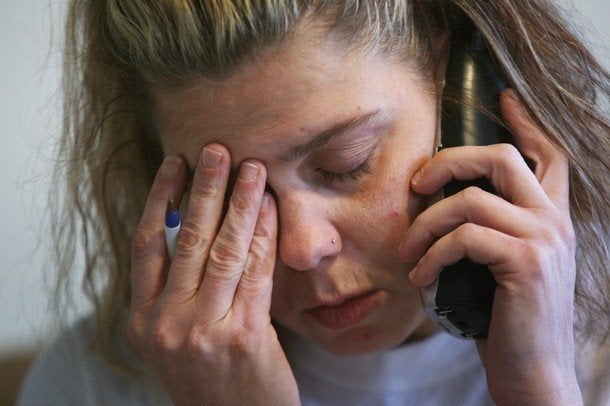 The Tompkins County Public Library in Ithaca, N.Y. just can't get a break. Last week the Huffington Post reported that since November, the library has received an angry letter from some lawyer or attorney general every couple days because an unscrupulous debt collector has been giving the library's address to the poor saps the collector has been harassing.
This week, the indirect harassment of the Tompkins County Public Library continues!
"On Monday of this week, our library received yet another mailing addressed to "National Processing Division" from the United States Bankruptcy Court," wrote library director Janet Steiner in an email to the Huffington Post on Wednesday. "We returned it to the post office unopened."
Many HuffPost readers wrote in to share debt collector horror stories.
Rene Thompson of Kentucky wrote that her mother left no estate except a broken-down car when she died in June 2007. Thompson learned first-hand what can go wrong when debt purchased from a credit card company for pennies on the dollar is passed from collector to collector. After her mother died, Thompson wrote, she contacted her creditors to let them know she'd left no estate.
Most were very kind but about two weeks after her death I received a letter from a company asking me to call about one of Mother's credit cards. I called and that's when the hell started. The individual from a collection company started giving me flack for not being willing to pay Momma's bills myself. I explained that I had been on disability for almost 8 years due to an accident and was on a fixed income. He then suggested that I should have used the insurance money Momma left to bury her to pay them! That's about the time I had, as my Momma would have put it, a hissy fit. After the hissy fit, I called my cousin, the attorney.


For almost a year and a half after her death I had to deal with this being passed from company to company. When one gets the letters from my attorney and the AG of my state, they pass it off to another bottom feeder. Some will even admit that they know there's no estate but insist that I pay the bill. It's been a few months since the last one but I know that it's likely to occur again.

The ultimate irony is that the original credit card was never even in my mother's name, nor had she signed for it. It had been my father's and he died in 1976. They were trying to hop-scotch over two deceased people to collect a debt from almost 30 years ago.

I live in Florida. I've received at least eight phone calls at different times of the day asking to speak to "Allison" (no last name). I have a daughter named Allison in Connecticut, 1000 miles away, whose last name is the same as her husband's, but these unidentified people continue to harass me, apparently over an unpaid debt. I have no idea how they obtained my phone number or how they connected me to Allison.

You can't discourage them. I was polite but firm at first, saying nobody named Allison lived at my address and to please take my name off their list. The calls continued. Finally I lost my temper when one caller asked, "Do you know Allison?" I replied, "None of your __-ing business. Leave me alone!"
Richard Bell of North Carolina wrote that he moved to across the county line from the rural community where he'd spent the past 30 years and discovered an unwanted housewarming gift:
"As we began spending more time in our new residence, we realized that we had a problem," Bell wrote. "Because we had voice mail with our new telephone service provider, we did not realize that we were getting calls from collection agencies until the allotted voice mail capacity filled up and the answering machine also began overflowing with intimidating sounding voices. Numerous collection agencies were looking for people whom we did not know. It became obvious that we had been assigned a repeatedly recycled telephone number!"
Bell wouldn't let callers intimidate him. He has a few suggestions for people hounded by collectors.
"One of my all time favorite tricks for any harassing phone caller is to get a tape or mp3 of the late Alexander Scourby reading some esoteric verses from the Old Testament handy to play into the handset," Bell wrote.
And if you can't blow the whistle on them, hey -- why not blow it at 'em?
"Another annoying tactic, which I have used, is to blow a referee's whistle directly into the handset mouthpiece. Even if the caller is holding their handset away from their ear, they are unable to compete with the volume of noise."
But Bell thinks debt collection harassment, even though it has been the number one consumer complaint to the Federal Trade Commission for years, will not go away soon. "The only way that harassment by collection agencies will be solved is for the problem to seriously affect the white middle class to the extent that they make it a problem for government officials," he said. "So long as it remains only a problem for consumers, as far as legislators are concerned, there is no problem."
Tom Brennan of California shared a trick he'd used on a collector in 2006. Within two weeks of closing a bank account, Bell wrote, a collector contacted him about a $240 overdraft fee.
"When do you think you will repay this debt?" the collector asked.
"No comment," Brennan replied. He said "no comment" to every question the collector asked over the course of seven or so calls. Brennan eventually told the man that he would never give a different answer. "He laughed and I laughed and we said good night and they never called again."
Calling all HuffPost superfans!
Sign up for membership to become a founding member and help shape HuffPost's next chapter