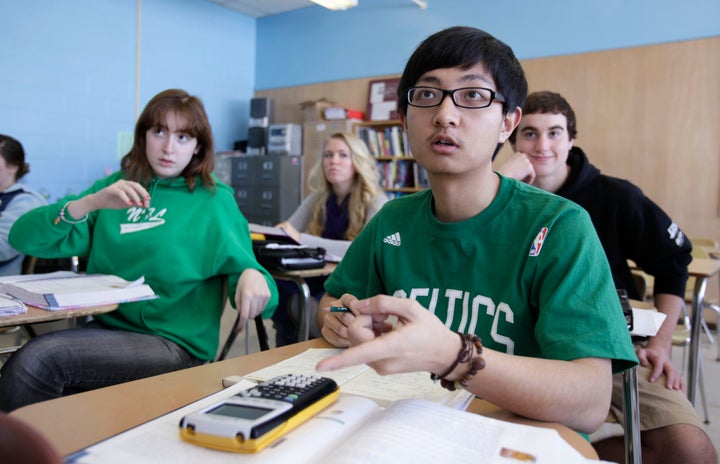 Public schools around the country averted an immediate spending crisis when Congress voted Tuesday afternoon to pass an 11th-hour deal to raise the debt ceiling and prevent the government from defaulting on its loans.
A default could have increased school systems' capital, borrowing and construction costs, forcing spending cuts in areas closely related to student learning. Schools have already suffered massive cuts in recent years, and lost about 200,000 public education employees, due to the recession and the drying up of stimulus funds.
The debt deal's changes to the Pell Grant program, which helps disadvantaged students pay for college, have been highly publicized, but details of what the debt deal will mean for k-12 education funding are a bit hazier.
One thing is certain: "Because of the deal, there's not going to be any great influx of federal money coming in," said Kristen Amundson, a former Virginia state legislator who now works as communications manager for Education Sector, a think tank. "It's going to be a year of austerity."
Still, the U.S. Department of Education is optimistic about what lies ahead.
"We have to educate our way to a better economy," U.S. Education Department's press secretary Justin Hamilton said in an email. "That's why the President has made boosting the number of college graduates America produces a top priority. We can't mortgage our future by under-investing in education."
To grasp a full picture of the potential debt deal fallout, a few facts are important to bear in mind: More than 90 percent of education spending in the U.S. comes from state and district-level funding, which already faces cuts nearly across the board. The federal government funds the rest, dispersing most of its money through Title I, a large formula program devoted to improving academic achievement for disadvantaged students; and IDEA, which pays for school districts' disability services.
Beyond Title I and IDEA, federal school funding goes to several smaller programs, either via formula grants or competitive grants. Among these are some of the most highly-publicized of the Obama administration's new competition grants, such as Race to the Top. But the first round of Race to the Top money, won by 13 states, came from stimulus funding -- a pot of money that is drying up this year.
The first part of the debt plan cuts $917 billion in spending over the next 10 years by capping discretionary spending at a rate below current levels. The 2011 continuing budget resolution had already forced education cuts to the tune of $1.25 billion. The lowered cap on discretionary spending could result in further cuts to education spending.
After the first round of cuts, a joint legislative super committee will be tasked with cutting $1.5 trillion more by the end of November. Should the group fail to agree on cuts, a trigger known as "sequestration" would implement across-the-board cuts to discretionary spending.
According to Joel Packer, executive director of the Committee for Education Funding, that trigger would cut education funding, aside from Pell Grants, by 6.7 percent, or a total of $3 billion.
The total amount of money available for the next budget year will be smaller across federal agencies, including the Department of Education. Spending over the next 10 years will be reduced, leaving officials to make even harsher decisions regarding federal education policy and funding.
"I can't say how much less education might get, but the overall size of the appropriations box is smaller than last year's, and last year's already squeezed us by $1.25 billion," Packer said.
The spending caps, Packer said, mean the overall budget will increase at less than the rate of inflation over the next 10 years. K-12 costs, on the other hand, increase with rising enrollment.
"There's no opportunity for growth," Packer said.
The smaller federal programs would face the chopping block first if sequestration kicks in, said Bruce Hunter, an executive at the American Association of Schools.
"They could hold some high priority programs, because IDEA and Title I are focused on national priorities like closing the achievement gap," Hunter said. "Everything else might be up for cutting. We just wont know for awhile."
But Packer said Title I and IDEA could still be vulnerable to cuts. "There might be fewer services to students with disabilities," Packer said. Because public schools are legally required to provide those services, other local education expenditures would have to be cut to make up the difference.
About 84 percent of school districts nationwide are already facing budget cuts. The potential cuts to their federal funding are a cause of concern for state education leaders because they could compound an already painful shortfall. Hunter said he had received several anxious notes from local superintendents, wondering what it all means.
"I don't have an answer for them yet," he said.
Education groups have come out against the debt deal. Packer's CEF wrote a letter disparaging the agreement, saying the $1.5 trillion in deficit reduction required by the end of the year could "result in deeper cuts to education and children's programs."
The nation's two largest teachers unions were none too pleased with the deal.
"It will likely lead to huge cuts in programs for children, seniors and those who can least afford it, yet it doesn't ask 1 cent of shared sacrifice from the wealthiest or from corporations," Randi Weingarten, president of the American Federation of Teachers, said in a statement. "We are concerned this deal will have long-term negative consequences to state and city budgets, including school budgets -- budgets that already have been affected by the deep recession."
Dennis Van Roekel, president of the National Education Association, called the debt deal "flawed, yet bi-partisan" in a Monday statement. He added the union has "very real concerns as the Bipartisan, Bicameral Congressional Committee takes up its work in the fall."
Beyond the more tangible policy implications of the debt deal, some say that the partisan process surrounding it has poisoned the waters for any bipartisan collaboration in this Congress -- including around education measures such as No Child Left Behind, the much-disparaged sweeping federal education law that has been up for reauthorization since 2007.
"We've been calling on policymakers to view the reauthorization of ESEA [the Elementary and Secondary Achievement Act] as an opportunity to demonstrate once again that Washington can truly be bipartisan," Bob Wise, president of the Alliance for Excellent Education and former governor of West Virginia said in a webinar Monday. "I think this debt ceiling debate has pushed the political parties -- and those in each party who are often the ones that bring people together -- I'm afraid it's pushed them farther apart."
Related
Popular in the Community