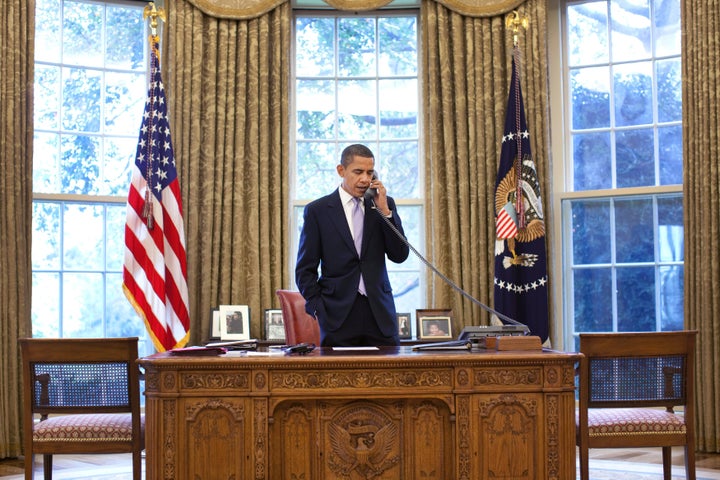 WASHINGTON -- In the midst of tense negotiations to raise the debt ceiling, President Obama participated in a conference call with a group of college student body presidents from across the country on Tuesday. Although the call was not announced in advance -- indeed, there was little-to-no public mentioning of it -- White House sources confirmed the president took time to speak with students who are concerned that young people would shoulder much of the burden of spending cuts in a deal to raise the debt ceiling.
Last week, more than 120 student government presidents signed a letter urging the president and Congress to find a solution to the debt ceiling crisis, many of them worried that young people -- who already have nearly twice the unemployment rate as the rest of America -- would face the brunt of the consequences. That the president took the time to address their concerns, when virtually every other constituency group and advocacy organization is begging for an audience with the administration, is one of the more curious developments of the debt ceiling debate. The president spent only a short amount of time on the line, one source with knowledge of the call said. But he did address the students' underlying concerns.
"If we don't raise our debt limit in seven days, then it's very likely we could enter into the second dip of our recession; it's bad for the whole economy but it's disproportionately bad for my generation," said Justin Kingsolver, president of the Indiana University student government, who signed the letter.
Kingslover said he's watched a trickle down effect of older Americans taking lower job positions, preventing young professionals from entering the workforce and prompting them to instead take internships that would otherwise be filled by college undergraduates.
"We thought it was important to give a voiceless generation a voice in this process," said Carlos Reyes, a recent Georgetown University graduate who helped draft the letter and launch DoWeHaveADealYet.com. "Washington often kicks the can and the can is usually us, but this time the can is kicking back."
Reyes said the president read the letter -- which did not make specific demands about student loans or Pell grants -- and was on the call for a few minutes thanking them for their input. White House officials, such as Gene Sperling, counsel to Treasury Secretary Tim Geithner, Jon Carson and other public engagement staffers spoke with them on the call. Reyes did not provide details of the call, and the White House explicitly said media was not allowed on the line, but he did say the staff members were very "engaged" in the conversation.
Reyes said he and other students are continuing to request similar engagements with congressional leaders, including House Speaker John Boehner (R-Ohio), but have not had a response from their offices yet.
One aspect of Senate Majority Leader Harry Reid's recent debt ceiling proposal would specifically target the federal student loan programs. Under the proposal, graduate and professional students would suffer cuts in their subsidized federal loans and incur more interest on their debts.
Federal Pell grants, which only make up .06 percent of the federal budget, could also be targeted under Boehner and Reid's proposals, according to numerous reports. When Obama approved a short-term budget in April, Pell grants for summer semesters were eliminated -- less than two years after the government had reformed and expanded the Pell grant and student loan programs.
It's almost certain Pell grants will be targeted if Democrats propose cuts, as House Republicans passed a budget earlier this year that would've slashed them by 45 percent.
Republicans have also continuously decried the student loan reform as a "government takeover" of the industry, and some have called the education assistance "21st century welfare."
On Monday, a coalition of education and advocacy groups made a push for "Save Pell Day," an event encouraging people to speak out online in opposition to Pell funding cuts.
The threat to cut higher education assistance programs comes at a time when states around the country are increasing tuition at public universities, community colleges are experiencing record enrollments and student debt continues to reach record levels each year.
One of those groups to join the coalition was the Council on Opportunity for Education (COE), which manages programs like Upward Bound, Veterans Upward Bound and other programs to help people go back to school or get into college.
"It's really counter-intuitive to what we're trying to do to get our country on economic footing, and being able to compete," said Kimberly Jones, associate vice president of public policy for COE. "I mean we're constantly talking about the threats of other rising nations in the east, yet what are they doing that we're not? They're prioritizing education, they're making strong investments, whereas we're scaling back; it doesn't make any sense."
Jones said she gets the impression that outside the beltway, the American public may not understand what's at stake in the debt ceiling debate.
Justin Draeger, president of National Association of Student Financial Aid Administrators, said he disagrees that everything has to be on the table in terms of spending cuts.
"One of the reasons we've been so proactive in saving the student aid programs is because of the horse trading that goes on trying to reach some sort of grand deal," Draeger said. "The last thing we want to do is make college more expensive for students, or put college further out of reach."
Pell grants have not kept up with the cost of higher education. Thirty years ago, a grant typically covered three-fourths of the cost to attend college, but today has dropped to one-third.
"It's not George Bush and Barack Obama's future that they're mortgaging, it's my future and the other college presidents and our constituents," Kingsolver said. "Young people will be paying for this, it's unacceptable, and that's why we're taking a stand."
Kingsolver said although he's a Republican, he conceded that both Obama and George W. Bush have been responsible for racking up the current national debt, and that this shouldn't be a partisan issue.
"We want a deal that is real, not the raw deal," Reyes said. "Don't forget about us. Come to a decision that is not thinking about the next election, but the next generation."
The cost of Pell grants has grown over the past few years as more people have begun to participate in the program and as the program has expanded. But Dreager said the Congressional Budget Office predicts the program will only increase by 25 percent over the next ten years, with inflation factored in.
Reyes said his coalition of student body presidents has purposely stayed away from specifics in order to keep the large group together. He said they will not "go quietly into this debate" and intend to remain active.
HuffPost's Sam Stein contributed reporting.
Popular in the Community