WASHINGTON -- House Speaker John Boehner (R-Ohio) is ready to take up the Senate deal to end the fiscal standoff, with less than a day before a potential default, senior Capitol Hill aides said Wednesday.
Sources said the Senate plan was all but agreed to, with Republicans just wanting to be sure an income verification plan for Obamacare will work and have strong oversight. Democrats, meanwhile, want to make sure a procedural roadblock can't be thrown in the way of a conference on the budget to be done by Dec. 13. Members were reviewing the final product as of Wednesday morning.
A Democratic source familiar with the Senate negotiations also told The Huffington Post that the very last sticking point between the two parties is how much flexibility -- if any -- agencies should have when dealing with sequestration's spending cuts.
The Senate deal keeps sequestration-level funding in effect, but also creates a budget negotiation framework -- a conference committee -- that will offer recommendations to deal with sequestration and other matters. The question now is what to do about sequestration up until that date, and what to do should those negotiations fail.
"The White House is objecting to flexibility under sequestration," the source wrote in an email. "The two options on the table are the [Sen. Joe] Manchin plan which puts choices all on the administration, the other is the [Sen. Susan] Collins plan which allows [congressional appropriators] to move things around, and I don't think they like that either. That's the final point being ironed out."
From the White House's perspective, if agencies have too much flexibility to deal with sequestration, it would remove some of the political pressure to push for those spending cuts to be replaced. The other worry is that if the administration is given sole responsibility to decide how to appropriate agency money under sequestration, it will also be forced to shoulder all of the blame when different groups and lawmakers don't like those appropriations.
That said, the Democratic source said the issue would not imperil negotiations, even if it was substantively significant.
There was also still discussion of the mechanics of moving the legislation quickly, but it appeared the simplest option would win out, with Boehner taking the Senate deal and passing it first in the House. He would have to depend on House Democrats to pass it. Democrats in the Senate believed that their Republicans colleagues -- including Sen. Ted Cruz (Texas) -- would not object, though that was not certain. If there is no objection, the entire standoff could be over by this afternoon.
The Senate could also go first, but it would encounter tougher procedural issues, and Cruz and other tea party lawmakers would have more incentive to slow the process if the House had not yet acted.
UPDATE: 11:15 a.m. -- A spokesman for Boehner pushed back on reports that the House will act first on a Senate deal to end the shutdown and avert default.
"No decision has been made about how or when a potential Senate agreement could be voted on in the House," Boehner spokesman Michael Steel said following a meeting of House GOP leadership.
A couple hundred feet away, Senate Minority Leader Mitch McConnell (R-Ky.) had gathered his conference to outline the emerging deal and next steps. Several senators said they were also unclear on which chamber would act first, but hoped the House would move on a bill that would expedite the process in the Senate.
A House GOP leadership aide said conservative members of Boehner's caucus would be consulted, which could be a roadblock to wrapping things up quickly.
Sabrina Siddiqui contributed reporting
Before You Go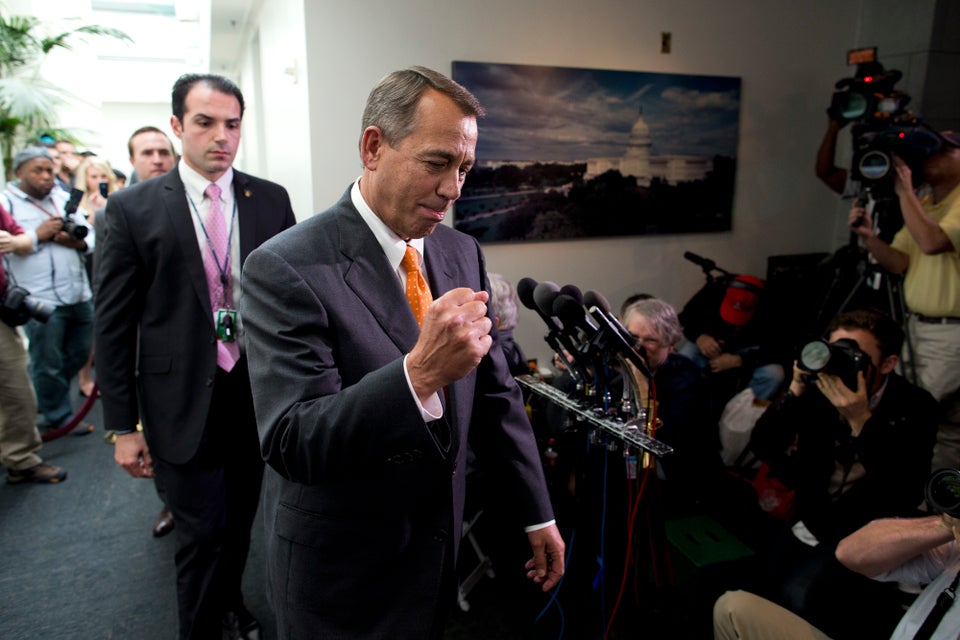 2013 Government Shutdown
Popular in the Community