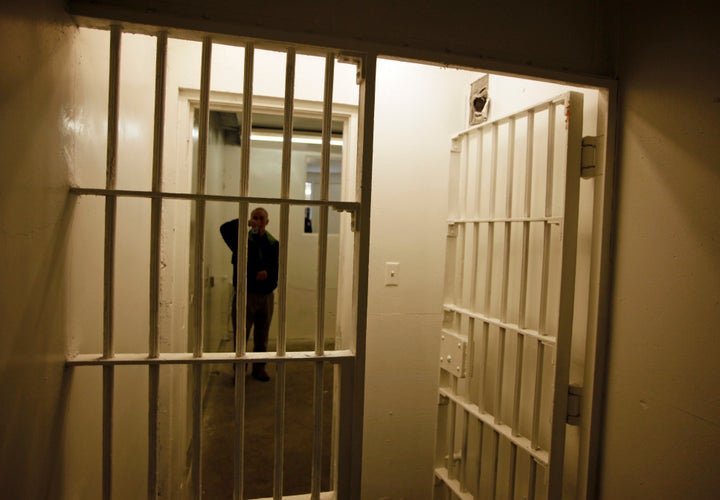 Kelly Wiedemer of Westminster, Col., spent four nights in jail this month because she hasn't paid fines and restitution she owes from a car accident that happened nearly two years ago.
The fenders got bent in August 2009 when Wiedemer, now 45, failed to give another car the right of way while making a turn.
"It was my fault," Wiedemer says. She didn't have car insurance, she says, because she'd lost her job as a financial analyst in July 2008. The fines totaled more than $500.
An Adams County magistrate judge also tacked on $1,915 in restitution for the victim's trouble. (Wiedemer says nobody was hurt in the accident, and that the other car was damaged but able to drive away from the scene of the accident.)
As the cost of Wiedemer's penalty increased, her ability to pay it decreased. She says she missed a payment while recovering from an emergency hysterectomy in October 2009. When her unemployment benefits ran out in May 2010, she stopped paying altogether.
In April 2010, she had received a notice that if she didn't pay the full amount she owed -- at that point, $1,853 -- the judge would issue a bench warrant for her arrest within 10 days. In a letter, she pleaded with with the judge for an extension.
"My unemployment benefits were exhausted nearly two months ago," Wiedemer wrote at the time. "I continue to look for work but despite having a BS in Finance and experience working as a business analyst and in the financial services industry for over 12 years, I have not found work. The jobs similar to those I've done in the past either no longer exist or have been deemed as 'non-essential' by corporate America in this economic environment. I have been told many times that I am overqualified for the position I had applied for."
The bench warrant went out the following July, but Wiedemer avoided arrest until June 6 of this year. She says she was driving to a job interview and a cop noticed her expired plates and pulled her over. If it hadn't been for the bench warrant, she would have received a summons for driving with a suspended license and without insurance or legit tags. Instead, she spent the rest of the week in jail. Her sister paid $50 to bail her out.
"I thought debtors' prison was supposed to be unconstitutional," she says.
It's unconstitutional to lock people up for being poor, and most states abolished debtors' prisons before the Civil War, but many municipalities these days have been jailing people for defaulting on legal financial obligations, or LFOs, in what the American Civil Liberties Union has called "the rise of America's new debtors' prisons."
"Imprisoning those who fail to pay fines and court costs is a relatively recent and growing phenomenon," says an October report by the ACLU. "States and counties, hard-pressed to find revenue to shore up failing budgets, see a ready source of funds in defendants who can be assessed LFOs that must be repaid on pain of imprisonment, and have grown more aggressive in their collection efforts."
There aren't any data showing that more and more people are getting locked up for not paying debts, but ACLU Deputy Legal Director Vanita Gupta tells HuffPost that the ACLU's state offices increasingly hear about the phenomenon and that local public defenders report the same. "There's a number of different sources that tell us this is on the rise," Gupta says.
Alan White, a law professor at Valparaiso University, says some forms of the "new debtors' prisons" are more deplorable than others.
"To me, the most objectionable form of debtors' prison is just threatening people who owe ordinary civil debts with going to jail," says White, who has blogged about the issue. "It's a spectrum."
HuffPost readers: Looking at jail time because you can't pay off a debt? Tell us about it -- email arthur@huffingtonpost.com. Please include your phone number if you're willing to do an interview.
A century ago, counties and towns would shelter criminals, the indigent, the elderly, and the sick all together as "inmates" in poorhouses, of which homeless shelters, nursing homes and local jails are all descendants.
The ACLU points out that it costs local governments lots of money to lock people up. Poorhouses, too, were much more expensive than direct assistance. Yet direct assistance was considered too generous -- with business interests worried such payments would increase wages -- until the Great Depression spread economic misery widely enough to increase national sympathy for people out of work through no fault of their own. In the 1930s, the Social Security Act created retirement insurance, unemployment insurance and welfare.
Darlene, the Adams County collections investigator on Wiedemer's case, doesn't have a ton of sympathy for her predicament. (Darlene didn't disclose her last name.)
"She owes the victim money in the case and one of our priorities is collecting money for the victim," the investigator says. "She can go out and do some kind of work."
The investigator says Wiedemer has paid $696 and still owes $1,828.50. Of that, $1,450 is restitution and the rest is fines. She's racked up $70 in fees for being late and setting up an installment plan, plus another $30 for the bench warrant. The investigator wants Wiedemer to make timely half-payments of $50 per month.
"We don't get any pleasure from having anyone arrested or put in jail," she says. "Unfortunately, it's of your own doing because if you make your half payments with the court and you do it on time -- and you can call us, we're willing to work with people if they need an extra week or so -- they would never ever get in trouble. It's just the people who think they can just ignore it and it's going to go away that end up finding themselves in a worse bind than they would have been."
The investigator says Wiedemer could wind up in jail again if she doesn't pay.
Wiedemer blogs about unemployment for the Examiner and says her situation is an example of the obstacles faced by the long-term unemployed. She set up a website that sympathizers can use to donate directly to the court on her behalf.
"This whole unemployment thing –- it destroys people," she says.
Popular in the Community