How does a celebrity pastor who traverses the country on foot connect with a big-city lawyer? They both want the same thing: Increased community; Decreased violence.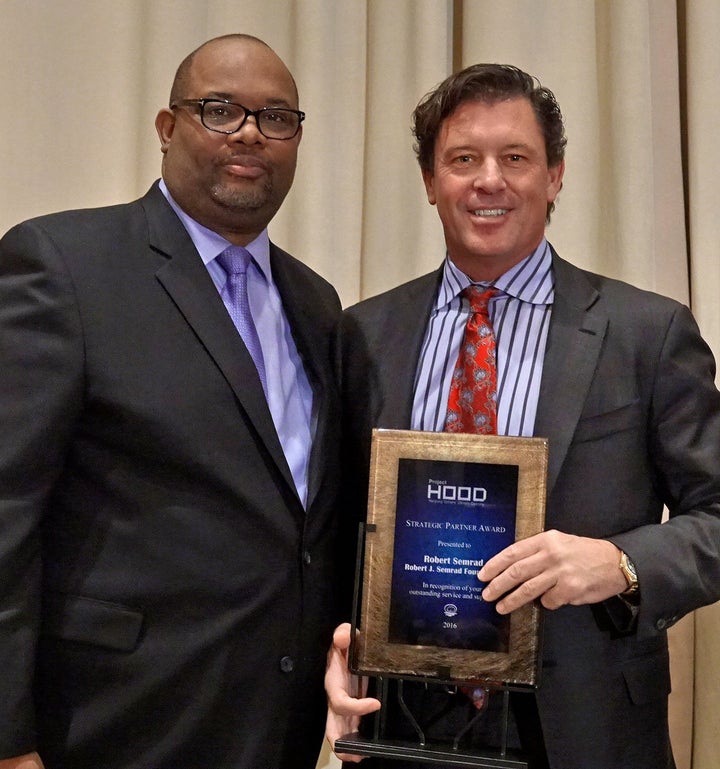 Robert Semrad was among the honorees at a Project H.O.O.D. (Helping Others Obtain Destiny) awards luncheon Dec. 12 at the Standard Club in Chicago to raise both funds and awareness. Project HOOD's mission, according to its creator Rev. Corey Brooks, is to "empower people with the guidance and tools necessary to become peacemakers, problem solvers, leaders, and entrepreneurs in their communities." Semrad endorses the program and its mission.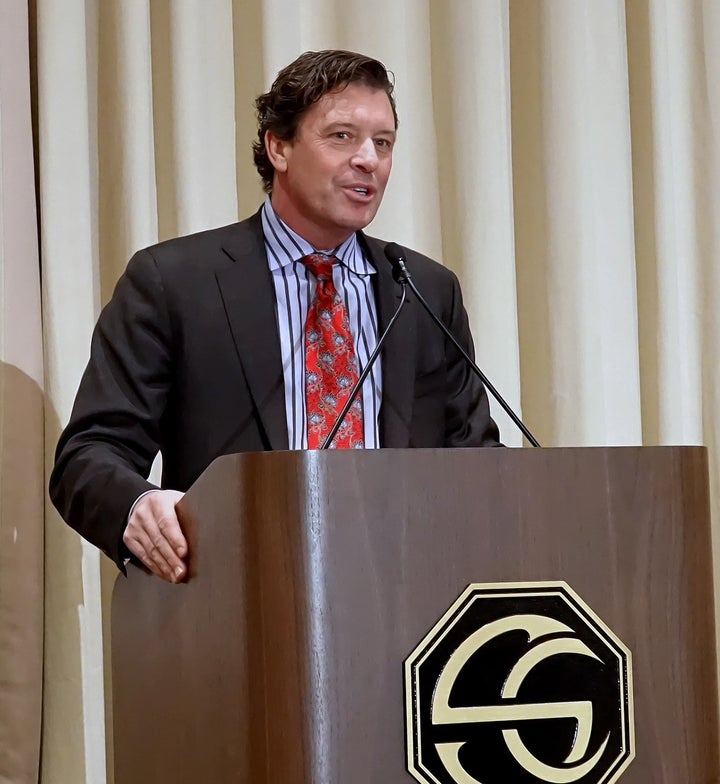 "I wish everyone could see the work Corey Brooks does in our communities," Semrad told attendees during his luncheon speech. "People think [needy communities] are hopeless. They're not. They're filled with people who are hopeful. But they're looking for the right leader, the right pioneer to come along. And Corey Brooks is that pioneer. Corey Brooks has the vision, the courage and the tenacity to see things through. He saw one of the most dangerous places in the United States as the right place to build his church."
As founder of the New Beginnings Church of Chicago, the "rooftop pastor" has spearheaded such magnetic initiatives as a months-long occupation of a blighted motel near his church to achieve its demolition (hence the nickname), and a nation-spanning hike to raise funds for a community development center on Chicago's South Side.
Brooks is just as big a fan of Semrad. "DebtStoppers had a radio show. Rob Semrad reached out and asked me if I'd like to be on the show everyday for free," he recounted. "I thought there'd be strings attached, so I asked him what he wanted me to talk about on the air. He said, 'All I want you to talk about is Project HOOD and what you're trying to do in the neighborhood.' So for two years, this gentleman paid for that show to be on the air every single day on [WGRB] 1390, and we were able to get exposure we otherwise never would have gotten."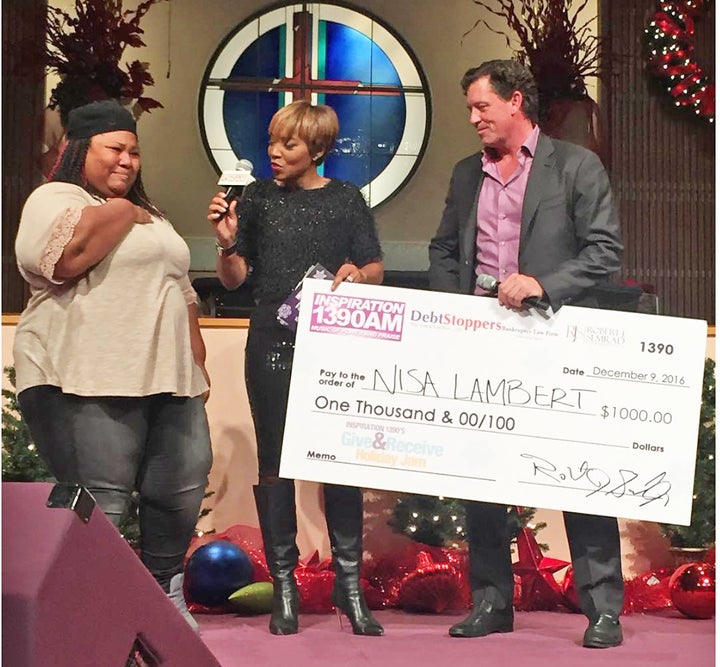 Drawing applause, the minister continued with news of Semrad's increased pledge of altruism. "Today he asked me to announce that he'd like to offer a matching gift," said Brooks. "For the next year, the Robert J. Semrad Foundation will match any monthly gift up to $5,000 per month."
Semrad said he is propelled by the stories of his clients, income-strapped Chicagoans whose Christmas season comes with a blend of cheer and financial stress. In an interview, he explained how money worries can break up families and put people in dire circumstances. Health problems can be catastrophic. He backs Project HOOD, he said, because he sees where the relief is most needed.
Having worked as a young attorney for banking institutions and creditors, Semrad was overcome by a sense of compassion for the people most painfully affected by financial woe, predatory lending and exploitive selling practices. He also expressed concern that the legal profession was looking like an evil monolith to people without access to good advice.
As one of six children with a degree in psychology, Semrad said he can see how treating people with respect can be uplifting to all parties involved. His law practice aims not only to get his clients out of debt, but also to restore their self esteem by educating people on the life skills necessary to avoid getting into debt or unfair lending deals in the first place. His lessons come with the assurance that debt, foreclosure or bankruptcy can happen to anyone, and that the situation is "not that bad."
On the philanthropic side, Semrad teams up with the likes of Brooks to channel his giving back to the neighborhoods from which his clientele usually hail. His holiday cash giveaway airs on gospel radio Inspiration 1390AM, and the Robert J. Semrad Foundation has plans for a reading center. Project HOOD is just one of the Foundation's focus areas, sharing the platform with "Somebody's Mama" for women's health and empowerment, the "Pajama Program" providing books and PJs to kids in shelters and group homes, the "Joe Soto Baseball Experience" free summer camp, and the "Robbie Collomore Concert Series.
Brooks and Semrad have worked on the development of Project HOOD since its inception in 2012, making their vow to "end violence and build communities, one neighborhood at a time" through providing children with positive adult role models and one-on-one mentoring.
"I love great causes," said Semrad. "But I put my resources into causes that can succeed. Pastor Brooks is all about doing whatever it takes to be successful. And I have no doubt that Project HOOD will continue to work miracles in Chicago."
Others receiving awards at the luncheon were Pat Milligan of Metro Ford, Illinois State Senator Jim Oberweis and Walgreens, with Gov. Bruce Rauner as special guest.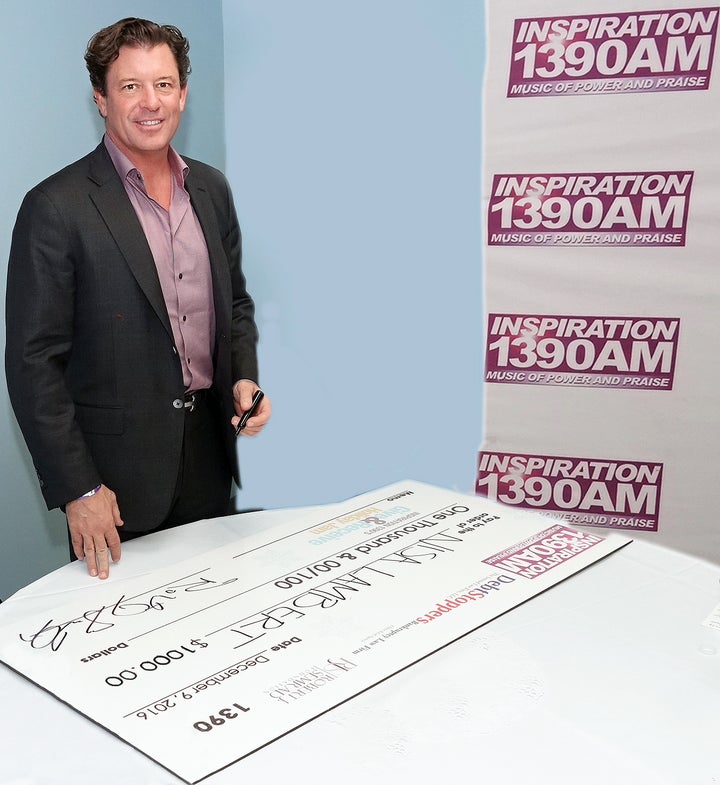 Related
Popular in the Community